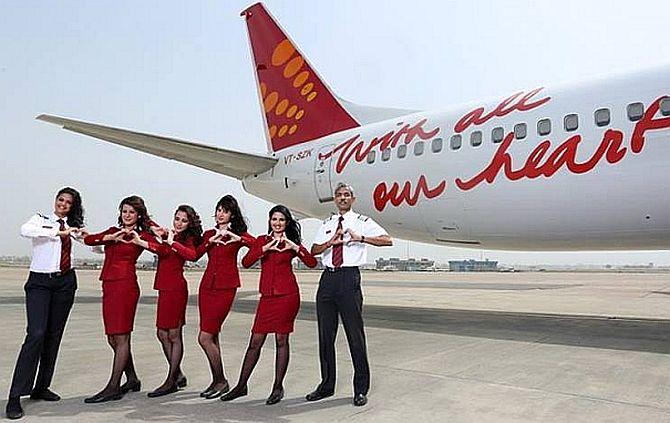 Image: SpiceJet needs to infuse equity into the airline to run daily operations. Courtesy, Facebook/flyspicejet
Former SpiceJet promoter Ajay Singh (below left) is pulling out all stops to raise the hundreds of crores of rupees needed to take control of and keep the wobbling airline afloat.
But a few small developments from his past could now come under closer scrutiny.
At least two state-owned lenders have named Singh and entities associated with him in their 'suit-filed cases' list, given to a credit information services provider.
The 'suit-filed' database, maintained under Reserve Bank of India (RBI) guidelines, is meant to alert banks and financial institutions (FIs) against borrowers that have defaulted on their dues to other lending institutions.
Argentum Electric Vehicles Pvt Ltd, one of the 11 firms in the Ajay Singh empire, named after the Latin word for silver, had availed of credit facilities from Syndicate Bank's corporate finance branch in Delhi in January 2012.
Documents filed by AEVPL with the ministry of corporate affairs (MCA) showed a charge of Rs 4 crore was created against the company's inventory and receivables.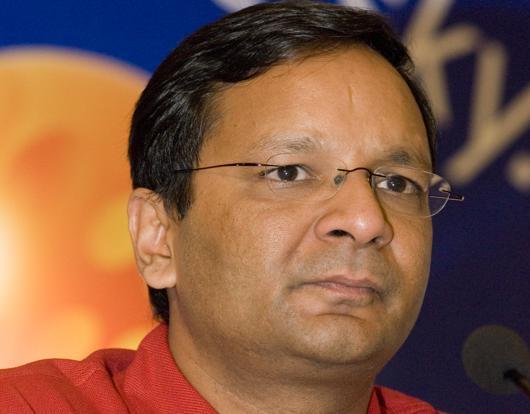 The facility comprised an overdraft account with a Rs 2-crore (Rs 200 million) limit, a Rs 1-crore term loan and a Rs 1-crore (Rs 100 million_ LC (Letter of Credit) facility.
The term loan came with a moratorium of 12 months from the date of disbursement and required "repayment in 20 equal quarterly instalment of Rs 5,00,000 each... will start from the last day of the 15th month of first disbursement".
However, according to records with credit information agencies, which aggregate data of 'suit filed cases', this loan was classified as doubtful on June 30 last year. A sum of Rs 1.38 crore (Rs 138 million) was due from AEVPL.
The list named Ajay Singh, Manprit Singh, Ashish Singh and Shivani Singh as directors.
Another Singh group entity, Pan India Motors, had provided a corporate guarantee for the loan.
According to RBI guidelines, "the banks and FIs are required to submit in prescribed format to the Reserve Bank of India as on March 31 and September 30 every year the details of the non-suit filed borrowal accounts which have been classified as doubtful and loss accounts by them with outstandings (both under-funded and non-funded) aggregating Rs 1 crore and above".
The data on defaulters so received from banks/FIs are circulated in a consolidated form by RBI to banks and FIs, as on March 31 and September 30 every year. The data accessed for this report are as of September 30; it is possible some of these dues would have since been settled.
When contacted, Ajay Singh declined to respond with official or on-the-record comments. A source close to him said: "The matter with Syndicate Bank is settled to the best of our knowledge but will be verified on Monday."
The defaulter database also referred to another entity with which Singh was associated. State Bank of Mysore listed Bengaluru-based Cranes Software International as a defaulter on a sum of Rs 24.84 crore.
The database showed other lenders like State Bank of India, Canara Bank, Allahabad Bank and J&K Bank also had interests in the firm.
Ajay Singh was listed as director number eight in this company.
MCA records show Singh became a director of Cranes in February 2003 and exited in September 2009.
Sources close to Singh, however, said he was only an independent director and had resigned from the board in 2009. "He has never owned any share in the company."
Singh is said to have got on its board at the request of a professor friend who was an independent director himself.
According to SpiceJet's annual report for 2007-08, Singh was chairman of the audit committee of Cranes Software.
Listed on BSE, Cranes is now a penny stock, with a market capitalisation of Rs 57.23 crore.
On Friday, its shares had lost 2.4 per cent from their previous close, to end at Rs 4.81 apiece.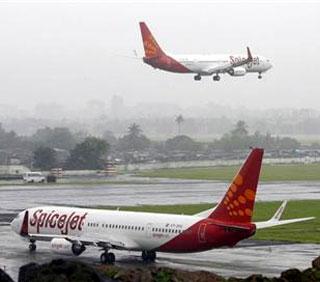 Image: SpiceJet is going through financial crisis and is in talks with few investors to get funds into the ailing airline. Photograph: Reuters
Singh had exited SpiceJet in 2010 as the airline company flew into turbulence but even his other ventures have not been in the pink of health since the global financial crisis of 2008. MCA records show Singh was on the board of about 40 companies.
Several of these had 'Spice' in their names - Spice Cell, Spice Mining, Spice Homes, Spice Automobiles and Telespice Wireless, to name a few.
There also are some other interesting names.
Intel Construction was the first company in which Singh became a director, in 1989.
Argentum was the name Singh chose for entities through which he took over the defunct Daewoo Motors plant in 2007.
The names of these companies suggest a grand scheme for an integrated conglomerate, with interests in automobiles, transport, infrastructure, real estate and defence: Argentum Engineering Design, Argentum Power, Argentum Motors, Argentum Machino, Argentum Defence Systems, Argentum Auto, Argentum Land Holdings, Argentum Buses, Argentum Engines and Argentum Housing.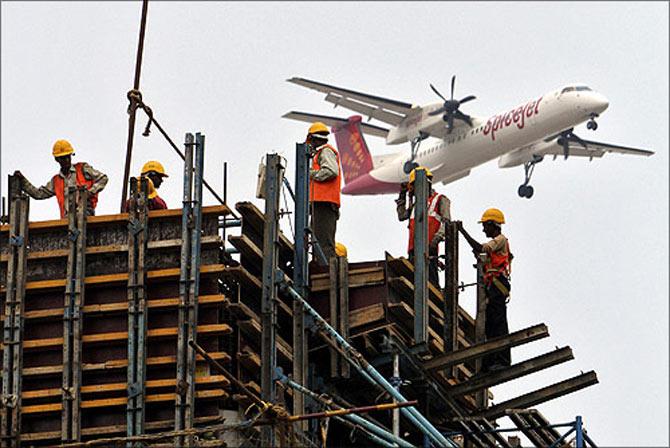 Image: SpiceJet management has recently presented a bial out plan to the government. Photograph: Reuters
Sources say Argentum's turnaround plans, including those involving a land bank, are intact and Singh, with his partners, is awaiting a rebound in the economy.
Singh had became a director of these companies between 2008 and 2010, but the last three - Buses, Engines and Housing - are in 'strike off' mode according to MCA records, suggesting these businesses have been wound down.
The SpiceJet 'white knight' continues to have a considerable interest in the 'bus' business, though, through his stake in Star Bus Services Pvt Ltd. Star Bus is the concessionaire in the Delhi Integrated Multi-modal Transit System (DIMTS) for Cluster 1, covering some 32 routes.
Star Bus was the first concessionaire to begin operations under this scheme, which in May 2011 threw open the sector to private players.
Singh, however, had faced issues with the original promoter of Star Bus, Shiv Kumar. An operator of the national capital's erstwhile Blueline buses, Kumar had moved court following his dispute with Singh over a Rs 82-lakh payment for transfer of shares. He alleged Singh opened an unauthorised bank account to route collections of Star Bus and allegedly forged certain documents.
An email sent to Kumar's official email address in the MCA records remained undelivered.
Greenline Transit, the vehicle through which Singh controls Star Bus shares, had moved the Delhi High Court, without success.
This matter was subsequently settled through arbitration.
According to sources, Singh had bought the shares of Kumar, who, after providing share certificates and transfer deeds, and accepting the consideration, recanted on the sale. "He subsequently made certain allegations. The disputes were referred to an arbitrator.
By his order of April 24, 2013, the arbitrator ruled in favour of Mr Singh," the source said.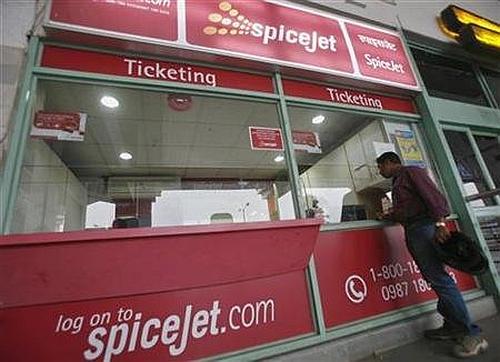 Image: SpiceJet may curtail operations if no one comes ahead to pump in equity into the airline. Photograph: Reuters
After Greenline Transit, the colour green seemed to have caught the fancy of Singh, who floated a few companies and named those after this colour - Green Star Mobility, Green Volt Technologies, Greenwheels EV and Greenline Communication.
In the past couple of years or so, Indiverse seems to be the flavour in the names. Singh has come on board Indiverse Broadband, Indiverse India and Indiverse Network.
Spice, Green, Argentum or Indiverse - which of these will take the box seat at SpiceJet? Or will it be something else? It remains to be seen.
WHAT'S IN A NAME?
A lot, it seems, at least for Ajay Singh (pictured). The former SpiceJet promoter has often taken fancy to certain words and used those in the names of multiple companies at different times. Here are a few:
ARGENTUM
Argentum Electric Vehicles
Argentum Engineering Design
Argentum Power
Argentum Motors
Argentum Machino
Argentum Defence Systems
Argentum Auto
ArgentumLand Holdings
Argentum Buses
Argentum Engines
Argentum Housing
Spice
Spice Cell
Spice Mining
Spice Homes
Spice Automobiles
Telespice Wireless
Green
Greenline Transit
Green Star Mobility
Green Volt Technologies
Greenwheels EV
Greenline Communication
Indiverse
Indiverse Broadband
Indiverse India
Indiverse Network