Under the scorching sun, a software engineer from California is planting paddy saplings, much to the excitement of farmers, who had lost hopes of living a decent livelihood. For distressed farmers in Mandya district of Karnataka, which saw the highest number of suicides this year, Madhuchandan Chikkadevaiah is a true saviour, writes Manu A B/Rediff.com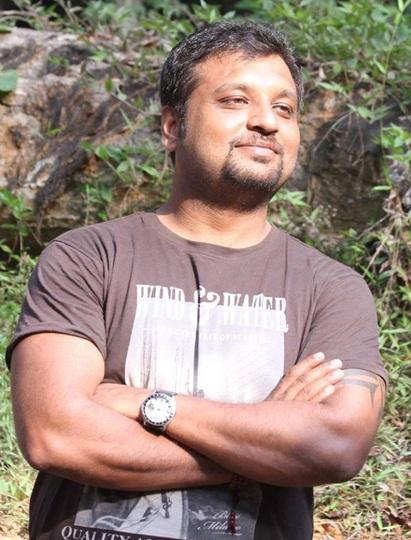 Image: , Madhuchandan chucked his comfortable job in the United States to become a farmer. Photographs, courtesy: Madhuchandan/Organic Mandya
From being branded as the farmers' suicide capital of Karnataka till early this year, Mandya, a good forty kilometers away from Mysuru, has ushered in a silent agrarian revolution as farmers are now selling organic farm products for good profits.
This positive change in their lives occurred thanks to Madhuchandan, an young IT professional, who chucked his comfortable job in the United States to sow the seeds of an organic farming movement in India.
To begin with, he started the Mandya Organic Farmers Cooperative Society with the active participation of a group of 270 farmers, who now cultivate and sell their organic farm products profitably. By setting up a retail outlet near the farmland to sell products, Madhuchandan has succeeded in offering the highest price for products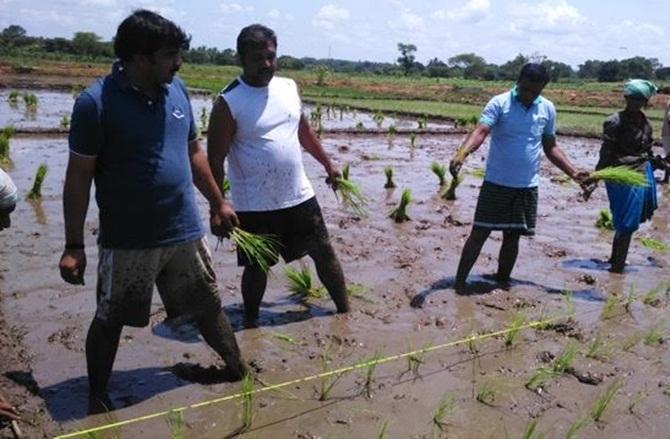 Image: Madhuchandan works in the paddy field.
Today, Organic Mandya's retail outlet at the busy Bengaluru-Mysuru highway sells organic vegetables, cereals and pulses fresh from the farm. The products are in huge demand as people travelling along the highway buy these healthy products.
Madhu had initially planned to set up his own farm and live the life of a farmer. However, the 37-year-old engineer was moved by the plight of farmer suicides and heart breaking stories of their families and decided to work for their welfare.
After working for several IT majors, Madhuchandan co-founded a company called Verifaya in 2005. Madhu developed the Verifaya Studio, an automated testing software, which is now used by corporates across the globe.
In terms of professional success, Madhu had achieved all that he had dreamt of. It was now time to give back to the village he hailed from. So in August 2014, he returned to India to pursue his passion of farming.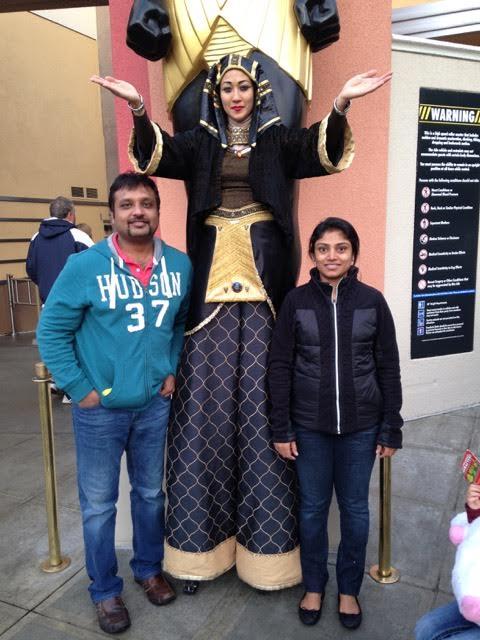 Image: Madhuchandan with his wife Archana.
It has been a complete turnaround for Madhu, who has worked in countries like Israel, the UK, the Philippines, Africa and the US for the last 15 years.

With the ambitious mission of making Mandya a completely organic district, Madhu charted out his plans optimistically.
"I feel proud to be a farmer today. To be able to lead a healthier and happier life is a dream come true. No job can give the immense satisfaction that farming can offer you. We tend to complicate our lives, take up stressful jobs and never try to lend a helping hand to anyone. With things falling in place as we planned, I hope to see Mandya district a fully chemical-free zone in the next 5 years," says a confident Madhu, who is supported by 45 employees.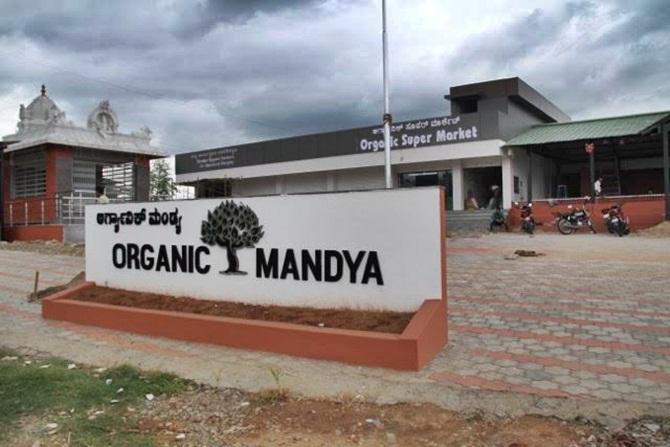 Image: Organic Mandya's retail outlet at the busy Bengaluru-Mysuru highway sells fresh products.
A great beginning

The lack of awareness among farmers was the first issue that needed to be tackled. They had all sorts of misconceptions about organic farming.
"In the earlier days, farmers were experts in their field. They knew exactly what they had to do. Over the years, they have been misguided to use all sorts of fertilisers and chemicals, which in the long run have destroyed the soil and affected crop yields. They made the mistake of following agriculture experts who had no practical expertise. As a result, farmers failed miserably. Only 5-6 per cent of farmers succeeded as they followed natural and organic methods of farming," says Madhu.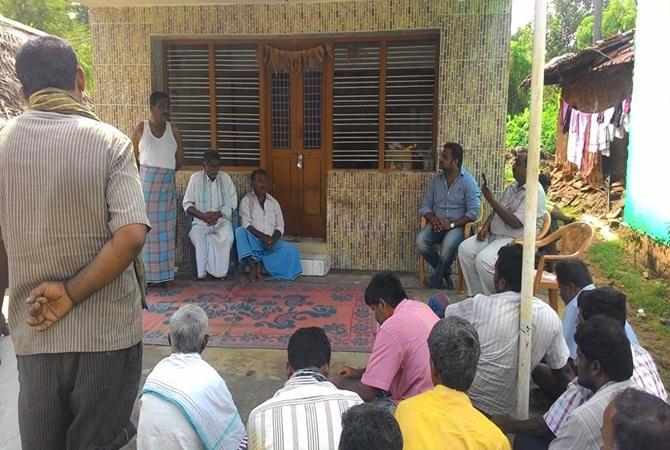 Image: , The lack of awareness among farmers was the first issue that needed to be tackled.
Madhu and his team had to spend hours educating farmers to join the organic farming movement. It took a while before they could win the confidence of farmers, who have been neglected all the while and given false promises.

Farmers needed support in communication, technology and marketing to sell their products. Though the farmers had good products, they did not know how to brand it and get a better price.

"Farmers who toil hard to make sure millions don't go hungry, should be respected but in India they are treated badly. Even agriculture scientists are misleading farmers. Once a group of farmers were advised to set the waste on fire after the sugarcane field was harvested. The fire actually destroys the micro-organisms that are needed to maintain the soil fertility. The biggest drawback of our country is that we have agriculturists who have lot of theoretical knowledge but have no practical wisdom. So they cannot guide the farmers properly. Our agriculture universities should have experienced farmers instead of experts," points out Madhu.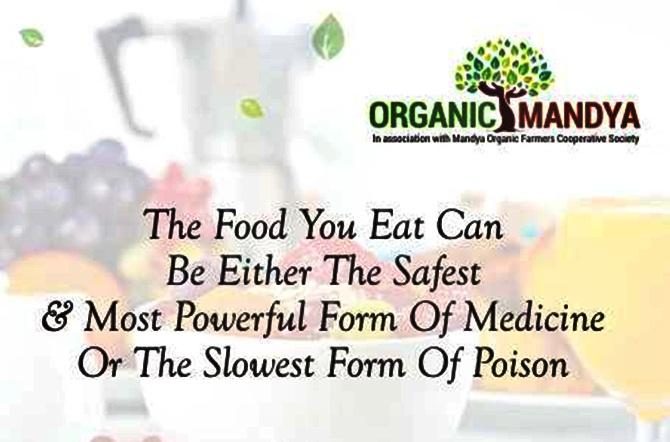 On the positive side, some farmers in Mandya were already doing organic farming but were not getting the right price for their products.

Madhu has been working hard to turn around the fortunes of hundreds of farmers who are living on the brink of bankruptcy and desperation.

This year, acres of sugarcane could not be harvested as the government-run sugar factory shut down and farmers could not afford to sell it to far off factories, explains Madhu.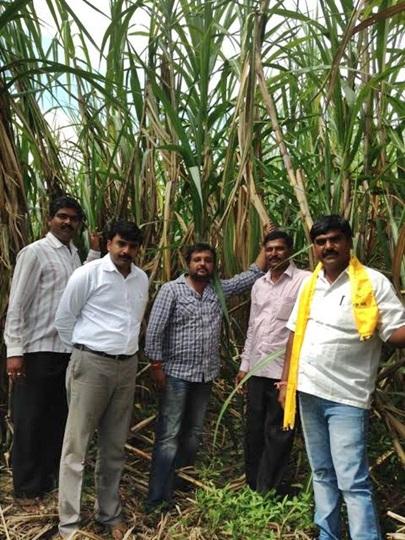 Image: 'Indians spend the least on food but they like to visit the most expensive hospitals, instead they should spend more on good food and remain healthy.'
To add to their woes, banks and money lenders keep harassing farmers, who have no choice but to commit suicide. This year, one farmer even went to the extent of setting his sugarcane field on fire and jumping into it killing himself.

"I am sure that we can put an end to this crisis faced by sugarcane growers, who dominate the Mandya region. We are taking small positive steps and am sure in the long run, farmers will be greatly benefitted," says Madhu.
Consumers today are becoming more aware too. But there is a long way to go.

"Indians spend the least on food but they like to visit the most expensive hospitals, instead they should spend more on good food and remain healthy. If you spend more on quality food, you will not fall ill. Food should be your medicine and not the other way round," points out Madhu.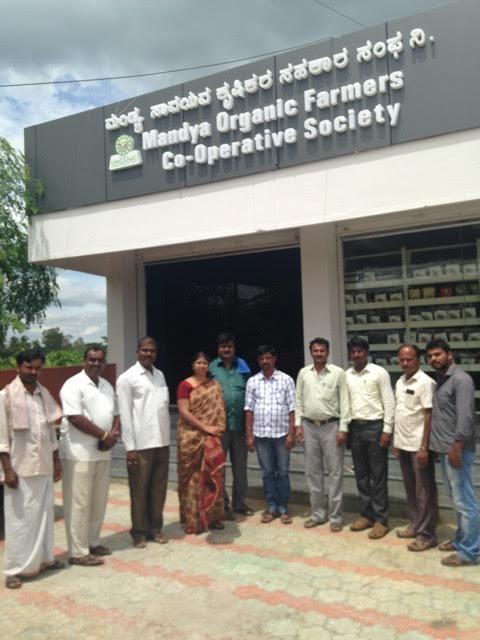 Image: Besides 270 farmers, the society has Ayurveda doctors and agriculture scientists, who are passionate about bringing major changes in the agriculture sector.
A breakthrough for farmers
The first step was to start Mandya Organic Farmers Cooperative Society. Besides 270 farmers, the society has ayurveda doctors and agriculture scientists, who are passionate about bringing major changes in the agriculture sector.
Though the society has received 1,500 applications from farmers expressing their intent to join the society, Madhu and his team are scrutinising each and every application before taking new members.

Madhu also realised the need to have a strong support system to sell the produce. Though the farmers had a wide variety of products, they were unaware about how to market it and get good profits.
So he started an enterprise called Organic Mandya to sell the products in a supermarket and online too.

The products turned out to be an instant hit so much so that they are not able to meet the surging demands of health-conscious customers.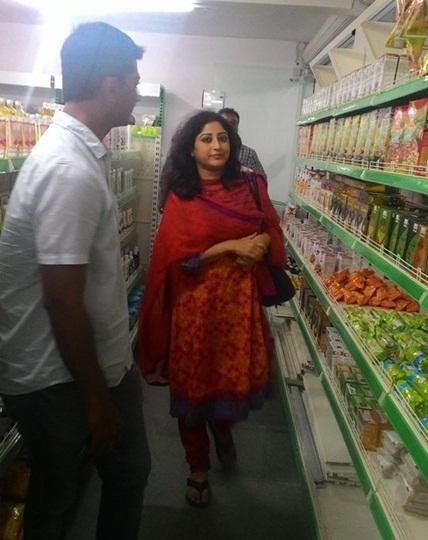 Image: Actress and dancer Lakshmi Gopalaswamy at the supermarket.
Under the Organic Mandya banner, Madhu has started an 'integrated organic zone' to sell products. The zone is built next to the organic farmland, it also has a restaurant which promotes organic food.

By setting up the zone near the farmland, the farmers can easily sell their produce without depending on middlemen.

Since the location is on the Mysuru-Bengaluru highway, it was ideal to get a large number of customers.

With an oil extraction mill, customers can buy fresh oil as well. Among the 50-55 products sold, the most sought after products are Joni Bella (a liquid form of jaggery), jaggery powder and jaggery blocks.

Seeing the huge demand for products has boosted the confidence of farmers, who are now working with great vigour to meet the rising demand.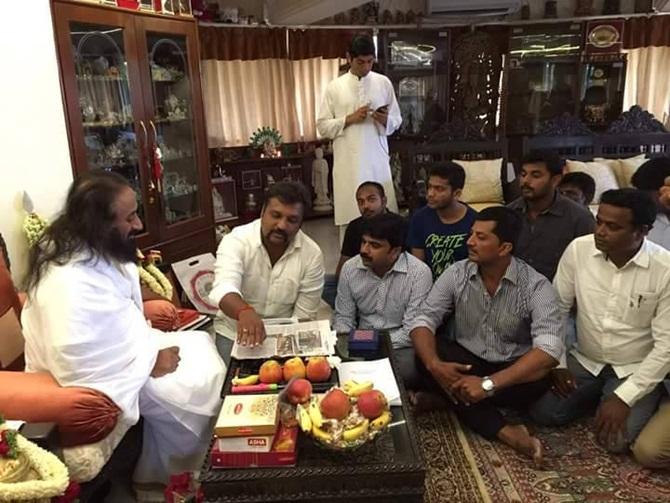 Image: Madhuchandan alongwith the society members met Sri Sri Ravishanker, who appreciated their efforts.
Farmers are getting double the price for their products through Organic Mandya. The math is simple, even if the yield is less in organic farming, the price a farmer gets is double than what a normal farmer gets.

So any day it is more profitable to switch to organic farming. Organic Mandya is encouraging more farmers to switch to organic farming on an experimental basis before they completely adapt to eco-friendly ways of farming.
"Unfortunately, farmers have lost hope. Farming is not a respected profession in India. There are so many farmers doing exceptional work but does the government ever recognise their contribution? Does the government ever offer doctorates to farmers? It is one of the noblest professions and it's high time farmers live dignified life, says Madhu.
Today, the irony is that farmer's children do not work in the fields as they don't get good returns so even farmers who own 1-2 acres of land send their children to cities to eke out a living. They end up in bars as waiters or as autorickshaw drivers, which is a terrible state of affairs, explains Madhu.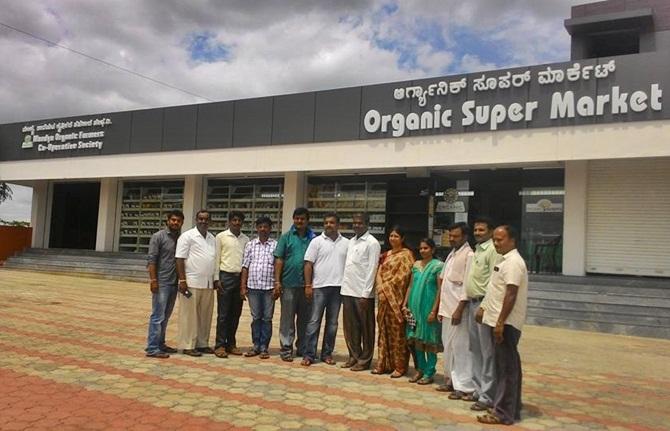 Image: A great beginning to transform the lives of farmers.
Success so far
Madhu started Organic Mandya with an investment of Rs 1 crore (Rs 10 million) pooled in by 4 IT professionals.
The growth of the company has been astounding according to initial estimates.

"As per current run rate we will be touching revenues of Rs 2.5 crore (Rs 25 million) by next September. With the current potential, our business may even touch Rs 8-10 crore (Rs 80-100 million) by next September 2016. In next 2-3 years, we expect revenues to the tune of Rs 30-40 crore (Rs 300-400 million) with a net profit of around 10-15 per cent," points out Madhu who wants to prove that every farmer can get high returns for their products.

Another great initiative, which gives a lot of hope and reassurance to debt-ridden sugarcane farmers is the Jaggery Park, which is run by Organic Mandya.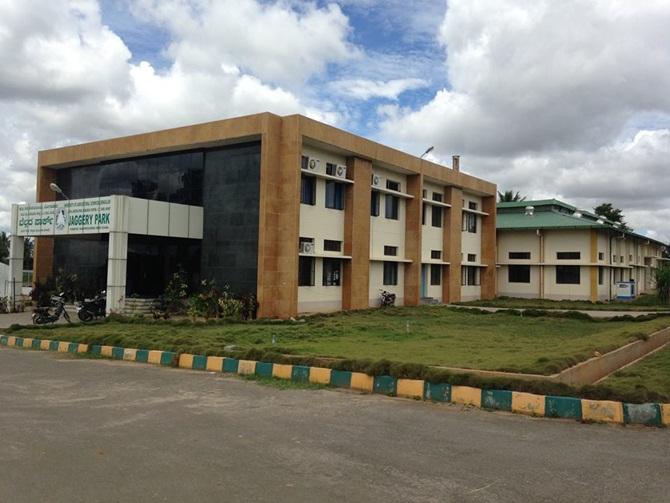 Image: Jaggery products are an instant hit.
Giving a major boost to farmers, sugarcane is procured at the highest rate in India - Rs 3501/tonne for the organic variety. The park makes healthy jaggery products, which are very much in demand.
As farmers get high prices for their products, they can tide over the debt-crisis and become successful farmers.
"A breakthrough initiative will be the launch of a new product, research of which is going on at Central Food Technological Research Institute (CFTRI). Once we launch that product, we can procure sugarcane not just from Mandya but from across India, putting an end to the crisis sugarcane farmers face," says Madhu, who explains that Organic Mandya's products are 20-25 per cent cheaper than other branded organic products. He believes that there is space for new players in the organic food segment as demand will only keep rising in the years to come.
Today, a sugarcane farmer who invests around Rs 60,000-70,000 does not even get the amount that he spends to cultivate the land as returns as traders do not pay the right value. So farmers are forced to take loans, which ultimately burdens them to the extent of committing suicide.
Seeing the positive changes in the lives of organic farmers, many others too are willing to switch to organic farming. They had never expected to get such high prices for their produce.
In a bid to scale up operations, Organic Mandya also plans to open 5 franchisees in Mysuru and Bengaluru soon.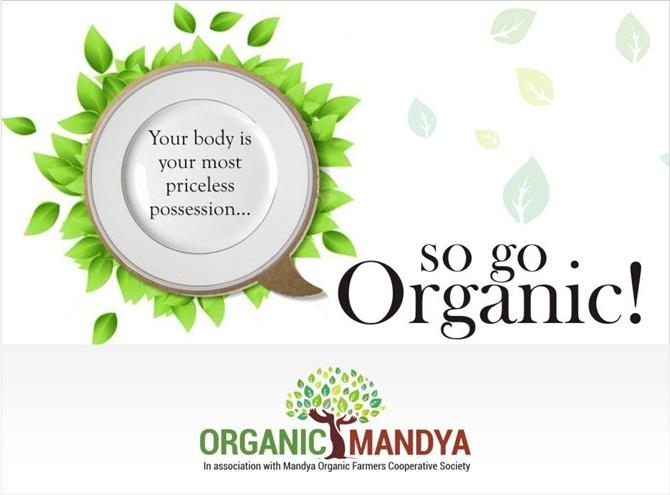 Sweat donation programme
One of the unique highlights of Organic Mandya is 'sweat donation'. The agriculture sector, which faces acute shortage of labour needs helping hands. So Organic Mandya seeks the help of people from all walks of life to contribute their 'sweat' to a productive purpose.
"A good majority of professionals go to the gym to cut down calories. In a week they may be able to burn out 300-400 calories. And their sweat just goes waste. If he or she decides to work on a field even once a week, maybe digging a small pit in the farm will help them burn out 1,200 calories. Besides, it will immensely help the farmers and have a productive result. Professionals from companies are keen to join for this mutually beneficial program," says Madhu.
Organic Mandya also has an agri-tourism project where corporate can send their employees to get a taste of rural life.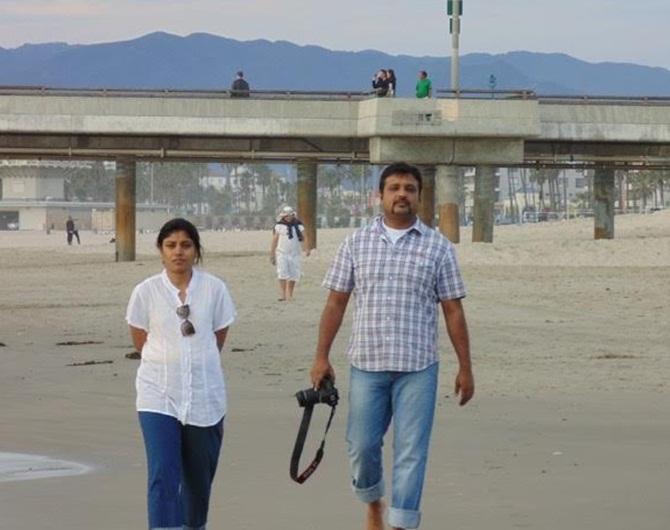 Image: With ambitious plans, Madhuchandan has a long way to go.
The employees can join the farmers at work, have freshly cooked organic food at the field, go on a bullock cart ride, breathe fresh air, play native games and enjoy the essence of a village life. This in effect gives valuable lessons that will stay with them for life. More importantly, for people who have never been to a farm, it will give a first hand experience of how the food that they eats comes from.
Madhu has been getting hundreds of calls from people across the country everyday who would either like to join him or replicate the model in their villages and towns.

"The day is not far off when we will have more organic districts across India. As more people prefer to lead healthy lives, the demand for organic food will rise too. Agriculture teaches you the importance of hunger and sleep. It is also a lot of hard work, physical exertion but at the end of the day, you are at peace and satisfied. I have worked on several important IT projects across different companies but I never got the satisfaction that I have now. The passion to work on the soil, reap benefits and help hundreds of farmers is an invigorating experience, says Madhu.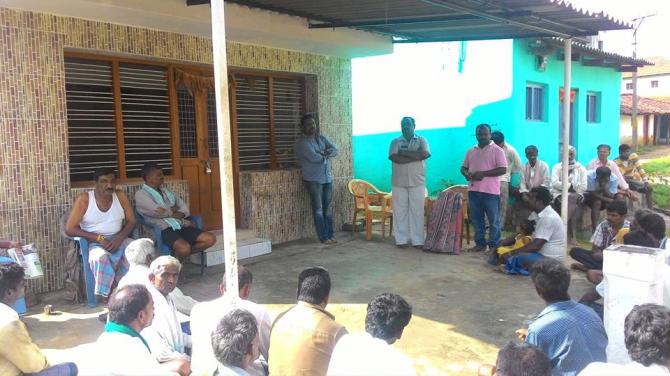 Image: Indian farmers can lead a dignified life like their foreign counterparts.
A long way to go

Indian farmers can lead a dignified life like their foreign counterparts. Eventually, it will happen. As people become more aware about the ill-effects of pesticide laden food, they will have no choice but to switch to a healthy lifestyle, he says.

"We have just made a small beginning. There is a long way to go. People still think that the best career is perhaps joining an IT firm. But does anyone look at the stress they go through meeting deadlines and travelling long distances in peak traffic every day? I don't see the glow on the face of a young engineer but I see it on a 65-year-old farmer's face. Their hard work, strength and perseverance should be a lesson for all youngsters. I would say a farmer earning Rs 10,000 in a village will be much happier and healthier than an engineer earning Rs 1 lakh in a city," says Madhu, highlighting the need to appreciate farming as a way of life.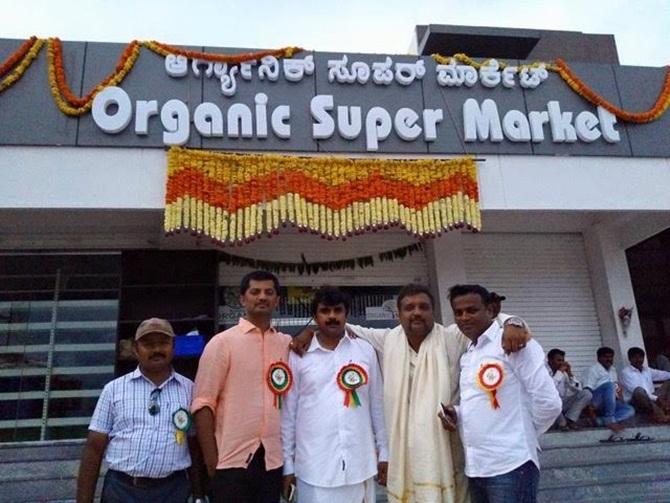 Image: 'We sell chappals and sandals in air-conditioned stores but sell our fruits and vegetables on the footpath.'
India farmers just need to focus on five important aspects to get their priorities right.

"They need to do a lot of unlearning and start all over again. They should have a direct link with consumers. People should have respect for farmers. The government too must honour farmers. Finally, people should respect food. We sell chappals and sandals in air-conditioned stores but sell our food and vegetables on the footpath. We as a society have complicated our lives and we like to live in the web, doing little to alleviate basic problems. It is high time people dismantled their notions that money gives security and happiness. One gets happiness when the mind is free from stress. It's high time people worked towards leading healthier and happier lives by working in harmony with nature," explains Madhu.
If you would like to know more about Madhuchandan's organic farming movement, you can mail him at madhuchandan@gmail.com