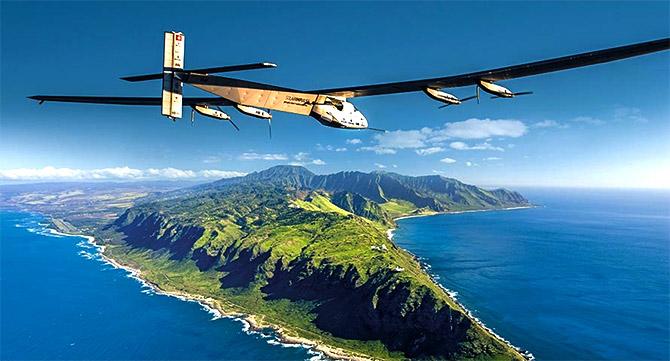 The ambitious dream of flying the solar-powered plane, Solar Impulse around the world faced a major setback on Wednesday.
The team has decided to halt the trip in Hawaii after a battery damage hit its envious flight.
The batteries of the plane got overheated in the record breaking oceanic flight from Nagoya to Hawaii. The solar powered plane of Bertrand Piccard and Andre Borschberg will stay in Hawaii until early spring 2016.
After the longest and most difficult part of the journey which lasted 5 days and 5 nights (117 hours and 52 minutes), Solar Impulse will undergo maintenance repairs on the batteries due to damages caused by overheating, said a company statement.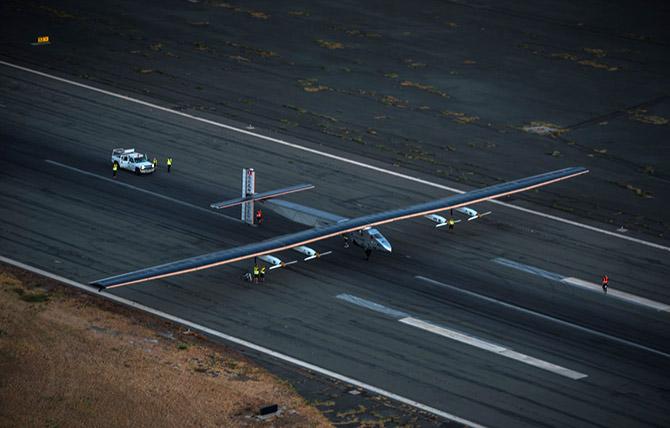 "During the first ascent on day one of the flight from Nagoya to Hawaii, the battery temperature increased due to a high climb rate and an over insulation of the gondolas. And while the Mission Team was monitoring this very closely during the flight, there was no way to decrease the temperature for the remaining duration as each daily cycle requires an ascent to 28,000 feet and descent for optimal energy management," the statement said.
The plane had performed very well during the flight. The company said the damage to the batteries is not a technical failure or a weakness in the technology but rather an evaluation error in terms of the profile of the mission and the cooling design specifications of the batteries.

The temperature of the batteries in a quick ascent or descent in tropical climates was not properly anticipated. Unfortunately, irreversible damage to certain parts of the batteries will require repairs which will take several months.
The Solar Impulse engineering team will be studying various options for better cooling and heating processes for very long flights.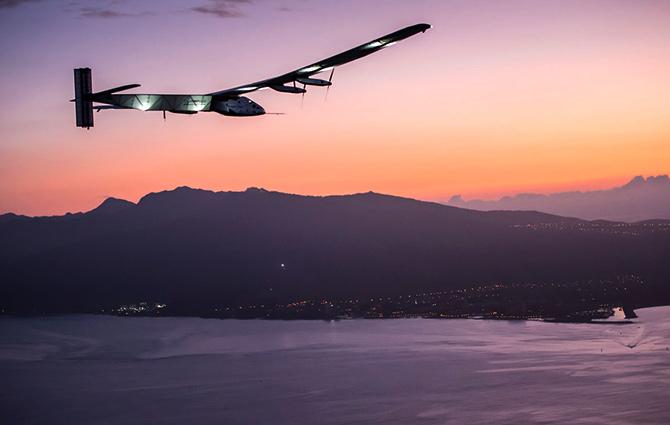 The University of Hawaii and the Department of Transportation will host the plane in its hangar at Kalaeloa airport.

Post-maintenance, check flights will start in 2016 and the Round-The-World mission will resume early April from Hawaii to the USA West Coast.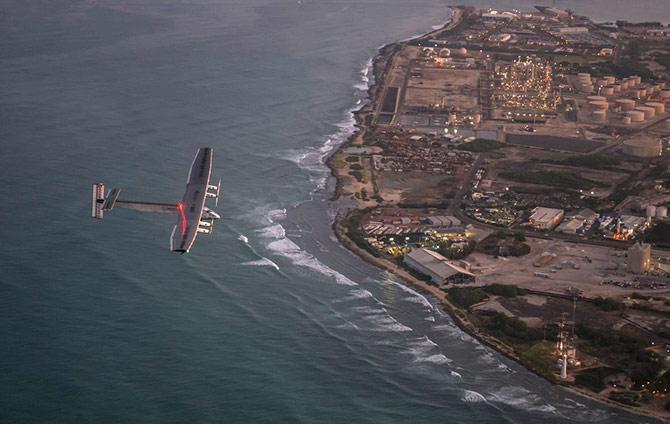 From there, Solar Impulse will cross the USA to JFK in New York before making the Atlantic crossing to Europe and then returning the point of departure in Abu Dhabi.
Solar Impulse is attempting a historic first of flying around the world only on solar energy. The Solar Impulse has completed 8 legs, covering nearly half of the journey.
"The setbacks are part of the challenges of a project which is pushing technological boundaries to the limits. Solar Impulse will try to complete the first ever round-the-world solar flight in 2016 and this delay will in no way influence the overall objectives of this pioneering endeavour," the statement said.

Images: Solar Impulse landing in Hawaii. Photograph, courtesy: Solar Impulse