IMAGE: The new first class seats aboard an Etihad Airways Boeing 787 Dreamliner passenger jet. Photograph: Arnd Wiegmann/Reuters
Etihad Airways launched an A380 aircraft service between Abu Dhabi and Mumbai from Sunday.
The aircraft boasts of a three-room private cabin and it replaces the existing Boeing 777/Airbus 340 service.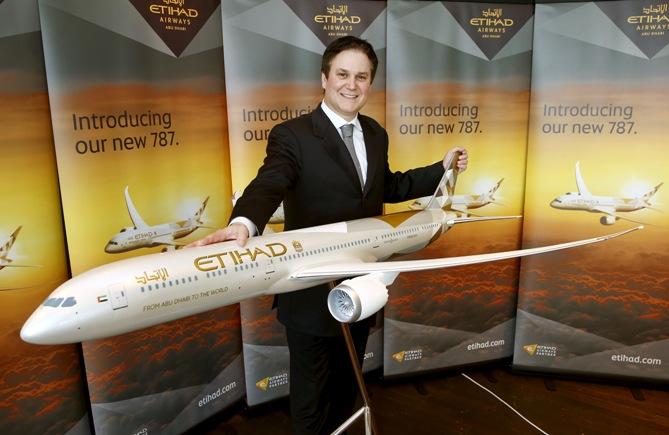 IMAGE: Etihad Airways Chief Commercial Officer Peter Baumgartner poses behind a scale model of an Etihad Boeing 787 Dreamliner passenger jet during a media presentation. Photograph: Arnd Wiegmann/Reuters
Etihad is the fourth airline to operate the super jumbo aircraft to India, after Singapore Airlines, Emirates and Lufthansa.
Five A380s in Etihad fleet and five more are on order
London, New York, Sydney are Etihad's other A380 destinations, its Melbourne service begins from June 1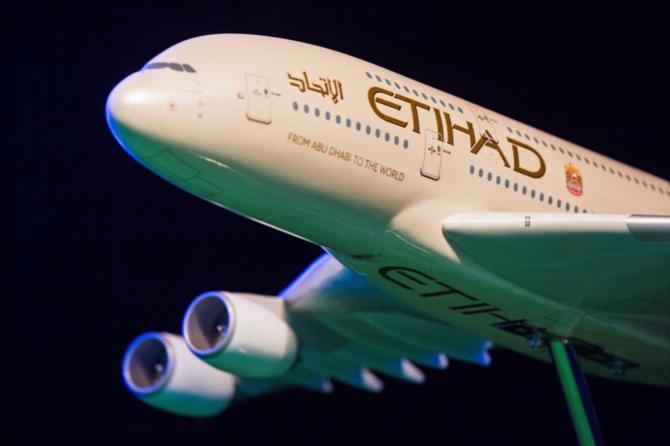 IMAGE: A model Etihad Airways plane is seen on a stage. Photograph: Lucas Jackson/Reuters
About Airbus A380
184 Number of Airbus A380s in service globally
13 Number of airlines which operate the aircraft
Daily A380 flights of all airlines -- 250
Dubai airport has the highest daily A380 operations in the world, with about 120 daily A380 flight movements. Emirates and Qantas operate A380 flights from Dubai.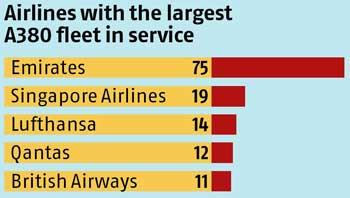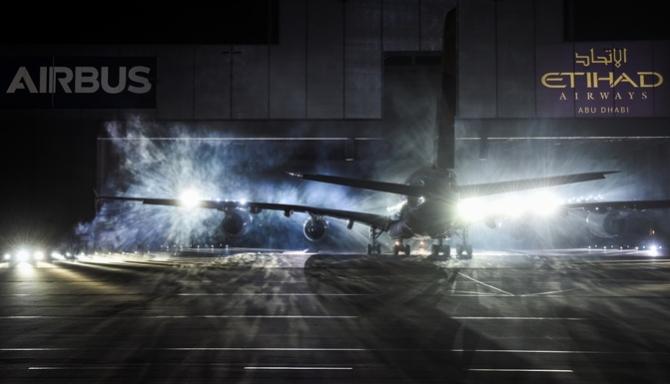 IMAGE: An Airbus A380 rolls out of a paint hangar during a branding ceremony of Etihad Airways. Photograph: Fabian Bimmer/Reuters
About Etihad's Airbus A380
Etihad's Airbus A380 aircraft has capacity for 496 passengers in a four-class configurations, including a three-room private cabin (called The Residence) and first, business and economy classes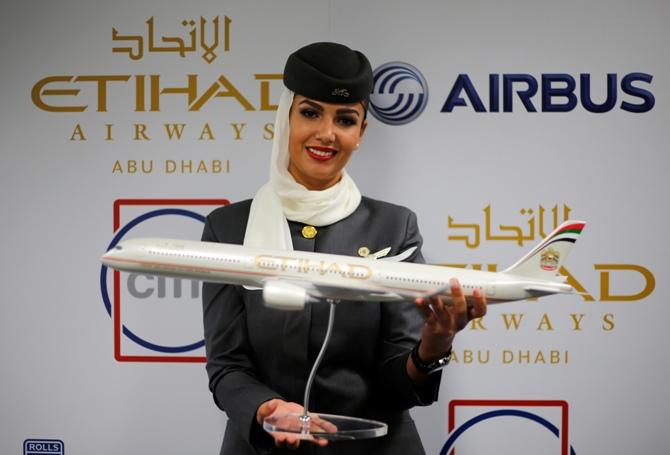 IMAGE: A flight attendant of Etihad Airways holds a model of the Airbus A350 during the Dubai Airshow. Photograph: Ahmed Jadallah/Reuters
The Residence measures 125 sq ft and comprises a living room, a bedroom and a shower. Facilities and services include an on-board chef, butler service, luxury chauffeur transfers and private check-in. A return ticket from Mumbai to Abu Dhabi for up to two passengers in The Residence will cost around Rs 700,000. For London and New York, the fares are over Rs 35 lakh (Rs 3.5 million) and Rs 50 lakh (Rs 5 million), respectively
The four-engine, double-deck Airbus A380 is the largest passenger aircraft in operation. It allows airlines to increase capacity on high traffic routes and slot constrained airports, and promises 15% lower costs per seat. Emirates flies a few 615-seat twin-class A380
Sources: Airbus, Etihad Airways