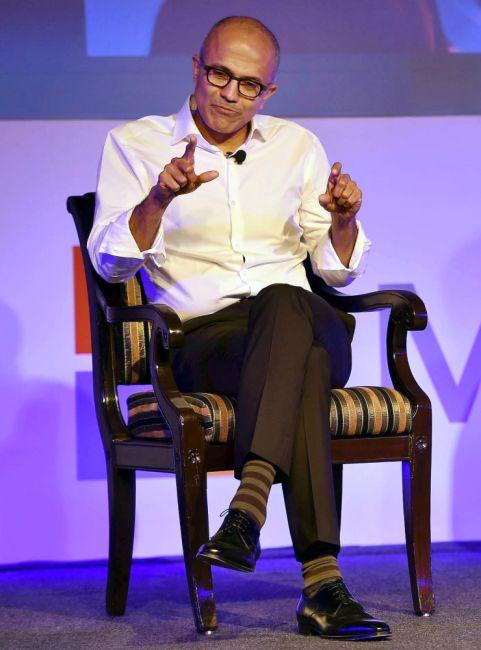 Microsoft CEO Satya Nadella speaks at Talent India 2014 Conference in New Delhi. Photograph: Vijay Kumar Joshi/PTI
Live as if it's your last day, but learn as if you have to live forever, said Satya Nadella, the India-born Chief Executive of global software giant Microsoft while interacting with students in New Delhi.
At an interactive event with students, Nadella, who is on his maiden visit to India after taking over as the CEO of the US-headquartered firm, said one should be passionate about what he or she does and should never stop learning irrespective of the heights they scale.
He, along with Human Resources Development Minister Smriti Irani, was addressing students at an event, which was streamed live across 20 states, 300 cities and 750 locations.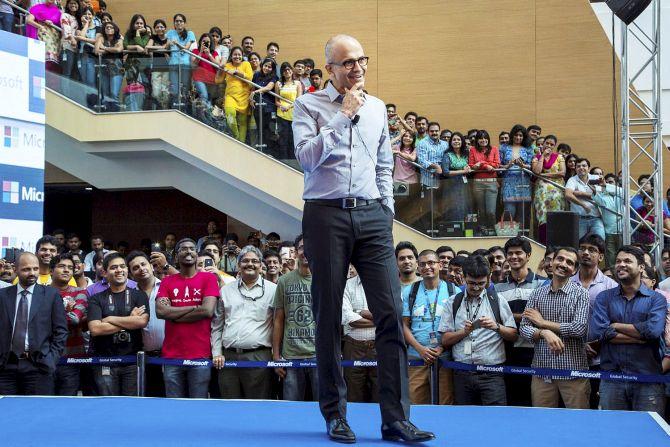 Nadella interacts with employees. Photograph: PTI
Nadella advised the youth that they should "fall in love with what you do. Then it doesn't feel like work!"
Talking about the opportunities in India, he said the energy and optimism in the country is palpable.
"As you prepare to change the world, the opportunity before you is unparalleled. All of you represent a multi-disciplinary approach to innovation - and that will change the future. The mobile first, cloud first is a very rich canvas for innovation - it is not the device that is mobile, it is the person that is mobile."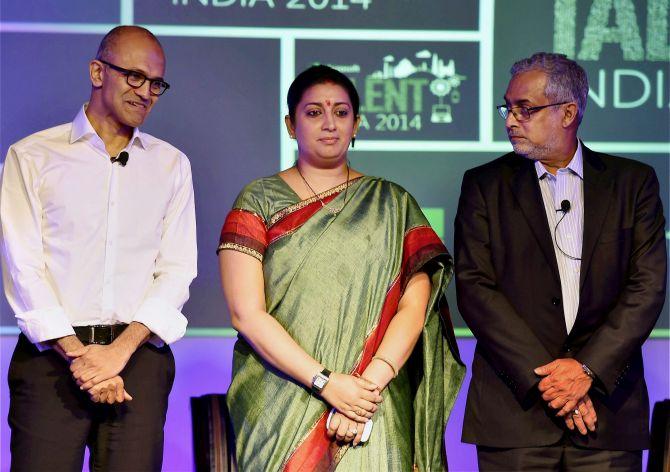 Union Human Resource Development Minister Smriti Irani with Microsoft CEO Satya Nadella and Microsoft India Chairman Bhaskar Pramanik at Talent India 2014 Conference. Photograph: Vijay Kumar Joshi/PTI
He added that "in the long run, EQ (emotional quotient) trumps IQ (intelligence quotient). Without being a source of energy for others very little can be accomplished."
Reminiscing his journey, Nadella said when he was growing up, he had not anticipated that he would "go west of Mumbai".
"...and then I land up in Wisconsin. Believe me, my journey has not been a simple journey of progress. There have been many ups and downs and it is the choices that I made at each of those times that have helped shape what I have achieved," he added.