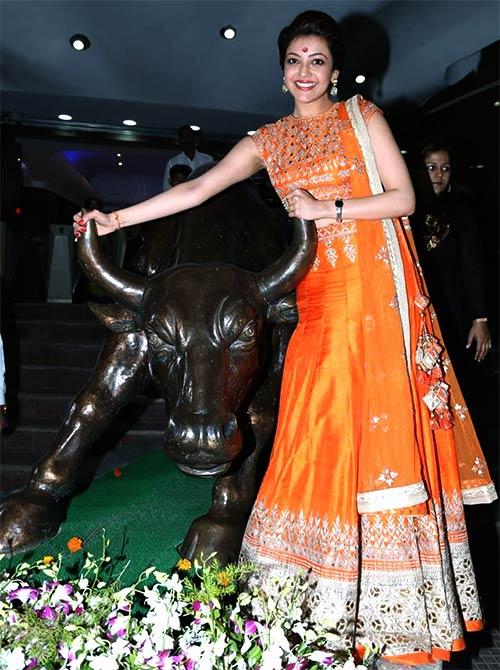 Image: Bollywood actress Kajal Agarwal attends the Muhurat Trading session at the Bombay Stock Exchange. Photograph, courtesy: BSE
Our stock exchanges no longer belong to one state or one community, says N Sundaresha Subramanian.
Two events in the past few days have put a disturbing question into my head: Is our stock market truly national?
The first, was the Maharashtra state election, held on October 15. The second one came a week later. More on that later.
The announcement that October 15 would be a market holiday created some flutter on Twitter. Former fund manager Sandip Sabharwal, and one of the few active Street voices on social media, tweeted: "It's weird that stock markets are closed on October 15 for Maharashtra Assembly elections. Is it not an all-India market?"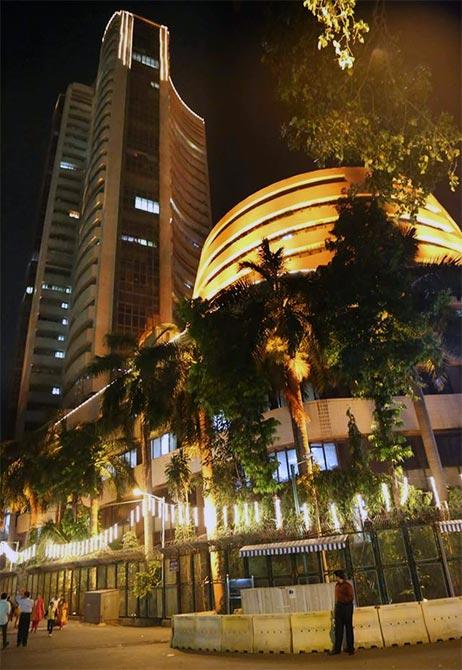 Some tried to justify it by quoting administrative rules which require declaration of a local holiday. However, there was hardly any convincing answer to Sabharwal's other question: "Why is it National Stock Exchange then? It should be Mumbai Stock Exchange."
The second event, not part of Sabharwal's Timeline, came a week after the Maharashtra elections. On October 23, the stock market was open for a little more than an hour.

Television anchors went overboard with flashy Indian dresses, spaghetti-strap blouses and glittering make-up to welcome the new year, Samvat 2071. They did not stop at that.

They made their guests, usually suited and booted, sober fund managers and analysts, squeeze themselves into red, blue and magenta kurtis, and prodded them to tell viewers how this Diwali was going to usher in the goddess of wealth into their demat accounts.
As usual, more kurti and salwar-kameez clad brokers came to the now defunct trading floor in Mumbai's Phiroze Jeejeebhoy towers to enable TV reporters, also sporting kurtis and tilaks, to report the "fervour and enthusiasm" to their spaghetti-strap anchors.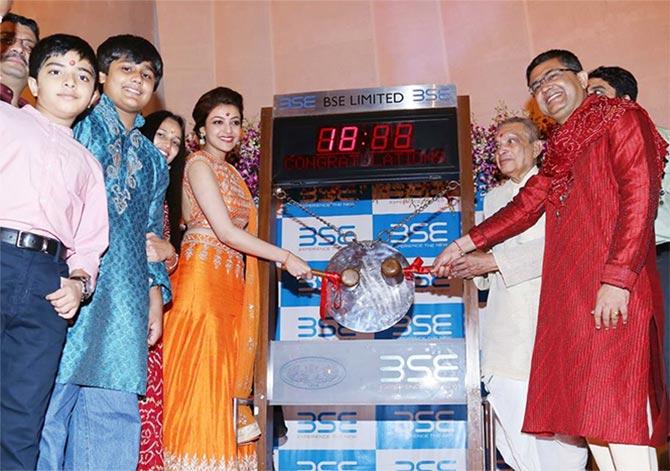 The salwar-kameez brokers made their salwar-clad little grandsons and granddaughters buy stocks, which they think will become multi-baggers. And, imagine, it all started at 6.15 pm this year, much after the regular market closing hour.
This event is called muhurat trading. Some wanted to spell it mahurat trading. Whatever you spelt it, the Street was hardly interested. It traded thinly, with no real serious deals, and went to sleep after the Sensex crawled 63 points.
The concept of muhurat trading is a belief of a certain community and is not shared widely even within the religion to which this community predominantly belongs to. It might be a wonderful tradition and might have been passed on from generation to generation.

But, is it not unfair to other players in the market, who do not belong to the particular community or religion?

For example, in many parts of the country, Diwali is celebrated a day earlier and for completely different reasons. It is not even associated with wealth. Practically, none of the serious institutions which now account for a dominant share in trading volumes follows the Samvat year.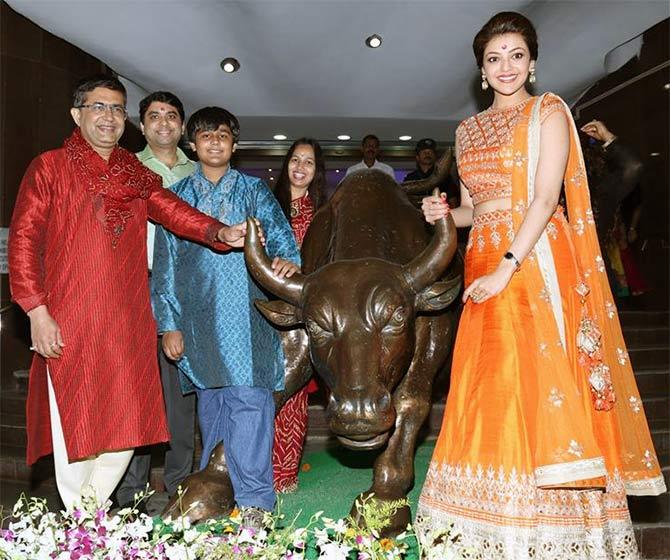 Image: Ashish Chauhan, CEO of the Bombay Stock Exchange with Kajal Agarwal during the Muhurat Trading session. Photograph, courtesy: BSE
Is this tokenism not discriminatory? Does it not look like one community saying this trade still belongs to my community and you are an outsider?

Are you not pushing a tradition of a minuscule minority down the throats of a silent majority?
And, I have not even begun to talk about the foreign institutions, also significant players. Is it not time we packed off this muhurat trading media circus?
Both, the election day holiday and the muhurat trading, are relics of a past, which we had decided to leave behind over two decades ago.

Our stock exchanges no longer belong to one state or one community. They should stop thinking local.