In stark contrast to the record year in jewellery demand, WGC said that Indian investment slumped by 50 per cent to 180.6 tonnes in 2014 -- a five-year low.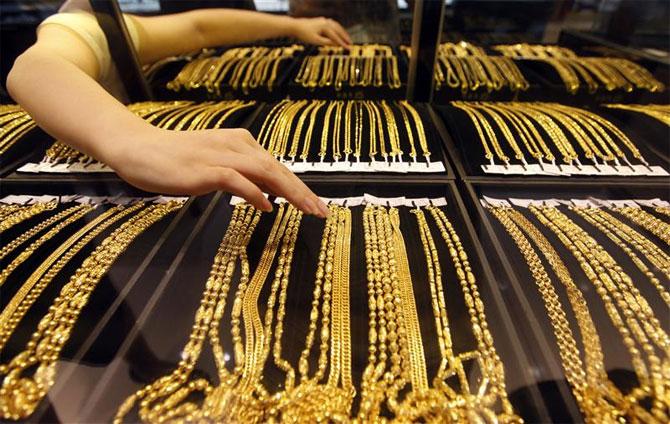 Image: Gold ornaments on display at a jewellery store. Photograph: Reuters

Gold jewellery demand in India, the world's largest consumer, touched record 662.1 tonnes in 2014 despite curbs on gold imports but investment demand slumped by 50 per cent from last year, the World Gold Council said on Thursday.
In 2015 also, gold jewellery demand is expected to remain strong if the government does not impose further market distorting policies and price volatility does not unsettle the market, it said in its latest report.
India imported 769 tonnes of gold in 2014, down from 825 tonnes in the previous year.
However, the annual smuggled gold is estimated to have been around 175 tonnes, it added.
"It was a standout year for Indian jewellery despite government restrictions on gold imports, reinforcing the nation's affinity with gold," said Marcus Grubb, managing director, Investment Strategy at the WGC, in the report.
Jewellery remains the biggest component of demand for gold.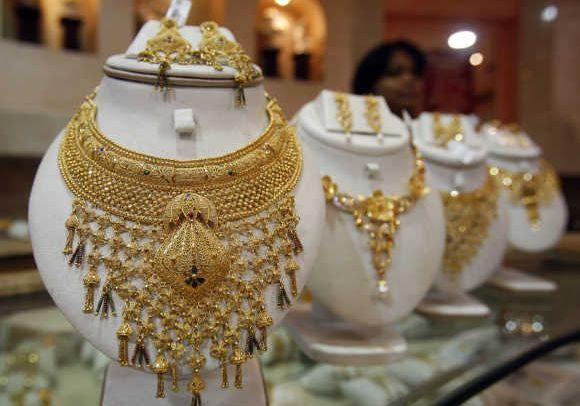 Image: A jewellery showroom. Photograph: Jayanta Dey/Reuters

Indian demand for jewellery was up by eight per cent to 662 tonnes, the best year of jewellery demand since records began in 1995, the WGC report said.
Overall gold demand stood at 842.7 tonnes in 2014, of which gold jewellery demand alone was 662.1 tonnes.
The fourth quarter growth was concentrated in October (Diwali) and November (wedding season), before the sudden and unexpected removal of import restrictions at the end of the month threw the market into disarray, it said.
"The government announcement that the 80:20 rule would be retracted took the market completely by surprise. Imports came to an almost complete halt as the market tried to grasp the implications and assess whether the system may be replaced with alternative measures," the WGC said.
According to WGC, smuggling volumes have since risen again as the 10 per cent import duty on gold continues to make this activity profitable enough for those operating well established routes.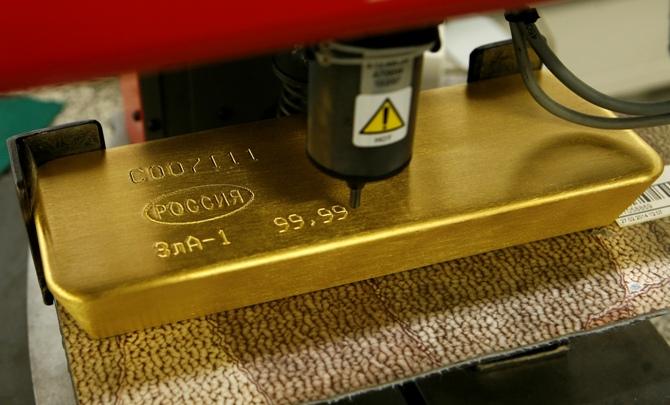 Image: A machine engraves information on an ingot 99.99 percent pure gold at the Krastsvetmet non-ferrous metals plant in Russia's Siberian city of Krasnoyarsk. Photograph: Ilya Naymushin/Reuters

"These channels are likely to remain open until government intentions with regards to gold imports are more clearly communicated to, and understood by, the market," it said, adding that annual gold smuggling volumes are estimated to have been around 175 tonnes.
In stark contrast to the record year in jewellery demand, WGC said that Indian investment slumped by 50 per cent to 180.6 tonnes in 2014 -- a five-year low.
"Although demand for bars of very small denominations was healthy during the auspicious festival period in Q4, larger scale investors -- traditionally focussed on large (kilo) bars -- were notable for their absence, preferring to invest in alternative asset classes," it said.
Gold used in other industrial and decorative applicationsfell by six per cent in 2014, slipping to a five-year low of 87.5 tonnes.
"The year-on-year decline was again concentrated in India, where demand for jari thread used in clothing was buffeted by changing consumer tastes," it added.