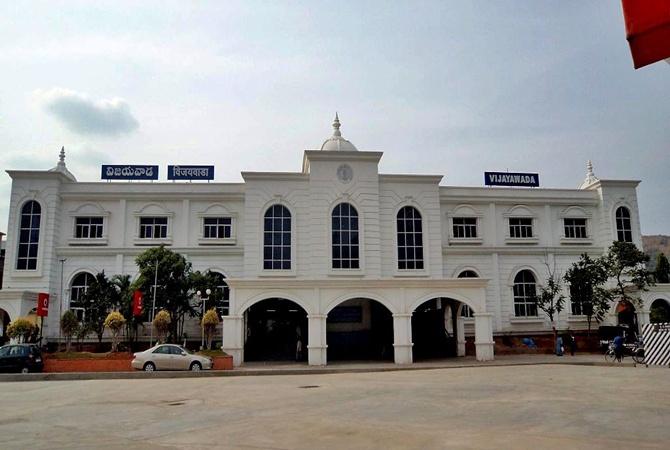 Image: Vijayawada becomes a realty hotspot. Photograph: MyVijayawada/Wikimedia Commons
Look at reaping the first-mover advantage by possessing lands in AP's newly-announced capital city.
The Andhra Pradesh government's decision to make Vijayawada its capital has reinvigorated vested interests to acquire private landholdings in the precincts of the envisioned "grand capital".
Riding on chief minister N Chandrababu Naidu's plan, individuals with deep pockets are closing in on huge land deals in the 100-km radius of Vijayawada, covering Krishna and Guntur districts.

Primarily a rich agrarian belt, Krishna and Guntur districts do not have contiguous tracts of private land, a disadvantage considered by realty players.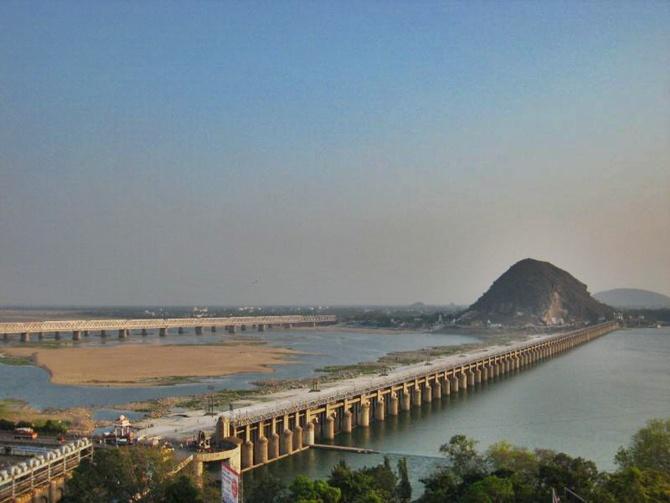 Image: Krishna River, Vijayawada. Photograph: Subhash Chandra/Wikimedia Commons
According to a government estimate, though there is an available 120,000 acres under government control in these two districts, it's not entirely contiguous.
Yet, by the close of 2013 as clear signals emerged on bifurcation of AP, top brass from film industry to business and NRIs having Andhra roots started looking at reaping the first mover advantage by possessing lands here.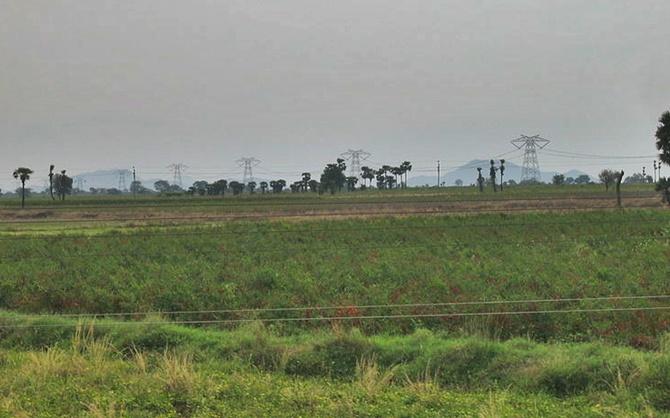 Image: A farmland in Guntur. Photograph: Gpics/Wikimedia Commons
A real estate source actively working for them in Vijayawada said early this year a leading Telugu film producer and a TDP MP bought 400 acres in Nuzvid, 40 km from Vijayawada and know as the mango town.
Those having political connections and business interests have got around 600 acres worth of farmland registered in the town during the same period.
"Those looking for a Cyberabad-like skyscrapers in the new 'green capital', the Krishna belt is a perfect fit," said Gadde Rajling, chairman of Greater Vijayawada Builders Association. Vijayawada lies in Krishna district. A national highway connects it to Guntur district.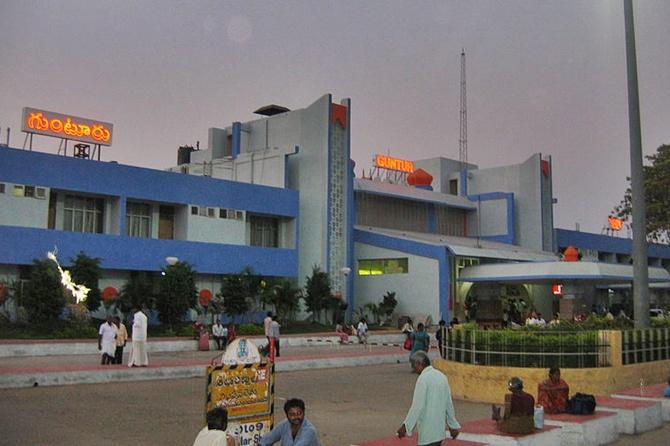 Image: High land valuations not to hamper industrial growth. Photograph: Gpics/Wikimedia Commons
The skyrocketing land valuations, however, would not hamper industrial growth. He said, "industries would never acquire private land at these valuations, instead the government out of its pooled land would allot them."

Justifying the high land valuations in Krishna and Guntur, he said land valuations had always been on the higher side here as the Land Ceiling Act, 1976, discouraged private parties from holdings above 18 acres. However, this has been diluted over the years.
Meanwhile, private real estate developers in Nuzvid, Gannavaram (airport town), Agiripally (site for proposed government buildings), which are 40-50 km from central Vijaywada, are quoting above Rs 15,000 per square yard.
A partly finished 1,000-sft residential property here is listed above Rs 40 lakh on the property portal 99 acres.com.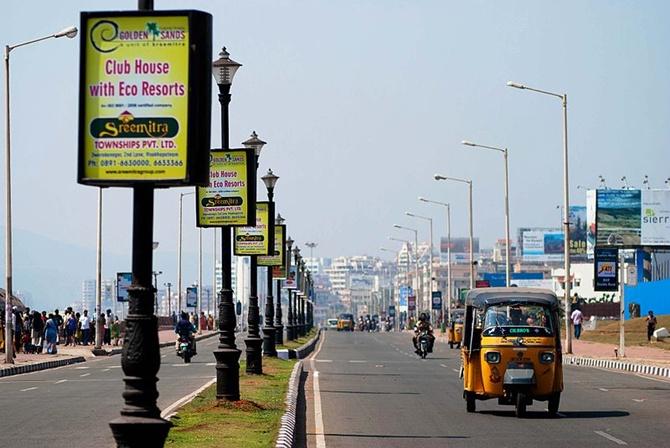 Image: Visakhapatnam, another realty hotspot. Photograph: Ravigopal Kesari /Wikimedia Commons
Visakhapatnam too a good bet
Visakhapatnam, the largest city in Andhra Pradesh, has not lost sheen. It continues to be a favourite among industry circles.
"If I'm to set up a unit in Andhra, I will do it in Visakhapatnam as the city offers a huge potential in the next five years," said Kishore K Kothapalli, managing director of Hyderabad-based MRL Posnet. The company is into payment acceptance networks.
With a population of above two million, Vizag has a cosmopolitan flair besides being home to public sector industries, including HPCL oil refinery and Rashtriya Ispat Nigam Limited. The Eastern Naval Command is also headquartered here.
Credai Visakhapatnam chapter president K Subba Raju said the city had been witnessing 50 per cent more enquiries in the last two months and open lands in the outskirts were selling for Rs 50 lakh-Rs 1 crore an acre.
"Local builders who have invested around Rs 1,000 crore in residential projects in the city outskirts were getting four-five times higher enquires, when compared with the last three months," he added.
However, the builders have not raised prices as they are keen on offloading properties to get a respite from aggrieved financials. "If the positive trend continues, all the unsold flats would be cleared in the next 5-6 months," Subba Raju said.
(With inputs from VDS Rama Raju from Visakhapatnam)