India's leading decision makers have selected best CEOs who have contributed significantly in their respective fields.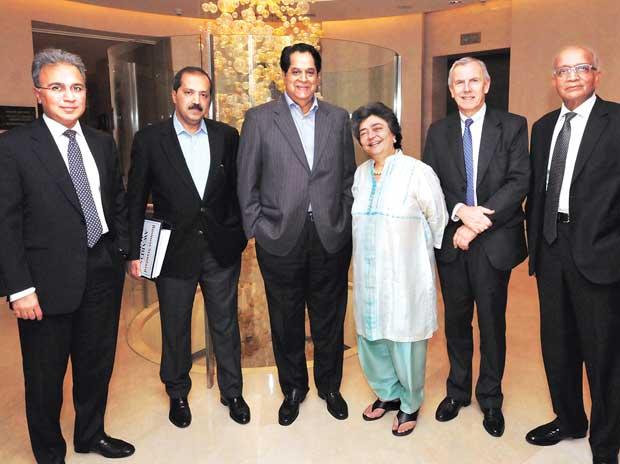 Image: (From left) EY India CEO & Country Managing Partner Rajiv Memani, KKR India CEO Sanjay Nayar, ICICI Bank and Infosys Chairman K V Kamath, AZB & Partners Managing Partner Zia Mody, Vodafone India MD & CEO Marten Pieters and Maruti Suzuki India Chairman RC Bhargava. Photograph: Courtesy, Business Standard
When one of India's most celebrated bankers chairs a jury comprising the heads of India's largest passenger car maker, second-largest telecom company, a leading private equity firm, two marquee management and strategic consultancy organisations and one of India's top legal eagles, the quality of the judgement is predictable.
The task of selecting the winners - in a year when slowdown was the main theme - was a tough one, but the seven-member jury for the Business Standard Awards for corporate excellence in 2014 made it look simple.
What perhaps made the job of selecting the outstanding individuals and institutions simpler was the tone set by the jury's chairman, K V Kamath, at the beginning of the one-and-a-half hours of intense discussions here last Thursday afternoon.
The chairman of ICICI Bank and Infosys said: "The winners should represent the India of today and they should have a reasonably long track record so that their success endures."
He was also in favour of retaining a high cut-off on financial numbers for getting into the shortlist of potential winners, even as the external environment was tough.
True to that spirit, the jury managed to crank up the strictness quotient a level higher and said while financial ratios were important for making the first cut, equal importance had to be given to individuals who built real institutions at a time when the challenges in the external environment were severe.
Innovation and globalisation were considered the other factors that would go into the final selection.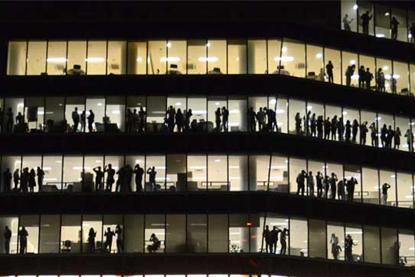 Image: Top executives from corporate India are performing well in the current financial year. Photograph: Reuters
Each jury member had thoroughly read the 260-page information docket, containing details of the candidates shortlisted by the Business Standard Research Bureau, which chose firms that posted top line and bottom line growth of over 15 and 10 per cent, respectively, in each of the three years from 2011-12 to 2013-14.
Other financial criteria, including returns on net worth and capital employed, were also applied.
The dominance of information technology companies in the shortlist led to a lively discussion initiated by Maruti Suzuki Chairman R C Bhargava (see left), who noted some of the manufacturing companies were doing great work but lost out on financial metrics.
KKR India Chief Executive Sanjay Nayar agreed and said the relative lack of buoyancy in the manufacturing sector provided some food for thought for the policy-makers.
The other jury members were Vodafone India Managing Director & CEO Marten Pieters, McKinsey India MD and McKinsey Inc Director Noshir Kaka (who joined the meeting on video link from Munich), AZB Partners Managing Partner Zia Mody and EY India CEO & Country Managing Partner Rajiv Memani (who came straight from London to attend the meeting).
The stage was set for the jury meeting when Kamath began the process by asking members to shortlist two candidates from each category - each of whom were then subjected to intense scrutiny.
The agenda was a formidable one: Selecting the CEO of the Year and Company of the Year, and achievers in other categories - Star Public-Sector Undertaking of the Year, Star Multinational Company of the Year and Star Small and Medium Enterprise of the Year.
To celebrate Business Standard's 40th year of thought leadership, two other awards were added this year - Best Entrepreneur of 40 years and Best Company of 40 years.
This was also to recognise the institutions and individuals who started operating in the late 1970s and made a significant impact on the country's business landscape.
At the end, four of the seven awardees were from the information technology sector.
But as Kamath and other jury members said, the success of these companies over several past years should not be held against them.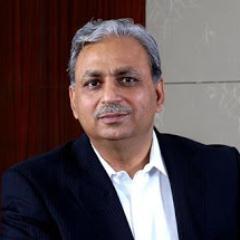 CEO of the Year
There were seven names in the shortlist but the unanimous choice was Tech Mahindra MD & CEO C P Gurnani (see left)who, the jury said, had an "enormously hard task" to take the company into the big league, and he came out with flying colours.
In recent times, under Gurnani, popularly known as CeePee, Tech Mahindra has very successfully demonstrated how a company can create long-term strategic value through acquisitions. Today, TechM is among India's 'Big Five' software service exporters.
The company has been making several acquisitions to build capabilities across verticals, the most recent being its biggest so far - the acquisition of LightBridge Communication Corporation for $240 million in November this year.
The company ended 2013-14 with year-on-year sales growth of 17.7 per cent (in US dollar terms), the highest in the industry.
Nayar said Gurnani's "fantastic customer-centricity" helped TechM mine existing client relationships which explained the company's superior growth rates and high return ratios. Gurnani, who has been with the company for many years now, played a pivotal role in the three-year transformational journey of Mahindra Satyam and the eventual merger between the two.
Company of the Year
Motherson Sumi Systems
The jury decided on Motherson Sumi despite it not being on the shortlist by financial metrics.
Kamath said, and others agreed, that the company was on top in top line and return on net worth, at a time when the odds were against manufacturing companies in general and the automobile ones in particular.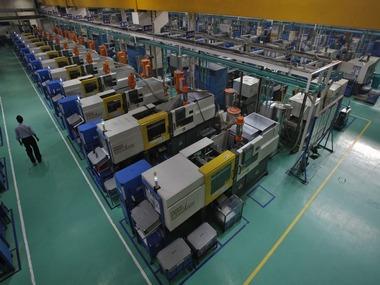 Image: Motherson Sumi is now the country's largest auto component manufacturer with a global footprint. Photograph: Reuters.
Starting as a vendor to Maruti Suzuki (then Maruti Udyog) in the mid-1980s, Motherson Sumi is now the country's largest auto component manufacturer with a global footprint.
Founded by Vivek Chaand Sehgal in 1986 in a joint venture with Japanese companies, to manufacture wiring harnesses for cars, the company reported net sales of Rs 30,427 crore (Rs 304.27 billion) in 2013-14, nearly thrice as much as Bosch, one of the oldest and traditionally India's largest auto-component vendor, did that year.
Motherson Sumi leveraged its robust business in India to acquire two large loss-making European vendors in 2009 to become a global leader in vehicle interior systems.
Already a Tier-I vendor to most of the India-based car makers, Motherson is now also a vendor to marquee global auto majors like BMW, Audi, Mercedes Benz, Volkswagen and Renault.
In the past five years, the company's net sales and net profits have grown at compound annual rates of 63.6 per cent and 34.1 per cent, respectively.
That makes it one of the fastest-growing manufacturing companies in India.
Star MNC of the Year
Seven companies made the first cut and the jury pruned the list to two.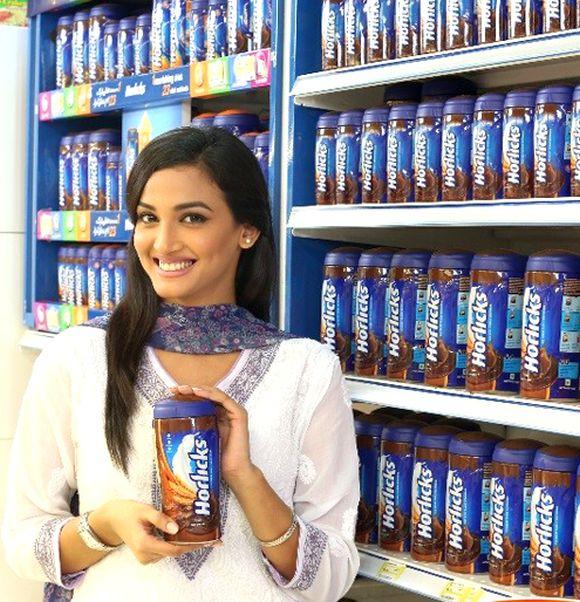 Image: GlaxoSmithKline Consumer Healthcare is reinventing its Rs 3,000-crore health food drink, Horlicks, and is also expanding its rural reach. Photograph: Courtesy, GlaxoSmithKline
But for its enduring success, the unanimous choice was GlaxoSmithKline Consumer Healthcare, which had won the award in 2010 as well.
The consumer product arm of British pharmaceutical major GlaxoSmithKline, has maintained its industry-beating performance by reinventing its Rs 3,000-crore health food drink, Horlicks, and expanding its rural reach.
For example, Horlicks has a market share of 30 per cent in rural India, where it has grown at 20 per cent, a higher rate than in urban parts.
It is not Horlicks alone. Its toothpaste brand, Sensodyne, kept its lead, despite being costlier than rivals, with an overall market share of 2.5 per cent.
Star PSU of the Year
Power Grid Corporation
This was the easiest to decide and everyone agreed on Power Grid Corporation as the best.
One of the fastest-growing electricity utility companies, PowerGrid has shown remarkable compound annual growth rates of 22 per cent in sales and 18.6 per cent in net profit, over the past three years - a period when companies in the power and other infrastructure sectors faced huge problems.
The company even finds a place in PLATTS Top Growing Global energy company list during 2014.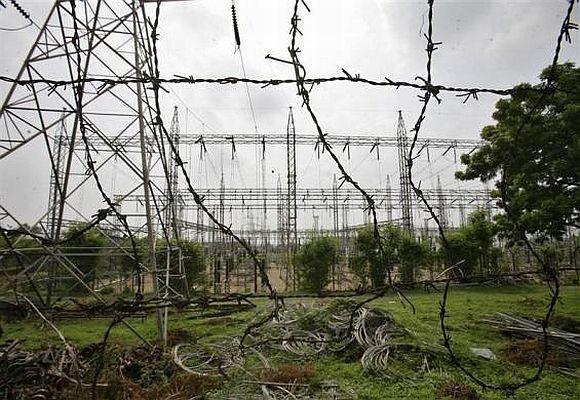 Image: State-run Power Grid is doing financially well under the leadership of its CMD RN Nayak. Photograph: Reuters.
Despite volatile market conditions, PowerGrid was able to raise funds last year, without much concern or pressure on equity dilution, led by its balance sheet strength and project profiles.
A large part of credit for this goes to its chairman & managing director, R N Nayak (59), who has been with the company for about 30 years now.
Star SME of the Year
Moving to the small and medium enterprise (SME) space, the jury discussed several names, but eClerx Services, India's first publicly listed knowledge and business processing outsourcing company, emerged the winner. Incorporated in 2000 and listed in 2007, the Mumbai-based firm offers a slew of services to its 50 Global Fortune 1000 clients.
In the year ended March 2014, the company's operating revenue grew 14 per cent, translating into strong profitability, as benefits of a weakened rupee seeped in.
With an employee strength of under 7,000 across its six domestic delivery centres, eClerx also has presence in global client service locations in eight top global cities, offering operational support, data management and analytics solutions.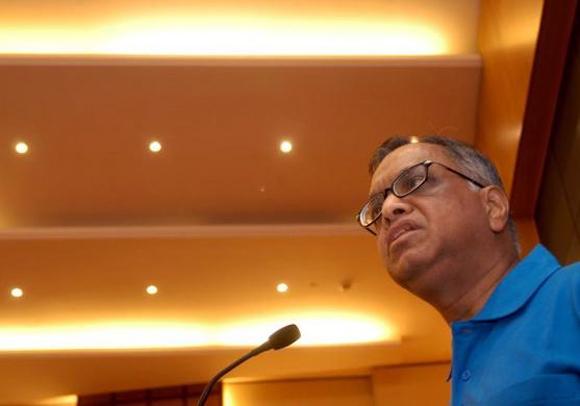 Image: NR Narayana Murthy. Photograph: Jagadeesh/Reuters
Best Entrepreneur of 40 years
N R Narayana Murthy
N R Narayana Murthy's greatest contribution to Indian business is not the creation of Infosys, one of India's most successful companies.
It is creation of the possibility that a set of ordinary, hard-working people with strong values can create jobs and wealth, and distribute wealth on a large scale - all of that legally and ethically. He also demonstrated to the world that an Indian company could implement standards of quality, operations, finance that compare with the best.
Son of a schoolteacher, he is known as a "compassionate capitalist" that created many dollar millionaires, who learnt to think big from him.
As one of the six co-founders of Infosys and the company's CEO for 21 years, Murthy helped spark the outsourcing revolution that transformed India into the world's back office.
His importance to Infosys is evident from the fact that he had to come back from retirement in 2013 to reboot the company he had founded in 1981.
But true to his principles of corporate governance, he stepped down as executive chairman a year later, after installing Vishal Sikka as CEO. To give space to a professional outsider, he has adopted a total hands-off approach.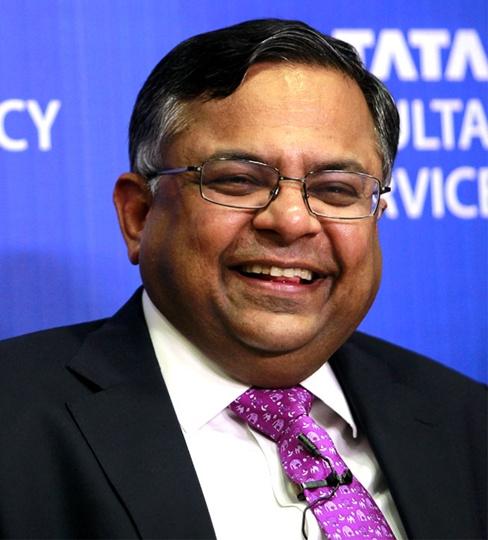 Image: TCS CEO N Chandrasekaran. Photographs: Reuters.
Best company of 40 years
N Chandrasekaran
The jury discussed several names but zeroed in on Tata Consultancy Services (TCS) because of its pioneering role in emergence and growth of the IT industry in India.
Starting as a division of Tata Sons in late 1960s, TCS, the jury said, had gone on to become one of the world's top IT services firms.
The jury felt TCS not only maintained its leadership among Indian companies but leveraged its strength to move into the global league, and now competed with giants like IBM and Accenture.
This has translated into phenomenal financial success for its shareholders; the company is now India's most valuable firm and the largest dividend payer among private-sector companies.
In the past nine years since its listing in 2004, TCS' revenue and net profit have grown at compound annual rates of 26.6 per cent and 28.7 per cent, respectively.
During this period, its dividend outgo increased over 11 times, growing at a compound annual rate of 31 per cent, while its market value expanded at 22 per cent annually.