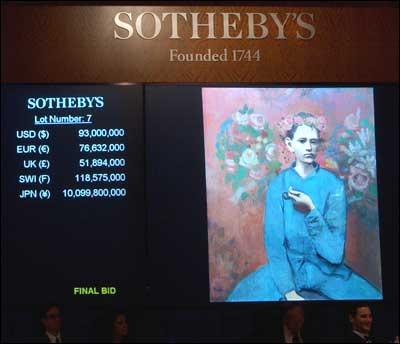 A WORLD RECORD: Pablo Picasso's 1905 masterpiece Garcon a la Pipe became the world's most expensive painting ever when it sold for $104.168 million (Rs 468 crore) at an artwork auction at Sotheby's Holdings Inc. in New York on Wednesday (May 5).
The sale beat the $82.5 million for Vincent Van Gogh's Portrait of Dr Gachet sold in New York in 1990.
The painting, also known as Boy with a Pipe, went under  the hammer for $93 million, to which a huge buyer's premium of $11.168 million was added.
The final hammer price of $93 million for Picasso's Garcon a la Pipe is projected on a screen with an image of the painting (R).
Photograph: Stan Honda/AFP/Getty Images