A comparative analysis of the five TeamLease annual salary primers released between 2008 and 2012 showed the gap between average temporary (temp) and permanent (perm) salaries has narrowed over the last five years, and is now hardly at four per cent. The difference nearly five years ago was in excess of eightper cent.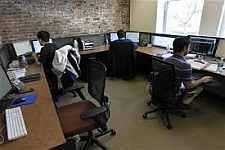 The depression in 2008-09 did have an impact on the temp staffing industry, but it did recover well as is evident from the analysis. Temp staffing industry continued to clock double digit growth (up to 20 per cent) year-on-year, in terms of salary hike, the 2008-09 recession being the only aberration.

"The biggest takeaway is the stress on skills. Around 4-5 years ago, companies only wanted to hire hands and legs, and did not mind if it came along with a brain attached. However, now skills are being rewarded well and companies do not mind going that extra mile to ensure they have the right talent at their disposal.

With more and more traditional sectors recognising 'temping' as a key people staffing strategy, the trajectory is clearly in the direction of growth in hiring and salary increments," said Sangeeta Lala, senior vice-president and co-founder,
TeamLease Services.
Another analysis reflected that the services sector, which has traditionally been the leader in temporary hiring, came precariously close to losing that position a year ago.
The analysis stated that due to healthy growth in hiring as well as salary increments in the agriculture/agrochemicals, automobile, power and energy and FMCG industries, the manufacturing sector trailed the fast growing services sector only by a thin margin in the 2011.
From a temp salary perspective, healthcare and pharma have shown the most impressive growth over the years as salaries grew by 7.96 per cent in 2010, followed by 12.07 per cent in 2011 and 18.87 per cent in 2012, indicating a nearly 45 per cent plus growth every year.
On the contrary, telecommunication sector that showed great promise in early 2009-2010 could not live up to the expectations and slumped to single digit growth in 2012.
The analysis further revealed that there are certain industry-city pair that are soon going to be impossible to beat, because they seem to be outperforming the market.
The most effective of such pair in terms of incrementing salaries are Chennai–automobile, Delhi–food & hospitality, Mumbai–healthcare & pharma and Bangalore–IT.