'I would advise at least a 7-year investment time frame for equity investing.'
Illustration: Uttam Ghosh/Rediff.com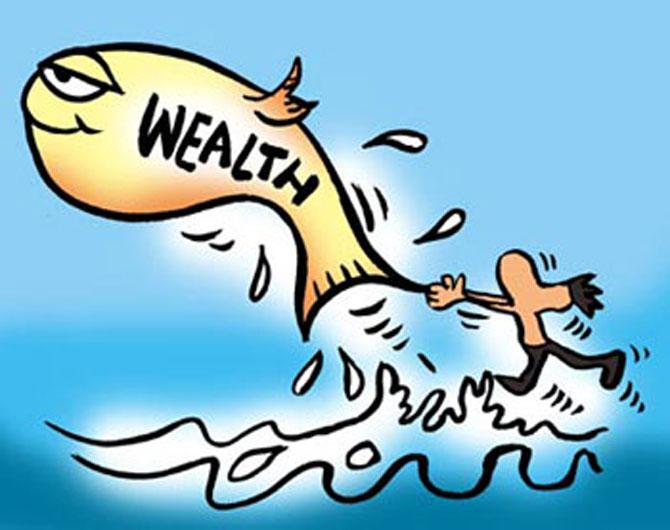 Mutual funds are a popular investment tool for investors because it offers a convenient and cost-effective way to invest in the financial markets.
MFs are also right way to invest into because it provides affordability, liquidity, tax benefits, and professional management and most importantly it helps in maximizing returns by effectively utilising hard earned money.
So which are the best MFs to invest in? Which option to choose -- equity, debt or balanced funds?
Mr Ashok Kumar, a first generation entrepreneur and founder promoter of LKW Investment Advisers, a knowledge based investment advisory company based in Mumbai will answer your queries.
saatvik sharma
Q: Want to invest 50 thousand rupees in a short term fund for approx 3 years. Which fund to buy to get max benefit.
Ashok Kumar
Ans: I would advise at least a 7 year investment time frame for Equity Investing, but if you have to, and you are willing to bear the associated risk with a shorter term investment in Equity, perhaps you could consider Sundaram Select Focus Fund
Avijit Choudhury
Q: [SKB] Sir, Good Afternoon, Kindly suggest me whether L&T India Large Cap Fund & ICICI PRU Value Discovery Fund is a good long term bet i.e., for 5 years ????
Ashok Kumar
Ans: you could alternatively also consider ICICI Bluechip and Kotak Contra
vishvesh ramachandra
Q: which is best equity fund to start investing on behalf of my daughter(17 years) for long term.
Ashok Kumar
Ans: you could consider Franklin India Focused Equity Fund
Aruna Karmakar
Q: hi.. good evening. Can you pls. give an idea the best stocks on which i can invest one time for 2-3 years on current present market scenario
Ashok Kumar
Ans: since this Chat is on Mutual Funds, allow me to suggest instead Axis Focused 25 which is market cap agnostic and focuses on limited stocks. I would however prefer if you could stretch your investment time horizon to 7 years at least
vipin sharma
Q: Hi, I have invested sip of HDFC top 200. Please let me know if I need to stop it as there is no growth seen for last 1year. If yes then let me know the funds to be invested in
Ashok Kumar
Ans: your observation about the performance of HDFC Top 200 is borne out by recent numbers. However, it is managed by a fund manager with a good track record and has now been re-classified as HDFC Top 100. You could consider giving the fund more time or alternatively consider Axis Bluechip or SBI Bluechip
KamalaKannan J
Q: I would like to invest Rs.2000 in Axis LT equity fund for 10 yrs. Is it good fund.
Ashok Kumar
Ans: LT Equity is a ELSS Fund, it is a steady and good performer in the ELSS category. While there is nothing that prevents you from investing therein for the next 10 years, the trend in this category has hitherto been to redeem and reinvest to claim a tax break every 3 years. However that trend could now change with the 10% LTCG on Equities
Akansha Raj
Q: Good evening, i hold franklin prima and prima plus in my portfolio and m seeing volatile returns recently, can you suggest alternatives?
Ashok Kumar
Ans: it is true that the 2 Franklin Funds you mentioned have not performed too well of late. However, you could consider giving it some more time. If you must switch therefrom, then you could consider L&T Equity Fund and Sundaram Select Focus Fund.
binoy nair
Q: Sir I want to invest 1 lakh rupees in a Debt Fund for 6 months. Thereafter want to redeem on requirement or STP it to an equity fund SIP. I am in the 20% tax bracket. Pl suggest some good debt funds.
Ashok Kumar
Ans: given that your time frame is limited and capital protection am assuming is paramount you could consider parking your funds for 6 months in a Liquid Fund that is from the same AMC as the one you are likeliest to later commence transfer to Equity via STP
SUNIL GUPTA
Q: Hello, would you recommend ABSL Small Cap and for the long term, say 5-7 years?
Ashok Kumar
Ans: you seem to be willing to take risk and if so, you could also consider HDFC Small Cap or Reliance Small Cap as alternatives
anand shukla
Q: For next 10 year I want Rs 10000 monthly investment through SIP. Suggest me funds
Ashok Kumar
Ans: it is unclear from your question whether you wish to invest one-time (Lumpsum) or via SIP. Based on your time frame, assuming you have a higher risk appetite you could consider Franklin Smaller Companies & Invesco Mid Cap. Else, consider a mix of Large Cap and Balanced Advantage Funds like Franklin Bluechip & Axis Dynamic Equity Fund.
Dheeraj Ajwani
Q: I have sip of Axis Long Term Equity Fund ELSS frm last 3 years. should I continue with the same?
Ashok Kumar
Ans: Axis Long Term Equity Fund ELSS is one of the better performers in its category and you could remain invested, though the trend is to redeem and reinvest to claim a tax break. However that trend could now change with the 10% LTCG on Equities.Your SIP selection seems fine too
shah babulal
Q: I m doing the SIP in following MF is it good?HDFC TOP 200HDFC EquityIDFC premier equityDSP black rock top 100now the return from these funds is not at par with the peers.What should I do?
Ashok Kumar
Ans: Since you do not seem satisfied with this mix for your SIPs you could consider Axis Bluechip, ICICI Bluechip, L&T Large & Midcap Fund and Edelweiss Multicap
atma bansal
Q: How is SBI blue chip
Ashok Kumar
Ans: SBI Bluechip is a reasonably steady performer in the large cap space and is ideal if you are a moderate to medium risk investor.
theWorld
Q: I have invested in Kotak Select focus fund & Birla Pure Value fund, are these good for long term?
Ashok Kumar
Ans: Kotak Select Focus is a steady performer but Birla Value adopts an aggressive investment style and returns therefrom can be more volatile than some other funds from the same category. As long as you are aware of and fine with that fact, its fine
Smita Sakhare
Q: I am 26 and want to start investing, can you please recommend me 3 good equity funds
Ashok Kumar
Ans: It is commendable that you have commenced investing at a young age, Kudos. You could consider Axis Focus 25, HDFC Mid Cap and Edelweiss Multi Cap. If you wish to lower your risk profile a tad, you could also consider L&T Hybrid Equity Fund
Jyoti Rao
Q: Hi,Can you please advise an equity fund for 10 years duration?
Ashok Kumar
Ans: You could consider Franklin India Focused Equity Fund
rajiv sharma
Q: Sir, I have invested in Reliance Tax Saver and HDFC Tax Saver. Should I continue to hold my investments in these or redeem them. Please note that I have these investments for more than 3 years in these two funds. Many Thanks!
Ashok Kumar
Ans: You can consider L&T Tax Advantage and IDFC Tax Advantage
Nishi Menon
Q: Good evening sir, should i opt for tax savings funds? can you recommend couple of funds?
Ashok Kumar
Ans: You can consider it for your Sec.80C tax relief. Funds you could consider from this space are ABSL Tax Relief 96 and Axis Long Term Equity
Gurucharan Singh
Q: Hi Can you please suggest me a good balanced fund
Ashok Kumar
Ans: You could consider ICICI Pru Equity and Debt Fund, HDFC Hybrid Equity and L&T Hybrid Equity
ND
Q: I am 40 years and Investment horizon is long term. can take risks.have the following as SIP (40K PM)SBI BLUE CHIP GROWTH 10K PMFranklin India PRIMA PLUS GROWTH 5K PMRELIANCE SMALL CAP - GROWTH 15K PML & T Infra Growth 5K PMIDFC Infra-Growth 5 PM1. How is my portfolio?2. Plan to increase SIP by 20K more. How about SBI Small Cap Fund (G). Any Suggestions
Ashok Kumar
Ans: I would hesitate to add a sectoral fund in my portfolio unless it is a comprehensively structured one already. But given that you have indicated the willingness to bear risk, your SIPs seem reasonably aligned to that line of thought. If you wish to add 20k SIP via Small Cap funds, you could consider Reliance Small Cap and L&T Emerging Businesses. Am presuming you are well aware of its being a high risk-reward category too
Ravindra-Kumar Tiwari
Q: hello for 7-10 year investment what is the best option.thanks
Ashok Kumar
Ans: I could have given you a more informed response if I knew your age and risk profile. Nonetheless, everything else being equal consider Multi Cap funds like Kotak Standard Multi Cap and SBI Magnum Multi Cap if you can take some additional risk. You could consider anchoring your portfolio with ICICI Balanced Advantage Fund
Joydeep Bhowal
Q: One more question - What is you take on ICICI pru Value discovery fund hearing lots of thing bout it not sure if I should i Continue ?
Ashok Kumar
Ans: I have no idea what you have heard about ICICI Discovery but you seem concerned that its performance is no longer what it used to be earlier. Unless you can hold on for a while to see if there is a pullback in performance, you could alternatively consider Kotak Contra.
pravin shedage
Q: Sir, I have invest Bharti axa ULIP plan from last 7 years but current value very less as I wish only 10k increase my fund value. Please suggest what can I do with this policy
Ashok Kumar
Ans: Your question is on a ULIP which is beyond the purview of this chat, but I would recommend that you sit down with your Advisor and understand this product better and how your Equity : Debt Ratio has been set in the Investment Plan of this policy. Also, trust you are aware that since the charges are front loaded for a ULIP unlike Mutual Fund, one will have to hold it well beyond the premium paying term to extract maximum benefits
Ashok Kumar
Friends even as I sign out wishing all of you good health and wealth please note that most of the funds we discussed are those we have invested in and also our clients. Am adding the disclaimer that my chat was not in the nature of a recommendation to buy hold or sell any particular mutual fund. Feel free to contact us via lkwindia.com