Consumer rights activists say even with limited resources, it is not possible for customers to take on banks and prove they are at fault.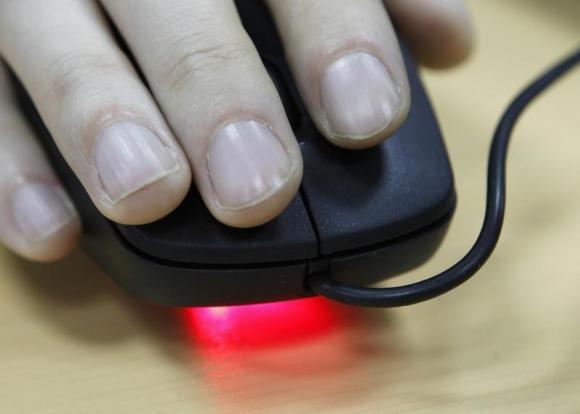 An employee uses a computer mouse inside an office. Photograph: Gleb Garanich/ Reuters
The Reserve Bank of India (RBI) has come up with norms that can give consumers a big relief if they become victims of online fraud.
Its Banking Codes and Standard Board of India (BCSBI) has proposed that in case of electronic fraud, the onus will be on banks to prove it occurred due to negligence of the customer.
The customer's liability in such cases will be up to Rs 10,000 only.
Banks will be responsible for any amount above this.
"As of today, banks make the account holder or card user responsible. T
his means, if a customer decides to prove his or her innocence, the only recourse is litigation. And, if even one wins, the compensation is inadequate," says Bejon Misra, a consumer rights activist.
Take the example of Ashish Thakur, a private firm employee based in Mumbai.
He received an alert from his bank that there's a transaction on his credit card worth Rs 14,000 with a US merchant. He immediately called up customer service to block the card and informed that he had not done any such transaction.
Later, the bank charged him for this fraud and Thakur went to court. "I got the alert after the transaction was done but there was no One-Time Password (OTP) sent. RBI has made OTP mandatory," Thakur said.
Consumer rights activists say even with limited resources, it is not possible for customers to take on banks and prove they are at fault.
"In case of online fraud, the first thing one needs to do is lodge a complaint with the cyber cell of the police," said a cyber security expert.
If there's no result within a month's time, go to court. Also, send a legal notice to the bank asking it to preserve all the original records concerning the case.
There two scenarios where the affected party can drag the bank to court and possibly get a positive outcome.
Just as in the case of Thakur, if the transaction occurs without the one-time password, or the extra layer of security as mandated by the RBI, the case can turn in your favour.
Courts have also favoured customers when the card or password was not delivered to them. Instead, the courier delivery boy or bank employees falsely claimed to have delivered the card or password to the victim's place.
"In such cases, the bank needs to prove someone in your family took the delivery to win the case," says Jehangir Gai, a consumer activist.
However, there's nothing you can do if you are at fault.
Most frauds occur when someone close to the victim makes transactions.
This can be your relative or maid or accountant.
In such cases, there's failure on the part of the customer to protect information and the victim is held responsible.
Similarly, if you transfer money based on the fraudulent emails that say you have won prize money or you give your account or card details to someone, there's little you can do.
The most difficult case for the consumer is when your card is cloned and used online. Most customers lose such cases.