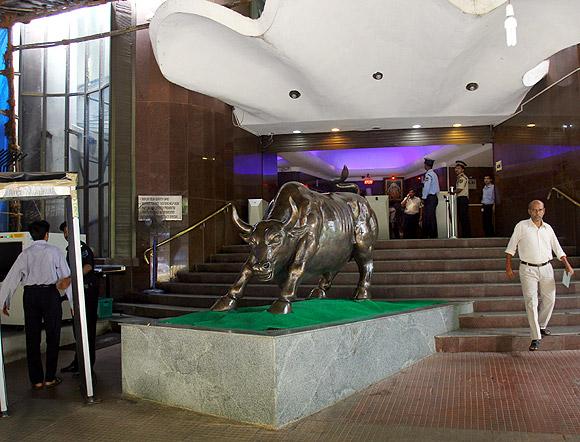 Some make for good investment ideas even after a strong run-up but others could see gains fizzling.
The S&P BSE Sensex has risen 28 per cent in 2014 so far. A stable and reforms-oriented government at the Centre, heightened expectations of economic pick-up, a rise in cement demand and automobile volumes and strong foreign institutional investor (FII) inflows are some reasons for the rally.
Interestingly, stocks with low (below 15 per cent) returns on equity (RoE) have also seen a sharp rally, giving returns of up to 440 per cent.
In the BSE 500 universe, 61 stocks have risen by 100 per cent and above on a year-to-date (YTD) basis.

Of these, about 40 companies had below 15 per cent returns and of these, 26 companies had below 10 per cent RoEs, show their latest annual financial results.

Return on equity or net worth (RoE or RoNW) is the net profit of a company divided by the shareholders' funds, and reflects the rate of return earned on the latter.
Experts say the cut-off of 15 per cent RoE is reasonable, as banks charge borrowers an interest rate of 11-12 per cent, and companies should be able to earn reasonably more than the lending rate.
Among companies that have gained the most on the bourses are CCL International, Mahindra CIE, JK Lakshmi, HCL Info, Gati and HSIL, SRF and Amtek Auto.
While the gains in some of these stocks are backed by fundamental reasons, others have raced much ahead of their fundamentals, experts believe. Thus, a deeper look at this trend and the prospects of these companies can provide interesting investment ideas, as well as profit-booking ones.
Cyclicality could be a key driver of the rally in some of these stocks. Gaurav Dua, head of research, Sharekhan, says: "Quite a few of these companies have shown healthy RoEs of 20-plus per cent in better times. Therefore, a large part of the rally is built on the expectation of an economic revival-driven improvement in demand, leading to a boost in earnings consequently in RoE in the coming years." He adds that weaker companies facing structural issues have also witnessed an unwarranted run-up, and might see some correction.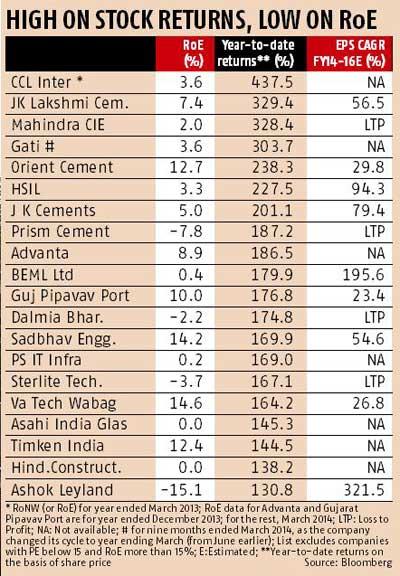 So, how does one assess these stocks? One strong indicator of prospects are the earnings. From Bloomberg data, companies such as BEML, Motilal Oswal Securities (MOSL) and Shashun Pharma are likely to deliver a compound annual growth rate in earnings (CAGR) of over 100 per cent over FY14-16.

BEML is seen as benefiting from a macroeconomic recovery and revival in the defence, railways and construction sectors. MOSL should gain from a boom in capital markets. }

But, in the case of BEML and Sadbhav Engineering, the price to earnings (PE) valuation of 50 times and 34 times, respectively, based on FY16 earnings estimates, are much higher than those of the broader markets, suggesting these are already factoring into medium-term gains.

Based on estimated FY16 earnings (Bloomberg), while the Sensex PE is 14.5, that of the S&P BSE Mid-Cap index is about 14. Many of these companies fall in the mid-cap category.
Among other companies, the Street is factoring in a 322 per cent compound annual growth in earnings per share (EPS) during FY14-16 for Ashok Leyland, which is quoting at an FY16 PE of 20 times. Dalmia Bharat and Prism Cement are likely to report a turnaround, with a net profit from FY15 onwards as against a loss in FY14, on the back of improving cement demand.

The PE for all these is around 16, indicating fair valuation for now. Others such as Mahindra CIE could gain from revival in automobile demand. These companies will benefit from macroeconomic growth picking up and easier fund raising via the debt and equity markets.
Consequently, experts believe, the RoE could improve materially for some of these companies. And, valuations are not significantly high.
Premal Madhavji, head of Equities at Espirito Santo Securities, says: "Among the low historical RoE stocks that have delivered huge YTD returns, we believe Mahindra CIE Auto, Prism Cements, MOSL, JK Cements and Ceat could deliver higher earnings and RoE this year, so the outperformance might be justified, while the rally in some others could fizzle out."
Dua adds: "We see value in JK Lakshmi, Amtek Auto, HSIL and SRF, where there is a scope for decent growth in earnings (20-25 per cent CAGR) over the next three years, with improvement in RoEs."
Among stocks likely to lag on earnings growth are Bharat Electronics (10 per cent EPS compounded annual growth over FY14-16), Cox and Kings (-0.4 per cent), Sintex (11.1 per cent) and Tata Sponge (13.6 per cent).

Part of this is reflecting in valuations that are lower than those of the broader markets. Stocks such as CCL International, Gati, Advanta and Asahi have also rallied significantly but do not have Bloomberg earnings estimates as these are not tracked by a majority of analysts.
Similarly with stocks such as Advanta, PS IT Infra, MTNL, Asahi Glass, HCC and Timken India, besides Risa International (up 99 per cent YTD). The risk with some of these counters is that they are thinly traded on the exchanges, Risa International being an example. Likewise, PS IT Infra is one counter that has been locked in the upper circuit (only buyers) for most days - the few days it wasn't - the stock saw only sellers.
In MTNL's case, too, the fundamentals are far from exciting, and the stock is largely up on the buzz of a possible merger with BSNL. Investors should, thus, be cautious with such stocks.