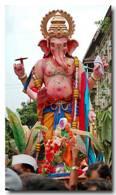 With increased awareness and concern over unexpected events like the 26/11 terror attack on Mumbai, Ganesh mandals (organisers of the Ganapati festival) are seeking higher insurance cover. For instance, Mumbai's most popular mandal, Lalbaughcha Raja Ganesh Mandal, has bought insurance worth Rs 4 crore (Rs 40 million).
It is insured by Future Generali India Insurance. The organisers have insured it under three heads: Assets against fire for Rs 2 crore (Rs 20 million), personal accidents for Rs 1 crore (Rs 10 million) and third party liability for Rs 1 crore. The insurance cover is valid for 10 days starting from August 23. It will cover the events till the immersion on the eleventh day. Last year, the Lalbaugcha Raja Ganesh Mandal was insured for Rs 2.52 crore (Rs 25.2 million) from Bajaj Allianz General Insurance.
"People are more concerned about insuring their assets after the terrorist attack. Compared to last year the valuations have also become more realistic," said Future Genrerali India Insurance Chief Operating Officer Krishnamurty Rao.
Lalbaugcha Raja Ganesh Mandal's committee member and ex-president, Sunil Joshi, said that the cover has gone up as the number of people who attend the festival will go up. Last year, the mandal had 700,000 to 800,000 devotees. "This will cover all the devotees as well as the volunteers who are working with us. It would also take care of the Pandal and all the other arrangements," said Joshi. The Ganesh idol of the mandal has over 25 kg of gold on it.
Mumbai's richest Ganesh Mandal, the GSB Seva Mandal, has taken an insurance cover of Rs 5.8 crore (Rs 58 million). Of this, the jewellery that adorns the Ganesh idol alone has an insurance of Rs 5 crore, while the pandal has been insured for Rs 50 lakh, and the fire insurance is of Rs 30 lakh.
The GSB Seva Mandal is covered by New India Assurance for one year. The policy even covers the period when the jewellery is in the bank. "The gold that the Ganesh idol wears is over 52 kg, besides silver of over 200 kg. The insurance amount is higher this year as the valuation of gold has gone up," said Dinesh Pai, joint-convenor, GSB Seva Mandal.
"People become aware when large-scale events happen and the organisers know they can face big losses. The impact of such events is local and they start buying when there are large community events. Gujarat has the highest insurance penetration because of the frequent calamities like earthquake. Similarly, after the terrorist attack in Delhi, shop insurance has gone up," said Optima Insurance Broker Chief Executive Officer Rahul Aggrawal.