Inter-operability with other insurance companies - apart from banks, medical centres, among others - would be the eventual goal.
Illustration: Uttam Ghosh/Rediff.com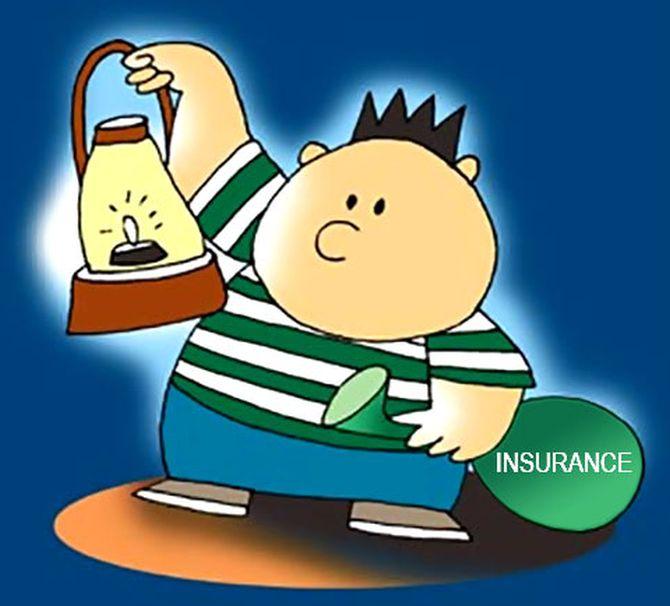 Thirteen Indian insurance companies have come together to use a blockchain-like technology to create a central repository of policyholder data, so that insurers need not repeat the registration procedure for multiple policies.
"When the same records are available to a number of life insurance companies in a chain, the cost incurred by them is lower compared to what it is when they were all separately conducting tests and storing records," said Akshay Dhanak, vice-president, business systems & technology at HDFC Life Insurance.
A whole lot of work has to be done in know-your-customer, medical underwriting, financial underwriting, etc, when a customer buys insurance, he said. Duplication of these procedures can be avoided by having the entire data set on blockchain.
Blockchain is like a digital ledger used to store information of all cryptocurrency transactions.
In this particular case, it takes the form of a distributed and decentralised method of storing information based on mutual agreement of members.
PwC's Global Fintech Report 2017 expects 77 per cent of financial technology institutions to adopt blockchain as a process by 2020, with payments, fund transfer and digital identity management being the top areas of usage.
"Any new concept needs to progress sequentially," said Mohit Rochlani, chief operating officer, IndiaFirst Life Insurance.
"Any collaboration is taken apprehensively across industries because it constitutes data sharing as well as process sharing.
There are also regulatory concerns regarding data privacy that need to be addressed." Once the procedure evolves, he said, it would be advantageous in cost reduction and improving efficiency.
Global advisory firm EY will be facilitating the Indian insurer consortium through partnerships with multiple technology partners.
"We are using multiple platforms like Hyper Ledger, MultiChain and Corda, among others. Each platform has its own benefits and limitations in terms of volume of transactions that they can handle and inter-operability (that they offer)," said Sachin Seth, technology partner at EY.
Inter-operability with other insurance companies - apart from banks, medical centres, among others - would be the eventual goal, he said.
The blockchain system will just hold the data, while the policyholders will remain free to pull their data out of the system at will.
The change in financial overheads due to the new technology is yet to be seen.
But the members are confident that greater transparency and reduced duplication would be beneficial for everyone involved.
The 13-member consortium hope others would also come on board.
"Considering that it's a very small group of insurance companies here in India. It will be a challenge if more than one standard for blockchain exists.
We hope other companies will also join us gradually. Blockchain will detect multiple fraudulent claims efficiently compared to those of companies that might not have access to this platform," said Pankaj Pandey, chief information officer, IDBI Federal Life Insurance.
KPMG has noted that one of the most disruptive applications of blockchain would be the development of "smart contracts", which would streamline verification and authentication of details across all member parties simultaneously. This would reduce costs.