The Pradhan Mantri Jan Aushadhi Yojana or PMJAY has not been a runaway success by any yardstick. Not all stores are running, and many are poorly stocked.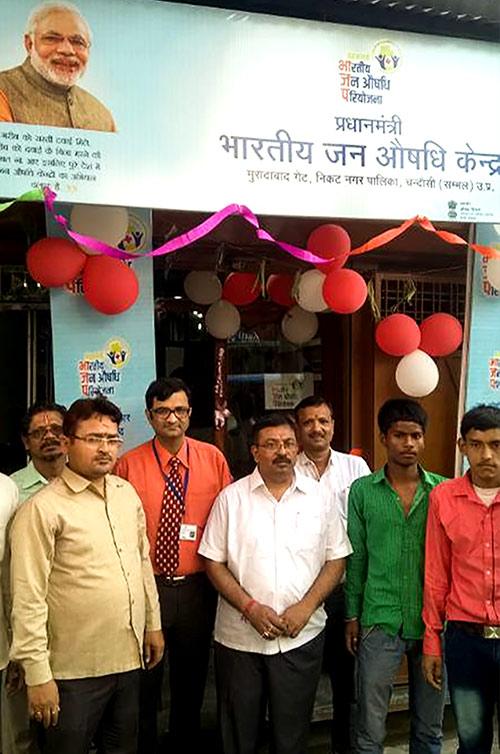 IMAGE: A Jan Aushadhi shop being inaugurated in Chandausi, eastern Uttar Pradesh. Photograph: Kind Courtesy @pmbjp_bppi/Twitter
At a time when the government is trying to make the prescription of generics compulsory, the Prime Minister's Jan Aushadhi Yojana is in the limelight once again.
As a large portion of unbranded generics is sold either in Jan Aushadhi stores or chemists at government hospitals, the government's flagship project promising drugs at affordable prices is likely to get a renewed push, according to officials.

Launched in 2008, as Jan Aushadhi Scheme under the UPA regime, it was renamed Pradhan Mantri Jan Aushadhi Yojana or PMJAY by the current NDA government. While the stores continue to be known as Jan Aushadhi, a re-branding exercise has been initiated for the outlets now. A move is on to rename all Jan Aushadhi stores as PMJAY, it is learnt. In fact, social media has been abuzz, referring to the project as 'PM ki jay' (victory for the PM).

"In the process of re-branding, chief ministers will be asked to inaugurate at least a few stores, with the new name", said a government official.

The origin

Whatever its name, the takeoff has been slow for Jan Aushadhi. The initiative is seen as a non-performer in most states.

Consider the numbers:
Between 2008 and 2015, only 99 Jan Aushadhi stores were functional.
While the government targeted stocking 200 drugs in these stores, an average of only 40 to 100 were available during this period.
The number of stores has subsequently increased to 1,235, which is not even a half-way mark of the goal of 3,000 stores by March 2017.
The number of drugs has seen an increase too. Estimates suggest more than 700 drugs are available at a few of these stores. However, most outlets have not gone beyond 200-odd drugs.
Currently, Kerala, Uttar Pradesh and Chhattisgarh are among the outliers with their tally of stores -- at 189, 168 and 149 respectively -- ahead of others.



IMAGE: The inauguration of a Jan Aushadhi shop in Kollam, Kerala. Photograph: Kind Courtesy @pmbjp_bppi/Twitter.
How the stores work

It's not the numbers alone that tell a story. People on the ground narrated their experiences to show that most of these stores are inadequately stocked and are unable to fulfill the objective of the government's ambitious project to provide affordable medicine to the masses.

At a Jan Aushadhi store contacted in Jaipur, the pharmacist Anand Agarwal said, "Every time we place an order for surgical items, the distributor gets back to us saying drugs cannot be supplied till the time Bureau of Pharma PSUs in India provides them with the stock. Despite several reminders, BPPI has not resolved the problem."

Agarwal is not the only one facing such a problem. For instance, the empty shelves at the Jan Aushadhi store outside Delhi's Ram Manohar Lohia hospital indicate that things are not well. Almost every patient who comes with a prescription is asked to come later as there is no stock.

A resident of Mysore and owner of a Jan Aushadhi Store there, Swaroop, said, "I note down the coordinates of the customers and inform them once the distributor gets me the requisite medicines." Just as in other cases, the distributor in the state doesn't have enough stock that can be supplied to all stores. Any distributor is usually equipped to supply around 200 drugs.

Each state has only one distributor which makes it difficult for drugs to be disbursed to all stores.

Model outlet

One of the earliest stores opened in Delhi's Shastri Bhavan, which houses the department of pharmaceuticals, is supposed to be a model for all other stores. It too has skeletal facilities.
A source pointed out that this was opened to give ministers a sense of the concept, so that they could encourage people in their constituencies to open such stores. But the model store failed to upgrade over the years. The pharmacist at the outlet however argued that there was no demand for surgical items and syrups, so he did not keep them.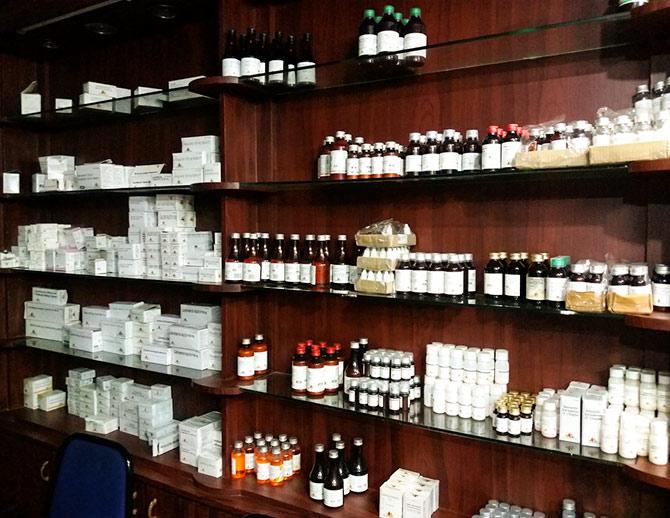 IMAGE: Medicine stocks at a Jan Aushadhi shop in Thrissur, Kerala. Photograph: Kind Courtesy @pmbjp_bppi/Twitter.
Then there are others who got into the business unaware of the rules. They haven't been guided by the BPPI on matters like signing the procurement agreement. One such is the owner of a Jan Aushadhi store in east Delhi. He said, "I have another pharmacy. I will sell drugs from there."

The modalities

Once an individual or NGO obtains a licence from the BPPI, a support of Rs 2.5 lakhs is given. They are also entitled to reimburse up to Rs 1 lakh for purchasing furniture, and another Rs 50,000 for computers etc. At the time of obtaining alicence, an individual needs to get into an agreement with the BPPI for procurement. As per norms, anyone who has a diploma in pharmacy can open a Jan Aushadhi store.

The perception is that Jan Aushadhi has failed to script a success story as these stores have relied only on patients who visit public health centres or hospitals as generics are usually prescribed by these centres and not private practitioners or hospitals. Things may change now.