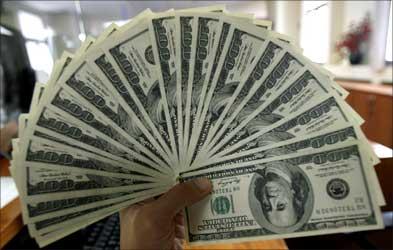 Private equity firms invested $7.97 billion in Indian companies in 2010, almost double than that in the previous year, says a study.
According to data compiled by deal space research firm VCCEdge, private equity firms invested $7.97 billion in India during the 12 months ending December 2010, compared to $4.06 billion during the previous year.
"After a volatile 3 year period, PE investment activity in 2010 reverts to the levels of 2006 (which had witnessed 358 investments worth $7.48 billion)," pointed out Arun Natarajan, chief executive officer of Venture Intelligence.
As many as 325 companies saw PE investment pouring in during the 2010, while PE firms made an exit from 121 other companies.
"The really exciting feature of 2010 was on the exits side where activity vaulted to all time high levels with 121 transactions, including 24 via IPOs," he added.
In terms of investment, energy, banking, financial services, insurance and telecom were the most targeted sector in 2010, VCCEdge said in its report on PE deals.
The largest deal of the year was $425 million investment in power generation firm Asian Genco by consortium of PE firms--General Atlantic, Goldman Sachs, Morgan Stanley, Everstone and Norwest.
This was followed by SBI-Macquarie's $304 million commitment to telecom tower infrastructure firm Viom Networks (formerly Quippo Telecom).
The third spot was shared by two $300
million investments one by Blackstone into an unlisted renewable power generation firm of the Moser Baer Group and another by Quadrangle Capital Partners into telecom towers firm Towervision India.
A $267-milion investment by UK-based investor 3i and others in GVK Energy also figure among the top five.
Among cities, Mumbai based companies retained the top slot attracting 68 PE investments worth $1.59 billion, followed by Delhi with 60 investments valued $1.02 billion and Bengaluru-based companies attracting $1.02 billion across 53 deals.
With 34 investments worth about $2.14 billion, energy companies topped in terms of investment value during 2010, while Information Technology and IT-Enabled Services with 79 investments worth $696 million topped in terms of volume.
As for the exits, the number stood at 121 in 2010, including 24 via initial public offerings route.
In 2009, there were 66 exits, including seven via IPOs.