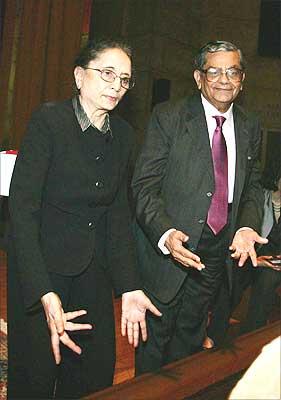 Prime Minister Manmohan Singh joined former Russian Premier Yegor Gaidar and Nobel laureates on Thursday to compliment Padma Desai, described as 'An economist's economist' by Nobel laureate Paul Samuelson.
At a gala dinner at Columbia to honour Desai, the Gladys and Ronald Harriman Professor of Comparative Economic Systems at Columbia University, recognised as an internationally reputed expert on Russian economy, Singh sent his best wishes to his 'dear friend Padma Desai' who he described as one of "our most distinguished economists" who has written extensively on issues pertaining to planning and development in the context of mixed and centrally planed economies.
"Her book, co-authored with Jagdish (her husband economist Jagdish Bhagwati), on India's industrial and trade policies had a profound impact on professional thinking and policy making in India," Singh said in the message read out by Prof Sunil Gulati, president of the US Soccer Federation and a professor of the economics department of Columbia in the presence of 100-odd high profile guests.
"I recall that the book had just been published when I joined the government in the early 1970s. It did take us a long time to translate their thinking into policy action," Singh said.

"When in 1991, our government undertook sweeping reforms in our industrial and trade policies, we were only implementing ideas that Jagdish and Padma wrote about two decades earlier," the Prime Minister said.
"Prof Padma Desai is without doubt one of the most erudite and knowledgeable commentators on Russia and on the economic and social consequences of Soviet policies. Her understanding of the role of markets and government has also helped us appreciate the nature of transition not just in eastern Europe but also in Asia," Singh, who regretted being unable to be present personally, said in his message.
Incidentally, the tributes for the septuagenarian economist came on her birthday.
Desai, who is also director of the Centre for Transition Economies at Columbia University, is a member of the Council on Foreign Relations and was president of the Association for Comparative Economic Studies in 2001.

She was US Treasury's Advisor to the Russian Finance Ministry in the summer of 1995. She received her Ph. D. in Economics from Harvard University where she began her teaching career.

Desai has published extensively in professional journals on issues of economic planning in the Soviet Union before she switched her research agenda to economic reforms in Russia and the emerging market economies.
"(She is) an economist's economist." That is how Nobel Laureate in economics Paul Samuelson described her. "I can't praise Padma's scholarship; I do not have the intellectual wherewithal to do that," commented Robert Solow, Nobel laureate in Economics and Emeritus Institute Professor of Economics at MIT.

"Padma has always been very tenacious about her views about truth and her view of the truth has turned out to be the truth," he said.
"Everything she has done is with a grace whether it is raising a daughter, cooking a meal for friends or doing her work, including interviewing al those self-important Russians and make them say what she wanted them to without them realizing," Solow said.
Among those who addressed the gathering included Yegor Gaidar, former prime minister of Russia and director, Institute for Economies in Transition, Jack Matlock, US Ambassador to Moscow; Dale Jorgenson, Samuel W Morris University Professor of Economics, Harvard University and Carol Leonard, fellow in Russian Studies, St. Antony's College, Oxford University.
Desai, who is fluent in Russian, said in a jocular vein that although she is an Indian and spent most of her life in the US, she sometimes feels she is a Russian "although she does not drink vodka". But on serious vein she said, "I remain guardianly optimistic about the future of Russia."
Both Jagdish Bhagwati, husband of Desai and their daughter Anuradha Kristina Bhagwati, paid tributes to Padma Desai, her life and achievements.
 "I am so happy that my mother has made such strides in economics. She is very different... Dad, you are lucky to have my mother (as your wife),'  Kristina Bhagwati, who is in her 30s, said amid applause.

Padma Desai with her husband, economist Jagdish Bhagwati
Photograph: Snaps India