Ghosh, 43, will be reporting to 25-year-old Ritesh Agarwal, who founded OYO with a single hotel in 2013.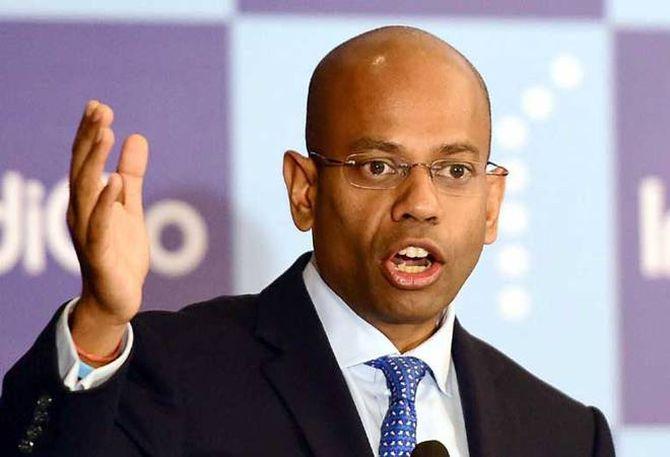 He has built the country's largest, most efficient and profitable airline.
Now, he will work to build the world's top budget hospitality firm.
Aditya Ghosh, former president of IndiGo, will be joining five-and-a-half-year-old hospitality start-up OYO Hotels as its chief executive officer in charge of India and South Asia next month.
Ghosh, 43, will be reporting to 25-year-old Ritesh Agarwal, who founded OYO with a single hotel in 2013.
He will oversee and grow OYO's business in South Asia, which will include India, Nepal, and other upcoming markets in the region.
Ghosh quit IndiGo in April after a decade-long stint during which the airline went on to become the largest and most profitable player in the domestic aviation industry.
"He (Ghosh) will focus on continuing to drive growth while delivering high-quality customer experience and sustained yields for asset owners," SoftBank-funded OYO said in a statement.
Agarwal, who has been the CEO all along, will now become group CEO at OYO Hotels.
Agarwal will focus on partnering with Ghosh on India, and the local leadership team in China, to drive growth in these two markets while furthering the global growth and impact of the company.
"With Aditya taking on this mantle for one of our home markets, India and the broader South Asia region, we are confident that he will be able to help OYO Hotels set new benchmarks in the hospitality industry, and nurture a high performing workforce.
"His business acumen, problem-solving capabilities, and customer-centric approach to innovation that helped him build an influential brand that is loved by all make him an excellent choice for OYO Hotels," Agarwal said.
OYO raised $1 billion in September 2018, which valued the start-up at $5 billion, making it the most valuable hospitality firm in the country.
Besides India, where OYO has a network of 5,500 leased and franchised hotels totalling 143,000 rooms, the start-up operates in China, Nepal, the UAE, the UK, Indonesia, and Malaysia.
China, a year-old market for OYO, has already become its biggest turf with a network of 173,000 rooms in 265 cities.
It is already ranked among the top 10 players in the Chinese market. OYO globally works with 12,000 hotels with a network of 330,000 rooms.
The company started as a budget stay option but now offers multiple accommodation options, including mid-market, resorts, short stay and so on.
Unlike most start-ups that have seen a churn at the C-Suite level, OYO has managed to retain most of its top executives.
Ghosh is a lawyer by training and had practiced law at corporate law firm J Sagar Associates and then as the general counsel at InterGlobe Enterprises, which owns IndiGo.
Ghosh said he was excited about OYO's "single-minded focus" to deliver value to customers and asset owners.
"I have witnessed OYO's growth journey from being the start-up of the year to one of best places to work for, to its recent entry into the unicorn club, and understand what it takes to achieve all this," Ghosh said.
OYO is investing $1.2 billion over the next three years to expand presence in existing markets.
Of this, $600 million will be invested in China, while another $300-400 million will go in expansion in India.
The remaining money will be invested in other international markets.
Agarwal told Business Standard last month that the company was adding 60,000 new rooms every month to its network, of which the bulk 40,000 rooms were being added in China.
Photograph: PTI Photo