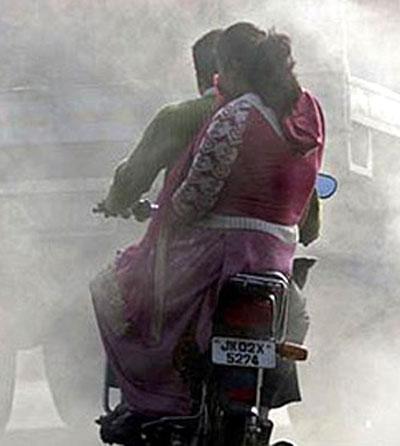 Admitting that India's bureaucracy has crippled science and technology research, Prime Minister Narendra Modi on Sunday said the government would take necessary steps to rectify this.
"We will make it easier to do science and research in India, improve science administration, and expand the supply and improve the quality of science education and research in India," said Modi, inaugurating the 103rd Indian Science Congress being held at the University of Mysore in its centenary year.
Modi also highlighted the country's focus to promote indigenous scientific research has to be razor-sharp given the lack of resources coupled with the immense scale of the country.
Solving problems through science by prioritising policy was the key takeaway from his speech, during which Modi also coined a new mantra of five Es -- economy, environment, energy, empathy and equity -- possibly to celebrate the 100th year of Albert Einstein's publishing of the theory of relativity.
"In a world of resource constraints and competing claims, we have to be smart in defining our priorities.
"It is important in India, where challenges are many and the scale is enormous -- from health and hunger to energy and economy," Modi added.
His thoughts were mirrored by C N R Rao, who said the issues created because of the immense scale of India had never been solved by any country in the past.
"No democratic country of this size has ever faced these problems -- feeding the poor, developing science and technology -- and all this at the same time," said Rao. Both Rao and Modi agreed the flow of resources into scientific research needs to increase. Rao also criticised the government's paltry spend on education.
According to Rao, the government spends only two per cent of the GDP on education, out of which only 0.5 per cent is allocated to higher education.
"Please create a roadmap for education in India for the next 20-30 years," he added.
Rao advocated adopting a model similar to that of South Korea and not mimic China for investments in the fields of science and technology.
South Korea's model of research in science involves gaining deep expertise in select fields, a move which has allowed the country to overtake Japan in certain aspects of innovation.
This, according to Rao, is a good example for India.
With India poised to face massive issues of rapid urbanisation in the near future, Prime Minister Modi exhorted the audience, which included Nobel Laureates and scientists from diverse fields, to 'find affordable and practical solutions for solid waste management, converting waste into building material and energy, and recycling waste water'.
With the 103rd Indian Science Congress being all about indigenisation of science and technology to promote the creation of an underlying backbone for the Make In India mission, Modi said there's a need to address some of urban India's problems, such as pollution, bumper-to-bumper traffic and urban floods like the one witnessed in Chennai recently.
"We must develop better scientific tools to improve city planning with sensitivity to local ecology and heritage; reduce the demand for transportation; improve mobility; and reduce congestion, Modi added.
"Urban agriculture and ecology should get more attention. Our children must breathe cleaner city air. We need solutions that are comprehensive and rooted in science and innovation.
At the inaugural function, the PM unveiled Technology Vision 2035.
"Innovation must not be just the goal of our science. Innovation must also drive the scientific process.
"Frugal innovation and crowd sourcing are examples of efficient and effective scientific enterprise," he said.