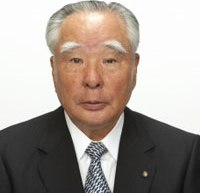 Maruti Suzuki India will set up a skill development centre in Gujarat, where it is investing Rs 4,000 crore to set up a manufacturing facility, even as it is trying to restore normalcy at its Manesar plant in Haryana.
The plan was conveyed to Chief Minister Narendra Modi by the Chairman of the company's Japanese parent Suzuki Motor Corp, Osamu Suzuki during a meeting said.
Suzuki, along with Maruti Suzuki India (MSI) Chairman R C Bhargava and Managing Director and CEO Shinzo Nakanishi, called on Modi at his residence.
"I came to thank Mr Modi because he visited me in Japan, and I came (to India) to attend AGM of Maruti," Suzuki told reporters after the meeting.
Briefing media about what transpired in the meeting, Bhargava said Suzuki had informed Modi about MSI's plans to set up a skill development centre in Gujarat and 500 people would initially go to Japan for training so that they get accustomed to the Japanese culture of working.
"Skill development is another area necessary for the establishment of a new industrial empire... Mr. Suzuki has mentioned about making a scheme by which up to 500 technicians, supervisors can be trained before we start production here," Bhargava said.
An institute would also be set up in Gujarat so that people are trained on how to work in an industrial culture, he said.
Besides, a centre to train trainers would be established before starting production at the new plant near Mehsana.
On Thursday, Suzuki had said the violence at the Manesar plant was a criminal act that could not be excused and strict action needed to be taken.
He had met senior MSI officials, union leaders of the Gurgaon plant and those injured in the violence.