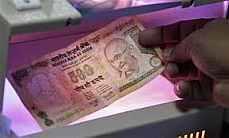 The rupee's four-day string of gains came to an end as it weakened by 24 paise to close at 55.50 against the American currency on pent up dollar demand from oil importers after the two-day strike of PSU banks.
The dollar's strong performance against major rivals ahead of a much-awaited meeting between the Greek Prime Minister and leaders of Germany and France today, also weighed on rupee.
However, sustained capital inflows to the tune of Rs 225 crore capped the rupee's decline to some extent, said traders.
At the Interbank Foreign Exchange (Forex) market, the domestic unit resumed lower at 55.35 a dollar from overnight close of 55.26 and immediately touched a high of 55.34.
But, the rupee turned negative in line with weakness in local stocks and logged an intra-day low of 55.55.
Fresh dollar demand was seen from importers, mainly oil refiners, after the two-day bank strike on August 22 and 23, said forex dealers.
The rupee finally settled at 55.50, a drop of 24 paise or 0.43 per cent compared to yesterday's close. In the previous four sessions, rupee had gained 49 paise or 0.88 per cent.
However, on a weekly basis, the rupee rose by 23 paise from last Friday's close of 55.73.
Pramit Brahmbhatt, CEO, Alpari Financial Services (India) said," The rupee maintained a weak note throughout the session after a lower start tracking strengths in dollar index which rebounded from its lows as the markets started discounting the US monetary easing expectations."
The dollar index was up by 0.22 per cent against its six major rivals, while New York crude oil was trading below $96 a barrel in Europe today.
Meanwhile, the BSE benchmark Sensex today closed down by 67.01 points at a one-week low.
"The US dollar was trading on a positive note against its sian peers and the US treasury yields came down to 1.65 per cent from 1.70 per cent yesterday. This also made the rupee to trade on a lower note today," said Abhishek Goenka, Founder and CEO, India Forex Advisors.
The premium for the forward dollar recovered slightly on fresh payment pressure from banks and corporates.
The benchmark six-month forward dollar premium payable in January edged up to 162-1/2-164-1/2 paise from Thursday's close of 162-164 paise.
The premium for far-forward contracts maturing in July also moved up to 315-317 paise from 313-315 paise. The RBI has fixed the reference rate for the US dollar at 55.3820 and for euro at 69.4760.
The rupee continued its downslide against the pound sterling to 87.89 from overnight close of 87.71 and also softened against euro to 69.38 from 69.36.
It too dropped further against the Japanese yen to 70.74 per 100 yen from last close of 70.30.