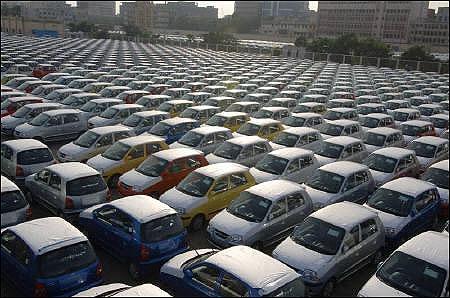 The Supreme Court's temporary ban on sale of large diesel cars in Delhi has left some buyers in a quandary, especially those who opted for a loan.
If the loan was disbursed around the time the Supreme Court passed the order for a car that is now banned, the borrower cannot get the vehicle.
A disbursed loan means the financier has already paid the dealer on the buyer's behalf.

Should such consumers be worried? Ranjit Punja, chief executive officer and co-founder of the credit management services company CreditMantri, says such loans can be easily cancelled and the borrower won't need to pay any penalty.
He explains: The dealers have a tie-up with the financial institutions, and representatives of various lenders sit at the dealership.
A majority of the consumers opt for a loan from these as they are cheaper, convenient, and buyers get a discount if he or she takes a loan from the dealer's partner.
If the buyer is eligible, the lender disburses the loan as soon as the customer gives the down-payment.
This happens even before a car is registered.
Typically, the dealer starts the registration process within a day or two of receiving the money from the financier.
If the car is cancelled after the disbursement and before registration, there is no liability on the buyer.
"The collateral in the loan is the car. If the registration is not done and the borrower does not own it, there's no liability on him," says Punja.
If you are caught in a similar situation after the ban on registration of diesel cars with an engine capacity above 2,000 cubic centimetres (cc) in Delhi and the surrounding region until March 31, be assured the settlement of the disbursed amount will take place between the dealer and the lender.
Things can be different if your loan was sanctioned but not disbursed for a diesel car that cannot be sold in Delhi, and you opt for an alternative vehicle.
Experts say buyers are opting for an alternative, if available, rather than waiting until March 31, when the temporary ban ends.
If you are looking at another car from the same dealer, you would again need to go through the loan application process.
Rishi Mehra, co-founder of Deal4loans, says financiers decide on loans depending on various parameters, including the model and variant of the car.
This means the loan amount and interest rate can vary depending on the vehicle.
A person would, therefore, need to reapply for a loan. If you are going for an alternative vehicle from the same dealer, the new sanction can happen faster, as the lender has already evaluated your eligibility.
Experts feel large diesel car buyers have limited alternatives, unless consumers are willing for some compromise.
Abdul Majeed, partner at Price Waterhouse, and an automobile expert, say most of large car manufacturers have discontinued their petrol variants, as they don't give the same amount of power and performance as diesel cars.
Rush Parekh, founder of Team-BHP, an online car community, feels that the seven-seater Maruti Ertiga stands to gain greatly from the ban on larger engined utility vehicles.
The Honda Mobilio and Renault Lodgy, too, would gain but to a smaller scale, as these aren't as well-accepted.
Parekh feels sports utility vehicles like the Creta and Duster will also enhance their market position in the January-March quarter.
"You'll definitely see Mahindra promoting the TUV300 more, as it's powered by a smaller 1.5L turbo-diesel that can be registered in Delhi," says Parekh.
While sale of small diesel cars is not banned, the court said there would be one-time pollution tax on them.
Diesel cars are a good choice for people who clock in higher kilometres every day.
These cars are more fuel-efficient, and the cost of per-litre diesel is lower, which results in savings over time.
Experts say small diesel car buyers can look at the petrol variant if their daily average running is less than 50-60 km.
While diesel cars are more fuel-efficient, they are also more expensive to buy.
The savings one makes in fuel cost is offset by the higher price of vehicle if the running is low.
If the car is bought on loan, the interest outgo on diesel will be higher, widening the difference further.
There are other factors where petrol scores.
Petrol engines are considered more efficient than the diesel ones, as they can operate at high revs, due to lightweight parts.
Most diesel cars also attract higher maintenance costs.
The spare parts of diesel cars are slightly expensive. Also, the more expensive the car, the higher will be the insurance cost.
Electrifying choices for eco-conscious
Electric and hybrid vehicles, better alternative to those running on fossil fuels, have hardly seen meaningful sales in India.
Abdul Majeed of Price Waterhouse says most electric vehicles he spots on the road have women drivers.
"For them, mobility is the prime concern. For men, performance and style matters."
India's only electric car, Mahindra Reva, can travel 120 km on one full charge, which takes five hours. It has a top speed of 81 kmph.
The price in Delhi is the highest at Rs 5.93 lakh and the lowest in Jaipur (Rs 472,0000).
If a person uses the car for 50 km a day, the charging cost will be around Rs 525 a month, according to the company.
The car is also cheaper to maintain, as it has lesser parts compared to those on fossil fuels.
It's not popular as there's lack of supporting infrastructure. A person can fill petrol or diesel anywhere.
Electric cars need charging stations, not widely available. These cars, therefore, cannot be used for long drives.
While it has cheaper running cost, it's more expensive to buy than those running on fossil fuels.
Also, the battery needs to be replaced after every 50,000 km or so, which is very costly.
Those seeking eco-friendly luxury vehicles can turn to hybrid such as the Toyota Prius, available in two models. The Z5 costs Rs 38.1 lakh and the Z6 is priced at Rs 39.8 lakh (Rs 3.98 million).
The car has both a petrol and an electric engine. This makes it powerful while giving mileage similar to a hatchback. It also comes packed with features such as climate control, a solar roof, a multi-information display, and a full colour touchscreen interface.
If money is not a constraint, there's BMW's i8 hybrid sports car that costs Rs 2.3 crore (Rs 23 million) and looks like something out of a sci-fi movie.
The car combines an electric motor and combustion engine to deliver a mileage of 47.5 kmpl.
Running in electric mode alone, the i8 can reach up to 120 kmph with the highest range of 35 km.
In conjunction with the petrol motor, the hybrid system can make the car go 0-100 kmph in only 4.4 seconds.
The top speed of i8 is 250 kmph.
The options might be limited in four-wheelers but the two-wheeler segment has seen many companies launch multiple vehicles.
Hero Electric has about six different e-bikes.
Then there's Avon Cycles, Terra Motors, YO Bykes, Lohia Auto and BSA Motors. These bikes can run between 40 km and 72 km on one full charge. The price is between Rs 23,450 and Rs 63,000.
E-cars are fast and feature-rich
The electric car, Mahindra Reva e2o, was my husband's birthday gift to me.
It comes packed with features such as power steering, automatic transmission, navigation, Bluetooth, rear camera, and reverse parking sensor.

We have the car for a year now.
Initially, I thought of using it for short distances only. But to my surprise, it turned out to be much better than anticipated.
It is the best car to drive within the 25-30 km radius.
I easily travel around 70 km with the air conditioner running within the city. It also has low cost of maintenance.
The most surprising thing about the car is that it's very quick. In conventional combustion engines, there's a lag in transmission.
Electric cars don't have any lag and just zip ahead.
I love to drive and my regular car is an Audi Q5.
As it's a big vehicle, there's problem with parking, which I don't face with e2o. Electric vehicles are a great solution for packed cities like Mumbai and Delhi.
The only adjustment I had to do was to put a charging point where I stay.
What EVs need is a greater subsidy from the state and the central governments, so that it can be a viable alternative to segment B cars (like Maruti Suzuki Celerio, WagonR, and Hyundai i10).
There's also a perception problem. People are not aware of the benefits and have misconceptions about EVs.
But, they are the future of mobility.
Gul Panag, actor and auto enthusiast
The image is for representational purpose only. Photograph: Babu/Reuters