To be able to manage any such uptick, Indian IT services players are hiring more locals, and relying on hybrid work models.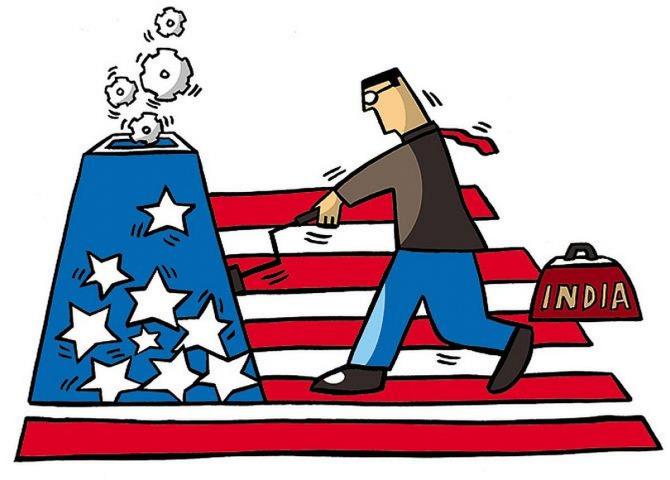 With major markets like the US, UK, and some European countries vaccinating at least 50 per cent of their population, IT industry players have indicated a rise in demand for onsite work.
To be able to manage any such uptick, Indian IT services players are hiring more locals, and relying on hybrid work models.
Saurabh Govil, chief human resources officer (CHRO), Wipro, said after the company's fourth quarter (Q4) results that though offshoring has been on the rise over the past six months, demand for onsite, too, has seen an uptick recently.
"When things settle down, we humans have a tendency to go back to normal. If you see the US, almost 50 per cent [of the population] is already vaccinated.
"Though in the last six-nine months we have seen offshore going up, in the last one month we are seeing an uptick in demand for onsite," said Govil.
With the Covid-19 outbreak last year and a complete restriction on travel, the IT industry saw clients accepting remote work, including work from home. But with the major markets getting vaccinated, there is a feeling that some amount of travel will return.
Analysts, however, believe that the current hiring strategy of the top IT services firms in foreign markets puts them in a better position to deal with any uptick.
Moreover, companies also agreed that they have several unused visas from last year.
"Our dependency on visas has definitely come down, as we hire in significant numbers overseas too.
"But we have seen lot of jobs that needed to be done in certain geographies moving to India.
"It's still early to give numbers, but a lot of jobs that we did not think could be done or the client was not ready for the shift are now being done from India," said Milind Lakkad, CHRO of TCS, in an earlier interaction with Business Standard.
TCS hired 3,000 people in the US in FY21 from campuses, its highest ever. In FY20, it hired 2,000 in the US alone.
Peter Bendor-Samuel, CEO, Everest Group, agrees that as vaccinations continue apace in the US and UK it is clear that many firms are returning to offices or have plans to do so.
"However, many firms are signaling that they are exploring hybrid working environments with many more workers remaining at home and some rotating into the office.
"All of this has increased conviction amongst the clients of outsourcing that a distributed model works and, at least in the short run, this is creating more demand for offshore servicers.
"There is a significant controversy about how long and how permanent this offshoring trend will be, but we will need more data before we take a call on that," added Bendor-Samuel.
Govil concurred that dependency on visas has reduced.
"Today, 70 per cent of our employees in the US are locals. We have worked to reach this level for last 4-5 years. Even during the pandemic, we did not face any challenges for onsite work," he added.
With India in the midst of the second wave of the pandemic and some countries already issuing travel advisories, analyst feel that the hybrid model is here to stay at least for some time even for onsite work.
"For the short-term, at least, we think the remote working and hybrid working models will prevail.
"Besides, offshore drives a lot of cost efficiencies too," said Pareekh Jain, CEO and lead analyst, EIITrend.
Other than hiring locals, Q4 also saw an increase in the use of sub-contractors. In the case of Infosys, subcontracting cost rose by 50 basis points because of growth acceleration and high utilisation.
Onsite percentage for the company reduced to 24.3 per cent in Q4, compared with 27.6 per cent four quarters back. This has been the case for TCS, too, where sub-contractor cost has gone up.