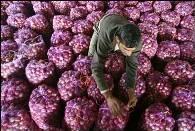 Onion prices crashed by Rs 5-20 a kg in wholesale markets of the national capital on Tuesday on the back of improved supply, but retail prices of the vegetable remain high at Rs 40 per kg.
Retail prices of onions have been hovering at the same level for the past four to five days in New Delhi, despite the sharp decline in wholesale rates, traders said.
Wholesale traders said it will take a few days for retail prices of onions to reflect the fall in wholesale rates.
Delhi Agricultural Marketing Board Chairman Brahm Yadav said the onion crisis is fast dissipating. This was in line with new Food Minister K V Thomas' recent statement that onion prices will improve from end-January.
"There is no shortage in supply of onions in the Azadpur market now, as a result of which the price has gone down significantly," Yadav added.
The sharp decline in the wholesale price of onions has angered farmers in Nashik, who staged an agitation in front of the Lasalgaon Agriculture Produce Marketing Committee's (APMC) offices on Monday.
The police resorted to a mild cane charge to deal with the agitators there, sources in the Lasalgaon police said. There was no report of injury to anybody in the action, they had added. Rajendra Sharma, the General Secretary of the Onion Merchants Association in the Azadpur market -- Asia's biggest fruit & vegetable wholesale market -- told PTI that wholesale onion prices are expected to fall to Rs 15/kg by the end of January and Rs 10/kg in February.
The cost of onions dropped in Lasalgaon and Pimpalgaon, the main onion markets at Nashik, in Maharashtra, as well. Onions were available at Rs 13 a kg in Lasalgaon today, the National Horticultural Research Development Foundation (NHRDF) -- which was set up by agri-cooperative Nafed and publishes daily wholesale rates of the vegetable in prominent cities -- said.
Similarly, onion wholesale prices fell to Rs 14/kg at Pimpalgaon today, the NHRDF said. The drop is significant as the wholesale rates in these markets were Rs 17/kg and Rs 18/kg, respectively, on Monday.
Onion wholesale rates touched Rs 65/kg in the last week of December, moving consumers to tears. Retail prices had hit the roof at Rs 70-85 a kg at that time in Delhi and other metros.
Meanwhile, a total of 750 tonnes of onions out of the 1,000 tonnes imported by the government from Pakistan to boost domestic supply have reached the national capital so far.
The remaining 250 tonnes are on the way from the Mundra Port in Gujarat and they are expected to reach here in the next 3-4 days, official sources said.