Fourteen years after the Bharatiya Janata Party (BJP) government lost its reign in Delhi due to its perceived inability to control onion prices, the fear of a repeat looms large with the Congress-led United Progressive Alliance (UPA) government at the Centre.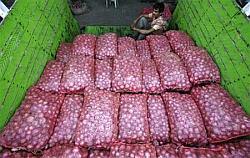 The price of this politically sensitive commodity shot up to Rs 45-50 a kg despite normal supply in 1998. This time, too, the commodity's price trebled in December.

Onion was trading on Thursday at Rs 2,225 a quintal in Asia's largest spot market for the commodity, Lasalgaon (Maharashtra), a 527 per cent increase in the last one year.

The commodity has witnessed a 518 per cent increase in Pimpalgaon (Maharashtra) and 490 per cent in Mahuva (Gujarat).

"Deficiency in rainfall in the kharif sowing season has resulted in lower acreage this year. Consumer demand has come from across the country ahead of the upcoming wedding season, resulting in fuelling of prices," said Atul Shah, director of the Agricultural Produce Marketing Committee, Pimpalgaon.

A recent study by the Small Farmers' Agri-Business Consortium, supported by the Union ministry of agriculture, forecasts that the crop in India's two leading producers, Maharashtra and Karnataka, could decline by 35 per cent and 25 per cent, respectively, compared to the previous year, due to water shortage and delay in monsoon rainfall in early 2012.

The National Council of Applied Economic Research has estimated a 20 per cent drop in output for 2012-13 from the 16.3
million tonnes reported the previous year. It says demand will remain strong.
After a 17 per cent jump to 1.29 mt between April and December 2012, onion exports from India have fallen. According to R P Gupta, Director of the National Horticulture Research & Development Foundation, exports declined in December by 40-50 per cent due to higher quotes from Indian traders.
A Mumbai-based exporter said, "Indian traders are quoting $450 a tonne of good quality onion against $290-300 a tonne of their Pakistani counterparts."
While Indian exporters have lost most West Asian/North African markets to Pakistan, a few consignments have been reported sent to Sri Lanka.