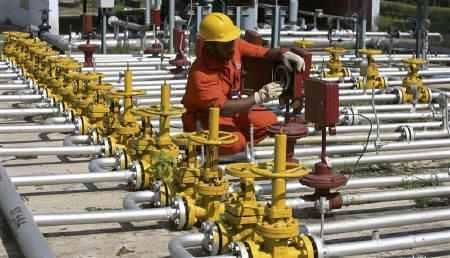 The international consultant appointed to give its technical findings in a gas dispute between Oil and Natural Gas Corporation and Reliance Industries submitted an interim report on Friday, stating around nine billion cubic metres of natural gas may have flown out from ONGC's block in the Krishna-Godavari basin to Reliance Industries Limited's adjoining reservoir.

Based on an average price of $4.2 per million British thermal unit, the value of the nine bcm that might have flown out of ONGC's reservoir would be $1.4 billion or Rs 8,900 crore (Rs 89 billion) at the current exchange rate.
According to DeGolyer and MacNaughton, RIL had drawn 58.67 bcm from the wells up to March 31, 2015, of which around nine bcm, or 15 per cent, might belong to ONGC, sources said.

The report by US-based D&M, establishing continuity of ONGC's Godavari PML or G-4 block with RIL's KG-DWN-98/3 or KG-D6 block, was given to the Directorate General of Hydrocarbons and to the two companies.
"Now, the companies will submit their comments, after which the final report will be prepared and submitted next month for the government to take action," said a source, who did not wish to be identified.

An RIL spokesperson refused to comment, saying he had not seen the technical report.
An ONGC spokesperson could not be contacted for a response.
The petroleum ministry's official spokesperson said: "The government will decide its course of action on the basis of the final report when it comes to us."

ONGC had asked, in an appeal last year to the Delhi High Court, for compensation in case reservoir continuity was established.
It contended RIL had deliberately drilled wells close to the block boundary.

However, the production sharing contract also provides for joint development in a scenario where the adjoining reservoirs are found to be contiguous.
The high court had last month disposed ONGC's plea by asking it to wait for six months for the government to act after the consultant's report was given.

STEPPING ON THE GAS

2013
July: Suspecting reservoir connectivity, ONGC writes to Directorate General of Hydrocarbons seeking data on adjoining RIL block KG-DWN-98/3 (KG-D6)
Sept: RIL and ONGC meet and agree to exchange data, sign confidentiality pact
Dec: ONGC and RIL meet again. ONGC claims channel connectivity, RIL disputes the claim. Parties agree to exchange more data

2014
Feb: DGH suggests resolution to the matter by involvement of a third party
Mar: Another technical meeting held. Differences continue
April: DGH, RIL & ONGC agree to hire an independent consultant
May: ONGC moves Delhi High Court, accuses RIL of drawing natural gas from its blocks. Also accuses the oil ministry and DGH of not doing enough to protect its interest. RIL denies the claim
July: US-based consultant DeGolyer and MacNaughton (D&M) appointed to establish whether the pool of gas ran across the blocks of ONGC and RIL
Aug: Ministry files counter-affidavit against ONGC, saying ONGC never raised any issue on connectivity of reservoirs/channels ever
Sept: RIL files application in Delhi HC asking it to dismiss ONGC petition, as independent consultant appointed

2015
Jan: ONGC conducts tests, says pressure in its blocks depleted
Oct: D&M in a draft report states that at least 9 billion cubic metres of natural gas (worth Rs 8,900 crore) might have migrated from ONGC's fields to adjoining KG-D6 fields of Reliance Industries Ltd