The upstream business is not always about increasing production or produce what was envisioned. There are always surprises. It is not a factory that you put a machine and it produces 20,000 units per day.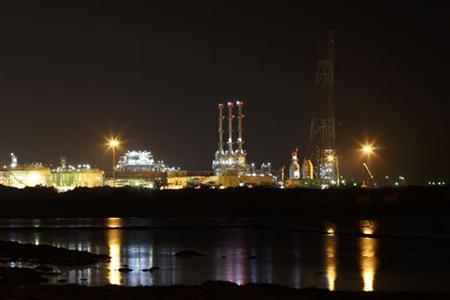 Reliance Industries KG-D6's facility located in Andhra Pradesh. Photograph: Courtesy, Reliance Industries
India's three major oil and gas producing upstream companies are at sea, literally.
Oil and Natural Gas Corporation, Reliance Industries and Gujarat State Petroleum Corporation had all banked heavily on their deep-water discoveries in the Krishna Godavari basin in the Bay of Bengal.
But the dream of making the basin into India's North Sea is turning sour, bringing down with it the hope of attracting investment in the upstream oil and gas producing industry.

ONGC made the first discovery in the KG basin in the early '80s at Razole in Andhra Pradesh which was an in-land well.
But it was only after Reliance Industries announced in 2002 a gas discovery in the deep waters of the KG basin that the gas trapped there caught worldwide attention.
For the first time, people had started to say that India could meet its energy security with domestic gas.

By 2006, Reliance Industries said that 14 trillion cubic feet (tcf) gas reserves were lying in its KG-DWN-98/1 block, popularly known as KG-D6, at 1,800 metre below the sea bed.

In June 2005, GSPC announced it had discovered gas in its KG-8 well, six km away from the Yanam-Kakinada coast of Andhra Pradesh.
Narendra Modi, then the chief minister of Gujarat, said it was the mother of all discoveries with 20 tcf reserves, almost 50 per cent more than the known reserves of Reliance Industries.

In June 2009, ONGC too came up with a 10 tcf reserve estimate for its two blocks in the same basin, though it later withdrew its declaration of commerciality submitted to the government and re-submitted a revised declaration last year that estimated the in-place gas reserves at 1.7 tcf.

Cut to the present: while Reliance Industries' estimates are down by 85 per cent to 2.9 tcf, and its actual production is down to a dismal 11 million standard cubic metre a day (mmscmd) from the peak of 65 mmscmd in 2010, ONGC has discovered that only 385 billion cubic feet (bcf) natural gas can now be produced because of the continuity of undersea reservoir between its lease areas with those of Reliance Industries.

Dallas-based DeGoyler & Mac Naughton (D&M) last week is understood to have put a question mark on the future production from five of the six discoveries that ONGC had made in its two blocks and which it had planned to develop together.
The gas volumes are too small to justify investments, claims a person who has been privy to the report, adding that the gas can probably be recovered from Reliance Industries' production facility since the pressure built-up crucial to production has fallen significantly.

The report has also established that natural gas from five of these ONGC discoveries flowed into Reliance Industries' area.
While 317 bcf has already been produced, a total of 393 bcf had migrated to the D1 and D3 reservoirs of Reliance Industries. Further migration could take the figure to 449 bcf over the life of the block.

For Reliance Industries' KG-D6 block, the consultant has downgraded the total recoverable gas reserves from 2.9 tcf to 2.4 tcf.

While Reliance Industries blames sand and water ingress, besides unpredictability of reservoir, as the main reasons for the fall, in GSPC's case, the estimates are down by 90 per cent to 2 tcf mainly because of high undersea temperature and tight permeability of the reserves.
The company is producing marginal quantities from its Deendayal Upadhyaya field.

Other factors at play
Is it, therefore, only the geology that played spoilsport and slashed the reserve and production estimates?

Though oil and natural gas exploration is an unpredictable business and needs risk capital, industry veterans do not blame the geology and have not given up hope on the KG basin.
"In the oil and gas industry, things do not turn out as expected. As licensees, companies made investments but the paradox is that a lot of geologists still believe that there is potential in deep water exploration," says Hindustan Oil Managing Director P Elango.

Elango, who has been in leadership roles in Cairn India and ONGC and has worked on the in-land Ravva field in the KG basin, says less than 5 per cent of India's production comes from Mesozoic rocks that were formed 66 to 252 million years ago. All over the world, some 45 per cent of production comes from such rocks.
"In terms of geological age, India's production comes from younger rocks like in Bombay High, Gujarat, Assam and even Rajasthan. Not just in deep-water but even in-land, we have not gone deeper," he says.
This highlights the fact that as a country not even one-third of the sedimentary basin has been explored for oil and gas, which means there is an upside left to hydrocarbon production in India.
According to Sudhir Vasudeva, the former ONGC chairman & managing director during whose tenure the company signed a contract with Reliance Industries for joint infrastructure development in the KG basin, all the three companies have their own reasons for their estimates going awry, and this in no way underscores the postulation that India's upstream dream has gone sour.

DK Sarraf, ONGC's chairman and managing director, says each one of three companies has learned from the success and failure of the other.
"The upstream business is not always about increasing production or produce what was envisioned. There are always surprises. It is not a factory that you put a machine and it produces 20,000 units per day. There is unpredictability and uncertainty. We have understood the basin and whosoever comes in the future will come with that learning."

Both Elango and Vasudeva cite the examples of foreign companies like ENI and Petrobras which have a large experience of deep-sea drilling.
These companies would not have shown interest in India if there was no potential.
However, the slowness of clearances, lack of any assurance on market-driven prices that could justify the high levels of investment and slowness in defence ministry go-ahead created problems for them.

There was another factor at work: during the crucial phase of exploration and development for all these companies, crude oil prices crossed $100 a barrel, and drilling costs escalated as rig rentals shot up. "By the time the government notified the rig moratorium policy, Petrobras had decided to surrender the block," recollects Vasudeva.
He says deep-water technology is not available off the shelf but is a niche area. "We go with some technology of which we have no experience."

There is a near unanimity among senior people in the government and the private companies that the directorate general of hydrocarbons has not played its role as a technical regulator.
"The government has reacted to the situation by not focusing on the technicality of the KG basin but has instead decided to concentrate on commercial and contractual issues," says Elango. Vasudevan too says the potential could not be exploited due to geological, technological, economic and political issues.

Nonetheless, the excessive focus on the KG basin has been necessary since globally the movement is towards deep-water exploration.
Days of easy oil and inland discoveries are over, even in West Asia.
For India's upstream sector that has seen no new discovery coming into production
in the recent past, Elango says, it is important to focus on the existing discoveries.

There is a market, a decent infrastructure but what is needed is market pricing and clear road map to make investments viable.
"I don't believe that the global industry will look at India as less prospective. People are willing to put investment if it's easy to work," he says.