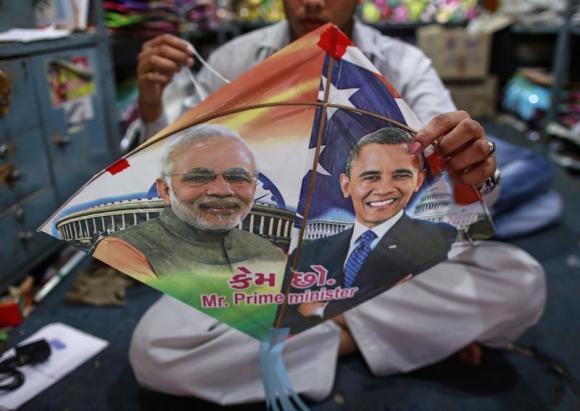 The Indian Diaspora Investment Initiative announced by US President Barack Obama in New Delhi to encourage Indian-Americans to invest in the development of India would help create jobs and train a new generation of local entrepreneurs, USAID Administrator Raj Shah has said.
"By creating a transparent investment vehicle, any investor can contribute to sustainable, social businesses that create jobs and train a new generation of local entrepreneurs," Shah said in statement here.
His remarks came after Obama announced in New Delhi a new partnership among the US Agency for International Development (USAID), Calvert Foundation and several private financial institutions in India to develop an Indian Diaspora Investment Initiative.
"We'll match the diaspora community's immense passion and resources to the small businesses that form the backbone of India's economy," said Shah, who is part of the US delegation to India.
As per the announcement made, US-based retail investors will be able to support this initiative by purchasing Community Investment Notes offered by Calvert Foundation.
USAID will provide a Development Credit Guarantee to support Indian financial institutions lending to social enterprises, enabling them to raise critical investments from both Indian and US investors.
By purchasing these specially marketed and branded Notes, which will become available in late 2015, Indian-Americans and other investors will be able to fund the growth of social enterprises in India while earning a financial and social return.
The Note is an established security with a 20-year track record of performance, and is currently held by more than 5,000 investors.
Investors can expect fixed interest payments every six months, and can select investment tenors from 1, 3, 5, 7 and even 10 years, a media release said. Announcing the initiative at the US-India Business Council Summit, Obama had said this new public-private partnership to help millions of proud Indian-Americans directly invest in India's future.
With this investment, Indian-Americans and others will be able to support financing for businesses that tackle poverty across India, working in critical sectors like education, financial inclusion, agriculture, healthcare, water and sanitation, renewable energy and energy efficiency, a media release said.
"Diaspora members are playing an increasingly important role in economic development around the world.
This Initiative goes beyond remittances, and beyond charity," said Calvert Foundation president and CEO Jennifer Pryce.
"Our work with USAID will enable us to connect members of the Indian-American diaspora to development in their country of heritage through investment," Pryce said.