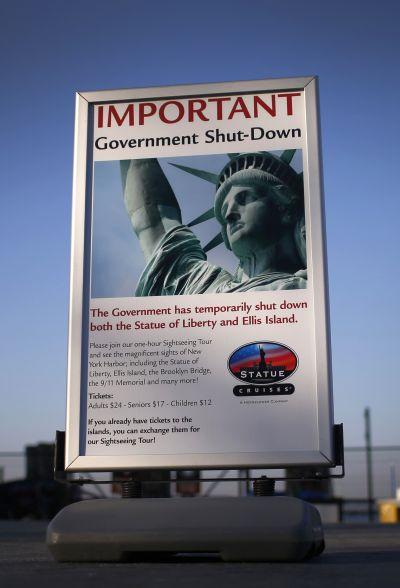 US President Barack Obama and the Republican party leadership have decided to continue talks to find any possible deal to re-open government and raise the debt ceiling, but there was no immediate resolution in site to end the current impasse.
The White House described a telephonic conversation between Obama and John Boehner, the Speaker of the US House of Representatives, as good and constructive.
"Two of them agreed that all sides need to keep talking on the issues here that are confronting us that have led to a shutdown of a government and to the situation that has put us on the precipice of potential default or at least reaching that line beyond which the United States government does not have borrowing authority," White House Press Secretary Jay Carney said.
He, however, said there has not been any change in the position of the US President.
"The United States should not and the American people cannot pay a ransom in exchange for Congress doing its job, remains as true today as it has been throughout this period," Carney said.
Carney said the Republican proposal puts a debt ceiling increase at only six weeks tied to budget negotiations would put them right back where they are today.
"That would create enormous uncertainty for our economy. The President speaking with small business owners heard from them the continued threat of default into that season would be very damaging to them. We don't think that's the right way to go," he said.
Earlier in the day, Obama also met Republican Senators and listened to their proposals to end the government shutdown and to prevent default by increasing the debt ceiling.
"The President listened carefully. He said that some of the elements were issues but he certainly did not endorse them," Republican Senator Susan Collins said after the meeting.
"There were many conversations on the long-term debt problem. Many members expressed concern about raising the debt limit without naming a specific plan to deal with our $17 trillion national debt. It was a good exchange, but it was an inconclusive exchange," she said.
"We really need to get government reopened. It's having dire consequences. They get worse with each passing day. And we cannot ignore the looming prospect of the United States not being able to pay its bills. On the other hand, we also can't ignore the fact that we have a $17 trillion national debt," the Senator added.
House Republican leaders also held a meeting in Boehner's office in the US Capitol on day 11 of the government shutdown.
There are just six days remaining before the October 17 deadline, when the Treasury could run out of money and begin defaulting on US obligations for the first time in history.