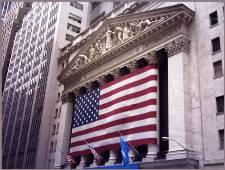 The New York Stock Exchange and Germany's Deutsche Borse AG are in advanced talks for a potential merger deal that would create the world's largest exchange operator by 'revenues and profit'. NYSE Euronext operates exchanges in the US and Europe.

The discussions, if successful, would see the German major owning a majority stake of nearly 60 per cent in the combined entity, while the rest would be with NYSE Euronext.

Confirming that it is in advanced talks for a potential business combination with Deutsche Borse, NYSE Euronext said late Wednesday that the combined group 'would be the world's largest exchange operator by revenues and profit'.

The all-stock transaction would see Deutsche Borse holding 59-60 per cent stake in the new entity, while NYSE Euronext would own 40-41 per cent, the US firm said in a statement.

The combined group would have dual headquarters in New York and Frankfurt.

A wave of consolidation has been greeting international securities trading markets in recent times, as entities are looking to tap growth opportunities
in different segments.
On Wednesday, London Stock Exchange Group and Canada's TMX Group agreed to a merger that would create a combined entity with a total market capitalisation of about 3.7 trillion pounds.
Late last year, Singapore Exchange had made an over $8 billion takeover bid for the Australian Securities Exchange.
According to the statement, a combination of NYSE Euronext and Deutsche Borse is expected to result in cost synergies worth 300 million Euros, primarily stemming from economies of scale in information technology, clearing and market operations, among others.
"Deutsche Borse AG and NYSE Euronext (also) expect to generate substantial incremental revenues from clearing services, product innovation and cross-selling opportunities between the global cash and derivatives businesses," the statement said.
Cautioning that no agreement has been reached, NYSE Euronext noted there cannot be any assurance of completing a deal.