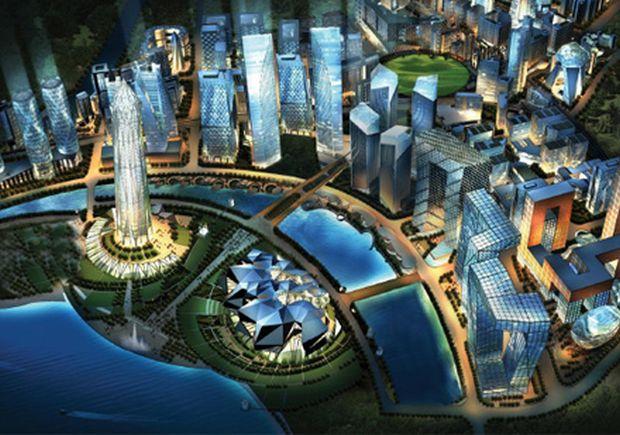 Leading bourse NSE on Thursday said it will set-up an international exchange in Gujarat's GIFTCity, to be developed as the India's first International Financial Services Centre (IFSC).
Announcing the MoU with NSE in this regard, GIFT City MD and Group CEO Ramakant Jha said that operating guidelines for an IFSC are being issued by the Union Finance Ministry, which will help in attracting various international services to GIFT City (Gujarat International Finance Tec-City).
The new exchange will provide an electronic platform for facilitating trading, clearing and settlement of securities, and will also explore the possibility of starting trading facilities in different asset classes like equities, interest rates, currencies, among others.
NSE signed a memorandum of understanding (MoU) with GIFT SEZ, a wholly owned subsidiary of GIFTCity, at Gandhinagar, the exchange said in a statement. Earlier, BSE had inked a pact with GIFTCity for setting up an international exchange in Gujarat last month.
GIFTCity was conceptualised as a pet project of the Gujarat government when Prime Minister Narendra Modi was the state's chief minister.
The exchange can cater to international and other investors willing to operate from GIFT SEZ-IFSC in GIFTCity. According to its website, "GIFT city aspires to cater to India's large financial services potential by offering global firms a world-class infrastructure and facilities.
"It aims to attract the top talent in the country by providing the finest quality of life all with integrated townships, IFSC and multi speciality special economic zone (SEZ)."
The city is 12 km away from the AhmedabadInternationalAirport and 8 km from Gandhinagar.
"We consider the recognition of GIFT SEZ as IFSC by the Government of India, as a major step forward to serve the financial industry at large. We at NSE, would like to be a part of the vision of the government to develop an IFSC in India," NSE MD and CEO Chitra Ramkrishna said.
There have been several attempts in the past to develop IFSCs in India on the lines of global financial hubs like Singapore, Hong Kong and Dubai.
Several countries around the world have successfully unlocked their financial services potential by establishing hubs, which over time have become IFSC.
These financial services centres help provide suitable regulatory regimes and create a business environment to promote talent and help increase capital flow. As these financial services centres develop, they create significant economic value for their domestic economies.