First it was Citibank which ended its exclusive tie-up with Jet Airways, after 12 years. Now it is the turn of American Express to go airline-agnostic -- despite having a co-branded card with troubled carrier Kingfisher Airlines.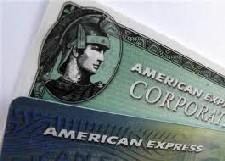 American Express Banking Corp is launching a travel card, not co-branded with any airline, after a non-exclusive marketing tie-up with IndiGo Airlines. Interestingly, the card major is not aggressively pushing its Kingfisher co-branded card to its customers.

"IndiGo and the Taj group of hotels are anchor partners for the card, which will help a member with lodging and travel benefits," said Shailesh Baidwan, country manager and head-consumer cards business, American Express Banking Corp.

"Our studies have confirmed that as with several other products and services, customers for card products are becoming increasingly discerning and are demanding much more value from their payment instrument. Our experience has shown that a distinct market segment can be carved out, where the need, preferences and attitudes of such customer groups can be addressed."

The latest offering from American Express -- a platinum travel card -- will charge an annual fee of Rs 5,000. The card is not linked with any airline mile conversion and a consumer, it says, can enjoy maximum returns without worrying about black-outs or non-convertible miles. The product also offers 5,000 bonus points or an airline voucher worth Rs 4,000 on the first charge to the card.

The partnerships between banks and airlines have been strained in the past few months, as the civil aviation sector is going through a crisis. Several banks said they were stuck with air miles inventory purchased from Kingfisher Airlines, as the private carrier reduced its flight services and suspended operations in some of the routes.

Citibank recently exited its co-branded card partnership with Jet to introduce an airline-agnostic credit card. The latest proposition from Citi will allow its credit card customers to earn and redeem miles across 100 airlines, including seven domestic airlines.

Citibank will shift all its Jet Airways–Citibank co-branded card customers to PremierMiles card by July 15. Citi and Jet had partnered since 1999, when the airline company had a market share of 38.6 per cent.

Due to a shift in preference for low-cost airlines in recent years, Jet Airways' market share has been declining; it was 28.2 per cent in April. Currently, low-cost carriers have a 50 per cent share of the air travel market. In 1999, these airlines were not present in India.