Sale of commercial vehicles witnessed a fall of 15-17% in November as buyers struggled to meet margin money requirements, reports Swaraj Baggonkar.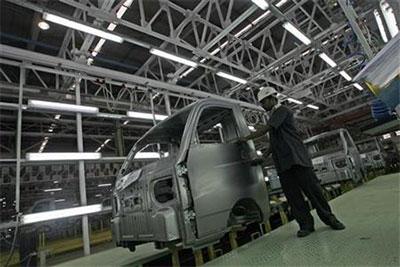 It is not only the cash-dependent truck and bus rental segment that has been hit hard by demonetisation but manufacturers of commercial vehicles, too, have witnessed a fall of 15-17 per cent in the last month as buyers struggled to meet margin money requirements.
Some of India's largest CV companies such as Tata Motors, VE Commercial Vehicles and Mahindra & Mahindra, which together control over 75 per cent of the market, reported a double digit decline in sales last month, primarily due to demonetisation.
Tata Motors, the country's largest CV maker, posted a fall of 17 per cent last month as the long haul cargo operators got severely affected by cash crunch. Tata Motors sales closed at 20,538 units, as against 24,828 units sold in the corresponding month last year.
"The impact of demonetisation was felt across all segments although the sales of light and small CV dropped by only seven per cent over November last year, while the M&HCV Cargo sales on a much larger base of last year saw a sharp drop of 42 per cent over last year, with long haul cargo operators being severely affected by cash -crunch, and deferring purchases," said a Tata Motors spokesperson.
Similarly, Mumbai-based Mahindra & Mahindra, India's second largest CV manufacturer, witnessed a drop of 15 per cent during the corresponding month, selling 14,801 units as against 12,644 units in the same month last year.
Small CV, especially those with less than 3.5 tonnes, and three-wheelers marked an even bigger drop, in the range of 16-20 per cent for M&M.
"Despite high financing penetration in the CV space, the impact of tight liquidity is likely to cripple the road logistics sector in the near-term and would prompt the transport community to put their vehicle replacement or addition plans on the back burner," said a note by research and rating agency ICRA.
About 80-85 per cent of CV buyers opt for a vehicle loan as per industry estimates.
For VE Commercial Vehicles (a joint venture between Volvo and Eicher Motors), November would have marked a growth had it not been for demonetisation. "We would have posted a growth instead of fall last month if demonetisation had not happened. December is a better month because of special offers and price increase in January. But this month could be unusually different. Post-January things could be much better," said Shyam Maller, senior vice-president (marketing and sales) VECV.
Sales of VECV, the country's fourth-largest CV maker, slid by 17 per cent last month to 2,408 units as compared to 2,905 units sold in the corresponding month last year.
Over the past 3-4 months, CV sales, especially M&HCVs (trucks) have been on a declining trend on account of waning replacement demand, weak industrial activity and uncertainty related to the impact of Goods & Services Tax (GST) regime on vehicle prices.
With the recent demonetisation move, the demand for CVs is expected to come under further pressure, which was otherwise expected to get a boost by the end of the fiscal from pre-buying following the implementation of BS-IV emission norms from April 2017 onwards, added the ICRA report.
Meanwhile, Chennai-based Ashok Leyland buck the trend in November reporting a rise of 7 per cent in sales at 9,574 units. A senior company executive stated that the impact of demonetisation has been lesser in the south as compared to the north.
"There was a lull in buying after the pre-buying in September last year which means November was low anyway. But the demonetisation has impacted every zone and every region differently. South has been least impacted which is also where there has been no slowdown in infrastructure projects", said the executive.
As per estimates, the north commands a share of 35 per cent followed by the west with 25 per cent and the south with 20 per cent.
Photograph: Arko Dutta/Reuters.