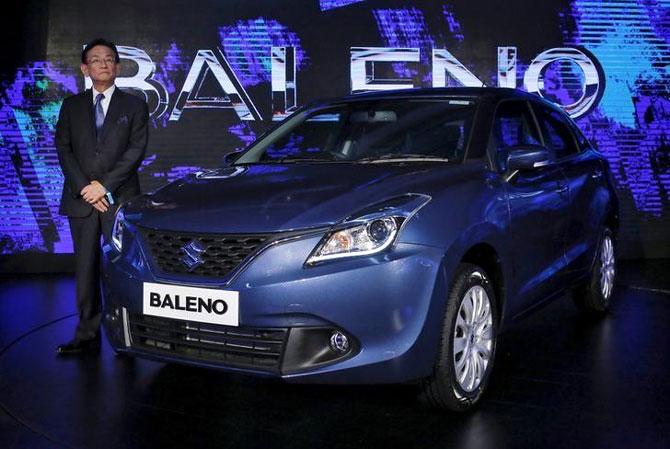 While retail sales at dealerships have suffered the full impact of demonetisation, the growth in wholesale volumes comes as dealers had relatively lower inventory after Diwali in October.
The passenger vehicle market felt the jitters of the government's move to demonetise high-value currency of notes Rs 500 and Rs 1,000, with wholesale volumes rising by just four per cent last month.
However, some companies, including market leader Maruti Suzuki, Tata Motors and Toyota Kirloskar, managed to post double-digit increase in November, as dealers indulged in building the inventory after Diwali and also brace for the ongoing marriage season.
The country's largest car-maker, Maruti Suzuki, reported a growth of 14.1 per cent in domestic sales last month.
While retail sales at dealerships have suffered the full impact of demonetisation, this growth in wholesale volume of the company comes as dealers had relatively lower inventory after Diwali in October.
Also, models like Brezza and Baleno have had waiting period of few months.
Maruti Suzuki sold 126,220 passenger vehicles in November in the domestic market, compared to the same month last year. Growth was led by the mini (Alto and WagonR) and compact (Swift, Baleno and Dzire) segment.
However, these are wholesale numbers and are not in sync with the real picture at retail level where dealers across the country have suffered an impact of 30-40 per cent in new bookings. The impact of this will be felt this month.
Carmakers, along with banks, have introduced 100 per cent on-road and ex-showroom financing for buyers on a case-to-case basis to address the cash problems related to margin money and registration. This, however, does not help fully since most the regional transport offices (RTOs) work on cash-basis.
Hit by the cash crunch, utility vehicle major Mahindra & Mahindra has seen its volume decline by 33 per cent to 13,217 units last month. Rural buyers make up a significant share of M&M's base. They have been hit hard by the demonetisation as a substantial portion of such buyers do not opt for a bank loan.
"The sudden announcement of demonetisation has brought in an immediate disruption and uncertainty. While it is a welcome step, it has dampened overall sentiments leading to deferred buying," said Pravin Shah, president & chief executive (automotive) at M&M.
With December usually being a dull month and the effect of demonetisation expected to further put pressure on retail buyers, automotive companies have already started to offer heavy discounts.
Maruti is offering cash benefits of Rs 50,000-60,000 on entry level models like Alto and WagonR whereas M&M is offering consumer benefit ranging between Rs 30,000 and Rs 1 lakh. Nissan has slashed the price of Sunny by a whopping Rs2 lakh.
"At the retail level, there are challenges. We did not have excess stock at dealerships since models like Crysta and Fortuner are on a waiting period. Therefore, dispatches continue to grow. But if things do not look up from here, wholesale dispatches may be impacted," said N Raja, director & senior vice-president (sales & marketing) at Toyota.
Tata Motors, the country's fourth largest passenger vehicle maker, clocked 22 per cent increase in sales in November, selling 12,736 units as against 10,470 units sold in the same month last year. Compact hatchback Tiago continued to be the bestseller for the company during the month.
Said Mayank Pareek, president, passenger vehicle business unit, Tata Motors: "We continue to see a good demand for our vehicles. The limitation on cash availability due to the recent demonetisation has affected retail in the auto industry, this month."
French carmaker Renault continued to be an outlier, clocking a rise of 23 per cent in vehicle sales last month on the back of the Kwid, which is one of the highest-selling mini cars in the country.
Like M&M, US-based Ford, too, posted disappointing performance in November, posting a 21 per cent decline in domestic sales.
Over two-thirds of Ford India's sales come from outside the country. Anurag Mehrotra, executive director (marketing, sales & service) at Ford said, "While the macroeconomic indicators continue to be positive, the auto industry does face short-term headwinds, given the recent demonetisation drive".
---
Demonetisation impact on Maruti stock overdone
Pent-up demand is expected to keep volumes strong in 2017-18
Hamsini Karthik
Domestic sales for India's largest car manufacturer continued to be in an upward trajectory, growing by 14 per cent year on year (with sales of 126,226 units).
Even a month-on-month comparison indicates that the volume off-take remained unaffected due to the note ban.
Among the factors that helped was festive season demand which was robust in September and October and a significant spill over was seen in November as well.
Also, analysts point out that there have been deliberate efforts to keep the inventory levels low at the dealers' end and therefore demonetisation did not impact Maruti Suzuki much.
Another factor which provides comfort is that Maruti Suzuki caters to a large segment of first-time car buyers, who generously avail credit facilities to fund their purchases.
Finally, as Arun Agarwal of Kotak Securities points out, "Products such as Baleno and Brezza have long waiting period and that gives us comfort that volumes won't dry up as anticipated."
However, he also elaborates that the concern for Maruti Suzuki in the next two-three months would be converting the footfalls to showrooms as firm customer orders.
"The challenge for now is getting footfalls converted into orders and hence there could be some deferment in purchases for a few months. Though it would be temporary, the pent-up demand will return in FY18," Agarwal cautions.
As for investors, analysts feel the impact of demonetisation was rather overplayed on Maruti Suzuki's stock and the recent seven per cent correction should be viewed as a good entry point for the stock.
"While weak discretionary spending could affect Maruti's earnings in FY17, investors are more likely to value the stock based on its long-term sustainable earnings growth, implying limited impact on valuations," says Pranoy Kurian of IDBI Capital.
Analysts at Phillip Capital also have a similar view and recently upgraded their recommendation on Maruti Suzuki from "neutral" to "buy". "Sensitivity analysis suggests that the stock price builds in just a five per cent volume over FY16·18, which makes risk·reward highly favourable," the analysts note in their report.