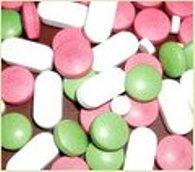 India and the European Union (EU) have begun discussions to resolve the ongoing dispute over the seizure of Indian generic drugs consignments in transit at European ports. Lutz Guellner, spokesperson for the European Trade Commissioner, told
Business Standard
that a meeting of the EU-India Joint Customs Cooperation Committee held in New Delhi on Thursday proved "constructive" with an "open discussion of the issues" taking place.
The meeting, however, failed to produce any resolution. "The different positions of the two sides were explained and facts were put on the table, but we have not yet come up with any solution," said Guellner.
The spokesperson, however, emphasised that the Indian side "was happy with the dialogue".
Last month, the Indian mission to the World Trade Organization (WTO) in Geneva informed a TRIPS (Trade-Related Aspects of Intellectual Property Rights) council meeting that widespread and repeated seizures were having an adverse impact on the legitimate trade of generic medicines, universal access to medicines in developing countries and national public health budgets.
Along with Brazil, India had threatened to formally take up the matter with the WTO dispute settlement body. However, at the recently-held India-EU summit, European Trade Commissioner Catherine Ashton assured her Indian counterpart, Commerce Minister Anand Sharma, that EU's "commitment on the pharma generic issues is to find a solution that works for India".
Thursday's meeting between Customs official followed this commitment.
There have been almost 20 seizures of Indian-made generic drugs in transit at European ports recently on the grounds of alleged patent infringement. In 2008, 16 seizures were reported in the Netherlands alone. In addition, a consignment of 3.04 million tablets of popular antibiotic, Amoxicillin, enroute from Mumbai to Vanuatu, was stopped in Frankfurt earlier this year.
India and public health NGOs have claimed that these seizures were not only illegal since they contravened WTO norms, but were also damaging to developing countries by denying or delaying them access to life saving medicines.
All the consignments seized were eventually found to be legal, the generics in question off-patent.
But despite the protests, another seizure in October took place when a shipment of 1.74 million tablets of anti-platelet drug Clopidogrel from Mumbai-based Macleods Pharma to Venezuela was stopped in the Paris airport.
EU cites domestic customs laws that allow goods in transit to be stopped if they are suspected of being either illegal or substandard as justification. India, however, maintains that European countries are creating trade barriers against Indian drug companies to protect the interests of their firms.
At issue is also the question of whether customs officials have the competence to judge intellectual property rights infringements. This is something that was discussed at Thursday's meeting, according to Guellner.
"Both India and EU agree that customs has the right to stop goods in transit as long as this does not hinder legitimate trade. The concern is whether the EU's current regulation 1383, which lays out what European customs can and cannot do, is a hindrance."
The spokesperson explained that the main issue in need of further discussion was the matter of what constituted sufficient reason for customs officials to stop a particular consignment. "What is under debate is when regulation 1383 can and should be activated."
"Once this becomes clarified it may present a possible solution," said Guellner, while stressing that the number of consignments stopped at European ports were only a small percentage of the total shipments from India that passed through Europe.
"It's really a technical issue but with political ramifications," he said. No date for the next round of discussions has been set yet.