AirAsia's planned foray in India is not expected to face any big hurdle, Civil Aviation Minister Ajit Singh said on Wednesday.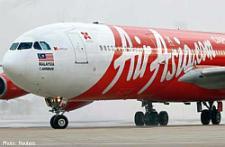 "I don't see any big hurdles, whether they (AirAsia with Tata and Arun Bhatia) form joint venture before or after. The aviation ministry will check procedures of taking no objection certificate, having two-third of India directors and others were followed," he said.

However, he said AirAsia's proposed joint venture could face some procedural problems which have to be cleared by the Foreign Investment Promotion Board (FIPB).

The Minister was speaking before the FIPB headed by DEA Secretary Arvind Mayaram approved AirAsia's proposal at its meeting in New Delhi.

AirAsia, Tata Sons and Arun Bhatia of Telstra Trade Place Pvt. Ltd have proposed to set up a low-cost carrier in India.

Speaking on the sidelines of a seminar on "General Aviation: the next step organised by Indo American Chambers of Commerce," the Minister said the decision to allow foreign direct investment in Indian carriers "will be a game changer for the Indian civil aviation sector in the long run."

Singh said cooperation between India and the US had significantly strengthened over the years and the
open sky policy has made India a fastest growing aviation market in the world, leading to growth in passenger traffic.
"This massive growth in air traffic would require huge investment for construction of new airports, expansion and modernisation of existing airports, improvement in connecting infrastructures like road, metro and sea link and also better flight management," he said.
The government has approved 15 more airports under the Greenfield Airports policy with majority of them being developed under the public private partnership mode.
"Current estimates indicate that Indian airports would require an investment of about Rs 67,000 crore (Rs 670 billion) during the next five years alone of which 75 per cent is likely to be contributed by the private sector," Singh said.
The Minister said India has the potential to become a Maintenance, Repair and Overhaul (MRO) hub due to growing aircraft fleet, location advantage and availability of talent.
"To facilitate the growth of MRO business and to make it competitive, the Government has recently decided to give several concessions which include extension of time period allowed for utilisation of aircraft parts and others," he said.