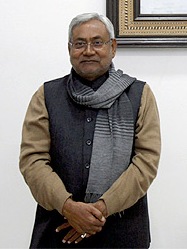 Maintaining his opposition to foreign direct investment in multi-brand retail, Chief Minister Nitish Kumar said on Monday  there was no question of allowing investment of foreign capital in the retail sector in Bihar.

"There is no question of allowing FDI in retail in Bihar . . . it will be opposed tooth and nail.

"There is adequate capital in the sector that generates local employment," Kumar told reporters on the sidelines of his Janata Durbar at his official residence in Patna.

The chief minister held that foreign investors would try to capture the retail sector that would subjugate the farmers and destroy local retailers and the common man would not benefit in any way.

The state government would like to protect domestic capital invested in the retail sector, Kumar said.

Lashing out at the United Progressive Alliance government for allowing 51 per cent FDI in multi-brand retail, the chief minister said that the step amounted to granting sanction to foreign investors to capture retail market.

Foreign capital should instead be allowed in infrastructure and related sectors which required huge investments, he added.

On the stand taken by Trinamool Congress supremo and West Bengal Chief Minister against FDI in retail, Kumar said that he did not think that any ally of the UPA government would withdraw support as it would not affect survival of the government.

The UPA would manage the numbers should any ally withdraw support and that there was little prospect of mid-term polls at present, he said.

UPA allies too would be 'responsible for subjugation of farmers and destruction of local retail traders' following the decision to allow FDI in multi-brand retail, Kumar said.

On his arch-rival and RJD supremo Lalu Prasad supporting FDI in retail, the chief minister that he was not surprised 'as he always looks for a chance for rehabilitation in the government.'

He said the Centre gave in to tremendous pressure by the foreign media, which had described Prime Minister Manmohan Singh as an 'underachiever' under a 'game' and the worst fears of the states have came true as the Centre allowed FDI in retail sector 'in a hurried manner'.

FDI in multi-brand retail was the culmination of economic reforms to clear the decks for foreign countries to earn revenue from the retail market in India, he said.

"It is not a foreign investment in the true sense . . . . it will encourage consumer culture in the country," he said.

Kumar said that he had opposed FDI in retail in a letter to Industries and Commerce Minister Anand Kumar earlier when his views and that of other chief ministers were sought.

When his attention was drawn to Union Home Minister Sushil Kumar Shinde's remarks that the people would forget 'Coalgate' over a period as was the case with Bofors, Kumar said, "Whether the people forget an issue or question him about it, Shinde will find out in the next parliamentary elections."
Image: Nitish Kumar