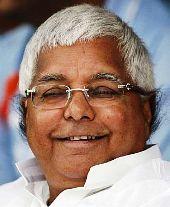 Opposing the diesel price hike and restriction on subsidised liquefied petroleum gas cylinders, Rashtriya Janata Dal supremo Lalu Prasad said on Friday the United Progressive Alliance's government's decision was 'unfortunate' and sought its reconsideration.

"The decision to hike diesel price and restrict LPG cylinders is unfortunate," Prasad, whose party supports the UPA, told reporters in Patna.

Asking the Centre to reconsider the decision, Prasad said, the fuel price hike would have direct impact on the input cost of farmers besides on price rise and inflation.

Stating that the ruling class should take care of the people and protect their interest, he suggested that the Bihar government reduce VAT rate to alleviate the plight of the common man.

"But it does not think about it," Prasad said.

Meanwhile, the Bharatiya Janata Party and ally Janata Dal (United) took out separate rallies in Patna and burnt effigies of the prime minister and shouted slogans against the Centre.

The protesters led by the state unit Bharatiya Janata Party chief C P Thakur burnt the effigy of the prime minister at the busy Dak Bungalow roundabout.

Janata Dal (United) workers protested in a similar manner at the Income Tax roundabout although none of it prominent leaders were present.
Image: Lalu Prasad