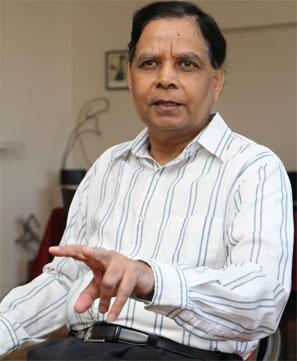 Hectic preparations are on at the newly-formed Niti Aayog to welcome the first Vice-Chairman Arvind Panagariya and other members whose appointments were approved by Prime Minister Narendra Modi on Monday.
Niti Aayog has replaced the 65-year old Planning Commission, a vestige of the socialist era. The room of Panagariya, which was earlier occupied by his predecessor Montek Singh Ahluwalia is being refurbished for the new occupant.
The staff has even put the name plate of Panagariya on the door, though he is expected to take charge only in a couple of days.
The landmark sign board in front of Yojana Bhawan has already been repainted as Niti Aayog. The rooms to seat the other full time members of the Aayog is also being prepared before their joining.
The anxious staff of the Yojana Bhawan appeared to be heaving a sign of relief after the government announced formation of the Niti Aayog on January 1.
Government had announced the appointment of Noted economist, Panagariya as Vice-Chairman of the Niti Aayog (National Institution for Transforming India) and its other members on Monday.
Economist Bibek Debroy and former DRDO chief V K Saraswat were appointed as full-time members by the Prime Minister who is the formal head of the Aayog.
Union Ministers Rajnath Singh, Arun Jaitley, Suresh Prabhu and Radha Mohan Singh will be the Ex-Officio members while Nitin Gadkari, Smriti Zubin Irani and Thawar Chand Gehlot would be Special Invitees.
62-year-old Panagariya is an Indian-American economist and Professor of Economics at ColumbiaUniversity. He will be the first Vice Chairman of the body. The previous avatar, the Planning Commission, had a Deputy Chairperson at the helm.
Panagariya has earlier been the Chief Economist of the Asian Development Bank and a Professor of Economics and Co-director, Center for International Economics, University of Maryland at College Park.
Holding a Ph.D degree in Economics from PrincetonUniversity, Panagariya has also worked for the World Bank, International Monetary Fund, World Trade Organisation, and the United Nations Conference on Trade and Development (UNCTAD) in various capacities.
The Aayog will serve as a policy think-tank for the central as well as state governments with the Prime Minister as its Chairperson.
The NITI Aayog will have a governing council comprising of all state Chief Ministers and Lt Governors and will work towards fostering a 'co-operative federalism' for providing a "national agenda" to the Centre and States.