ICE Benchmark Administrator to replace gold fix on March 20
Four chairs to rotate during first 6 months - source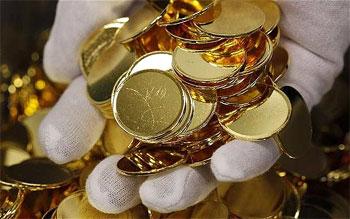 A handful of banks will start setting gold prices electronically on Friday, sources with direct knowledge of the matter said, as Intercontinental Exchange completes a sweeping change to London's bullion benchmarks and dispenses with the century-old gold "fix".
Since 1919, representatives from four or five banks have agreed a twice-daily price on which their customers - producers, consumers and investors - could trade and value gold.
Sweeping reform triggered by a regulatory push for more transparency after the Libor interest rate-rigging scandal broke in 2012, saw banks stop acting as both data providers and market makers.
As financial institutions even considered pulling out of the fixing process, three different exchanges took on the challenge of setting the separate precious metals benchmarks.
ICE Benchmark Administration (IBA), a subsidiary of ICE , was chosen to provide a physically settled, electronic and tradeable auction for what will become the LBMA (London Bullion Market Association) Gold Price.
"Friday's move to electronic auctions and record-keeping...should repair outside perceptions of London's role in the market," said Adrian Ash, head of research at online dealer BullionVault.com.
Banks will still submit orders during the process, as they currently do.
"I would like to think (there will be) more than the current (four) ... but we'll have to wait and see," a source with direct knowledge of the matter said.
Current providers of the gold "fix", Barclays, HSBC , Bank of Nova Scotia and Societe Generale , declined to comment on whether they will participate.
The issue around participation gained importance due to the current regulatory environment, which aims to promote transparency and inclusion during the setting of financial benchmarks used by customers around the world.
"Not everybody realises the level of commitment that participating in a benchmark requires, that's why the list (of participants) you have today is shorter than envisaged," a bullion banking source added.
The LBMA, which will retain intellectual property of the new benchmark, had said that 11 entities intended to participate in the new mechanism from the start.
Industrial and Commercial Bank of China, Bank of China International and China Construction Bank, which are ordinary members of the LBMA, were unlikely to be in the list of new participants at this stage, the first source said.
When Chicago Mercantile Exchange, jointly with Thomson Reuters, took over the administration of the silver benchmark in August, just three entities were able to join the electronic auction from day one. There are now six participants.
The London Metal Exchange, part of the Hong Kong Exchange has been running the platinum and palladium fixes from December, with four participants.
ICE said it has appointed an independent chairperson who will oversee the process, although it will look to develop an algorithm at a later stage.
Four ex-bankers have been appointed as chairs and they will rotate in their duty during the initial six months, a fourth source said.