Nestle's acquisition of Pfizer's infant nutrition business has an India angle to it. While Pfizer does not have its infant nutrition brands such as SMA Gold, Promil Gold, Progress Gold and Promise Gold in India yet, the threat that it could launch these products in the country was always there, thanks to its strong presence in neighbouring countries such as China, Indonesia and the Philippines.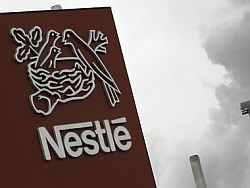 "Nestle," says Abneesh Roy, associate director, research, Edelweiss Capital, "has effectively blocked a potential entry by Pfizer with the acquisition". The point is endorsed by Anand Ramanathan, associate director, KPMG. "Definitely, the attempt has been to pre-empt competition," he says.

The baby food market in India is about Rs 1,500 crore (Rs 15 billion) in size, growing at a clip of 10-15 per cent per annum. With its baby food portfolio including brands such as Lactogen, Nestum, Cerelac, Nan, etc, Nestle commands a market share of about 80 per cent in India. No other company comes anywhere close.

The only other brand that has some equity in India is Farex, the oldest infant nutrition product in the country, now owned by Danone.

It was in August last year that Danone had agreed to buy the erstwhile Farex-owner Wockhardt's nutrition business. Wockhardt itself had acquired Farex from Dumex India in 2006.

Dumex, which prior to the Wockhardt acquisition, was controlled by the Netherlands-based Royal Numico, had bought Farex from Heinz in 2005. Heinz, in turn, had acquired Farex from Glaxo in 1994-95.

Thanks to these multiple acquisitions, the once-powerful Farex, which has been in India for over 50 years, has lost steam. The brand is barely visible today on shop shelves unlike a few years ago. In contrast, Nestle has consistently grown its baby food business to become a leading player in a category still perceived premium.

A 750-gram infant-nutrition product, for instance, costs roughly Rs 200-300, which, according to Roy, puts it out of reach for many consumers.

"How many people can afford a product at this price point?" he asks. Ramanathan says Indian mothers still tend to depend on what they prepare at home to provide nutrition to infants.

Despite that, companies such as Nestle have continued their efforts at pushing these products in India, riding on growing affluence and a tendency among people in higher income brackets to migrate to better products.

Nestle's infant food business in India contributes about 16 per cent to its Rs 7,514-crore (Rs 75.14-billion) top line, say market experts, which is substantial given that the category is not huge in the country.

When making the announcement today, Nestle's chief executive Paul Bulcke admitted, "Pfizer's strong brands and product portfolio, besides its geographic presence -- 85 per cent of its sales are in emerging markets -- will complement our existing infant nutrition business perfectly."