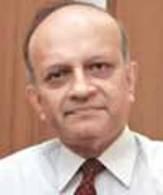 Global investment bank Morgan Stanley has named P Jayendra Nayak, the former chairman and chief executive officer of Axis Bank, as its new chief executive and country head for India. Nayak, who will replace Narayan Ramachandran, is slated to join on April 5.
"I decided to get back to full-time work since I had the option to work for a great brand. The idea is to scale up the business in the long term and do so in a sustainable manner," said Nayak. The Business Standard Banker of the Year for 2009, however, said it was too early to discuss the focus areas.
In his new assignment, the 61-year-old banker will oversee Morgan Stanley's investment banking, capital markets, private equity and wealth management businesses. The Wall Street bank also has a non-banking finance company and a primary dealership in India.
"He brings extensive banking experience and expertise to the firm, as well as proven management and business-building skills. The firm will also benefit from his senior relationships in India and his government experience," said Owen Thomas, chief executive officer of Morgan Stanley Asia, in a statement.
"We have made significant investments over the last few years, and under his leadership, our commitment, focus on clients and business expansion will continue."
After resigning from Axis Bank last April, Nayak, also a former bureaucrat, took over as the non-executive chairman of Motilal Oswal Asset Management Company. In addition, he was appointed as an operating partner at Advent International Private Equity, which is building its India operations. Last year, he also became a member of the Reserve Bank of India's technical advisory committee for monetary policy.
During his nine-year stint (2000-2009) at Axis, the bank became India's third largest private sector lender. When the former Indian Administrative Service officer moved from the erstwhile Unit Trust of India to what was then UTI Bank, the non-state lender had 50 branches. But by the time he left, the network had expanded to 800.
Nayak is the latest banker to move to a global financial services giant. In September 2008, Kalpana Morparia moved to JP Morgan as its country head after a 33-year stint at ICICI Bank. A few months later, Sanjay Nayar quit Citigroup, where he was the CEO for India and South Asia, to join as the CEO and country head of Kohlberg Kravis Roberts in India. He had spent 23 years at the financial services company.
Apart from Morgan Stanley, Bank of America-Merrill Lynch will get a new country head in a couple of months when Kaku Nakhate moves from JP Morgan, where she heads the equity business.