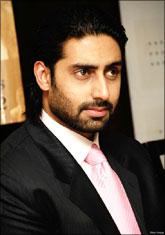 Amitabh Bachchan wouldn't mind losing this one. His son, Abhishek, who made his television debut on Colors, has managed the highest television viewership rating for any celebrity show with National Bingo Night.
The show has got a rating of 5.1, much more than the first episode of Bigg Boss (also on Colors a couple of months earlier) that the senior Bachchan hosted. In the process, Abhishek has outperformed the other celebrities as well -- Shah Rukh Khan, Akshay Kumar, Salman Khan, et al (see table below). The ratings have been given by TV rating agency TAM Media Research.
But, the jury is out on whether National Bingo Night will be able to sustain its ratings. Experts feel weeks of hype created around the show has helped the initial rating.
Also, the illustrious father can claim some credit. Amitabh Bachchan was the first participant at the show and came up with one of his best performances.
Amitabh also promoted the show big time during the finale of Bigg Boss 3. Big B called his son from the TV studio and asked him what classes he was organising. That's how the viewers were introduced to the show after almost a month's promotion running across the out-of-home media talking about 'Abhishek's Aarami Classes'. 
CASHING IN ON THE MOOLAH
TV VIEWERSHIP RATINGS (TVR) OF CELEBRITY

 

SHOWS ON DEBUT DAY

 

Celebrity
Programme
Year
TVR
Abhishek Bachchan
National Bingo Night
2010
5.1
Amitabh Bachchan
Bigg Boss 3
2009
4.6
Shah Rukh Khan
Kya Aap Paanchvi Pass 
Se Tez Hain
2008
4.6
Akshay Kumar
Khatron Ke Khiladi 2
2009
4.4
Rakhi Sawant
Rakhi Ka Swayamvar
2009
4.1
Shilpa Shetty
Bigg Boss 2
2008
2.5
Salman Khan
Das Ka Dum
2009
2.2
Source: TAM Media Research
"With the success of Paa, the father-son duo have been top of the mind for audiences. This has helped the show's ratings. Colors has done a smart thing by capitalising on the show at the right time. Also the format is new. All these factors have helped in record ratings," said Shubha George, MD, MediaEdge.
The show is based on an international format called Bingo and owned by Fox Television Studio. Here, not just the studio contestants, but also the studio audiences and television viewers can play.
While the contestant plays in-studio games based on game ball numbers, the studio audiences predict the numbers and try to match these with their tickets. No special skills are required to bag prizes.
Ashvini Yardi, programming head, Colors, said: "There was a huge wave of interest amongst the viewers to play the game of Bingo with Abhishek. The format of the show is so simple, the ease with which Abhishek conducts the game and the Saturday 9 pm time slot is all so perfect, that it gives the entire family a chance to sit and play together, enjoy and win prizes."