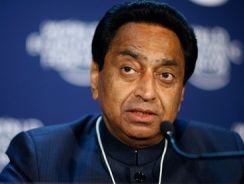 In continuing acrimony between the Planning Commission and his ministry, Road Transport Minister Kamal Nath had hit out again at the Plan panel, saying it needs to change structurally.
"Just like International Monetary Fund, which has to transform itself, the Planning Commission should transform itself. . . It is a structural issue," he said at a function last night to mark the release of a book authored by Network 18 founder and Editor Raghav Bahl.
The Planning Commission and Road Transport and Highways Ministry have earlier differed on various issues. Nath had earlier described the panel as an 'armchair advisor'. Ahluwalia had countered Nath's view by pointing out, "You cannot run a government only with people who know how to build roads. You have to give them a set of rules. . .".
The two bodies have been fighting a running battle over the targets for construction of highways.
While the ministry is keen to build 20 km of highways every day, the Plan panel wants it to chase a reasonable target, in line with availability of funds.
"We will certainly achieve the 20 km-a-day (road construction) target," iterated Nath. Echoing the sentiments expressed by Nath, the former chairman of the Securities and Exchange Board of India, M Damodaran, opined 'the Planning Commission must be wound up."
Nath had unveiled his ministry's ambitious plan of constructing 35,000 km of highways in five years soon after assuming charge as transport minister last year.
Releasing the book titled Super Power?: The Amazing Race Between China's Hare and India's Tortoise, Nath said, "We should not be too critical of ourselves." He said India has done a great job in improving rural infrastructure, adding that the next revolution should target rural areas. He said the advantage of India will lie in its demography. "China will grow old before it grows rich," he said.
The minister also underlined the need for addressing issues that are hampering the growth of infrastructure facilities in urban areas.
"In our urban infrastructure whether these are ports, airports or roads. . . When I struggle to achieve our targets, I see huge issues. There are issues of land," he added.
Image: Kamal Nath