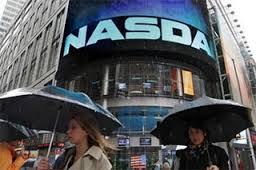 The Nasdaq Composite on Thursday erased its last standing milestone from the dot-com era as it set a record intraday high, with stocks on Wall Street in rally mode boosted by strong economic data.
A report in German newspaper Die Zeit about possible concessions made to Greece by its international creditors, which briefly extended the market's rally, was later denied by EU diplomats.
The Nasdaq Composite hit a high of 5,143.316, topping the previous 5,132.52 record which stood since March 10, 2000. It also set a record closing high, as did the Russell 2000 , while the S&P 500 closed within 0.5 percent of its record.
US consumer prices posted last month their largest increase in more than two years, jobless claims applications fell last week to a near 15-year low and factory activity in the mid-Atlantic region accelerated to a six-month high in June.
"Economic growth is beginning to make itself more evident," said John Manley, chief equity strategist at Wells Fargo Funds Management in New York.
Manley said the perceived dovishness of the Federal Reserve's statement and estimates after its meeting on Wednesday continued to support equities.
"The Fed is going to be very slow to raise interest rates," he said.
Markets have closely watched for signals from the US central bank as it prepares to raise rates for the first time in almost a decade.
The Dow Jones industrial average rose 180.1 points, or 1 per cent, to 18,115.84, the S&P 500 gained 20.8 points, or 0.99 per cent, to 2,121.24 and the Nasdaq Composite added 68.07 points, or 1.34 per cent, to 5,132.95.
Euro zone leaders will hold an emergency summit on Monday to try to avert a Greek default, after bank withdrawals accelerated and government revenue slumped as Athens and its international creditors remained deadlocked over a debt deal.
The ECB told a meeting of euro zone finance ministers it was not sure if Greek banks would be able to open on Monday, said officials with knowledge of the talks.
The Greek situation is an emotional one for investors and it is hard to know how exactly markets will react, said Wells Fargo's Manley.
"In 2010 (a Greek default) would have been a real problem. I don't see a lot of ramifications among financial institutions if it happened now, and if there were, the ECB and IMF will know how to deal with it," he said.
All the 10 major S&P 500 sectors were higher with the health index leading with a 1.5 percent rise.
Fitbit shares ran up as much as 59.5 percent to $31.90 in their market debut before closing at $29.68, 48.4 percent above the $20 IPO pricing.
Advancing issues outnumbered declining ones on the NYSE by 2,062 to 1,015, for a 2.03-to-1 ratio on the upside; on the Nasdaq, 1,949 issues rose and 833 fell for a 2.34-to-1 ratio favoring advancers.
The benchmark S&P 500 index posted 41 new 52-week highs and 2 new lows; the Nasdaq Composite set 161 new highs and 30 new lows.
About 6.2 billion shares changed hands on US exchanges, above the 5.96 billion daily average so far this month, according to BATS Global Markets data.