Of the thousands of railway bridges in India, 36,470 are more than 100 years old, and 6,680 are more than 140 years old!
But of these, only 21 rank on the Heritage Directorate of the Indian Railways because for them heritage isn't necessarily a function of age, says Bibek Debroy.
Illustration: Dominic Xavier/Rediff.com.

The Jubilee Bridge was an old railway bridge, between Naihati and Bandel and across the river Hooghly.
It possessed features to interest engineering enthusiasts. It was a cantilever truss bridge. It used only rivets, no nuts or bolts. It had a unique feature of pendulum bearings.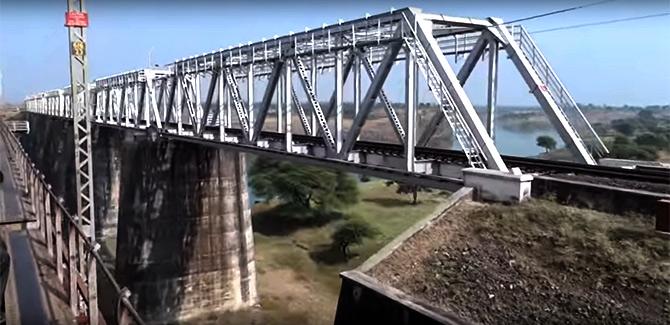 IMAGE: The railway bridge across the Mahi river, at Bhairongarh, Madhya Pradesh, near Ratlam, was built in 1890. Photograph: Courtesy Indian Railways.
This bridge had a plaque of much later vintage. The plaque told us construction started in 1882 and was completed in 1887. That being Queen Victoria's Jubilee Year, it was inaugurated on February 16, 1887, by Earl Dufferin, viceroy and governor general, and christened Jubilee Bridge. The plaque also listed the names of designers and engineers.
For years and years, this plaque -- I repeat, of later vintage -- by East Indian Railway spelt assistant engineer as "assistent" engineer, to rhyme with resident engineer (mentioned in the line above) I guess. But no one seemed to notice.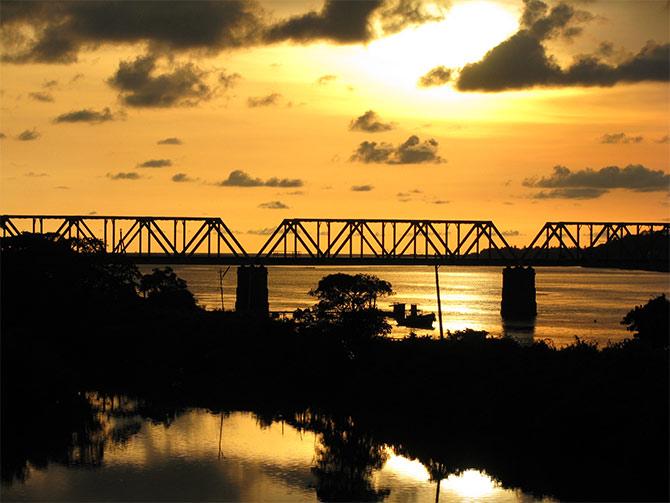 IMAGE: Some 0.83 km long, built in 1907, the Nethravati Bridge goes across the Ullal River, near Mangalore, Karnataka. Photograph: Kind Courtesy Nithin Bolar K/Wikimedia Commons.
The bridge, being old, needed to be replaced. It couldn't be repaired. Part of the problem was related to the pendulum bearings, which used mercury. A new parallel bridge has been constructed, inaugurated in 2016. This is called Sampreeti Setu, though some refer to it as the New Jubilee Bridge. In case you are interested: On April 17, 2016, train number 13141, Teesta-Torsa Express, was the last train to use the old Jubilee Bridge.

What will happen to the old bridge?
IMAGE: The 3,460-metre, 56-span Havelock Bridge, also called the Old Godavari Bridge, at Rajahmundry, Andhra Pradesh, was decommissioned in 1997 and is now a national monument. It was once an important bridge on the super-busy Kolkata-Chennai rail line. Built in 1900, this stone masonry and steel girder beauty was named after Sir Arthur Elibank Havelock, a governor of then Madras. Photograph: Kind Courtesy Adityamadhav83/Wikimedia Commons.
It can't stay where it is. It will impede river traffic along the Hooghly. Therefore, it would have to be dismantled and auctioned. In the process, a valuable piece of history and heritage would have been lost. This is precisely what happened with most of our steam locomotives. As far as I can make out, some bits of Jubilee Bridge will now be saved from the auctioneer's hammer and lodged somewhere.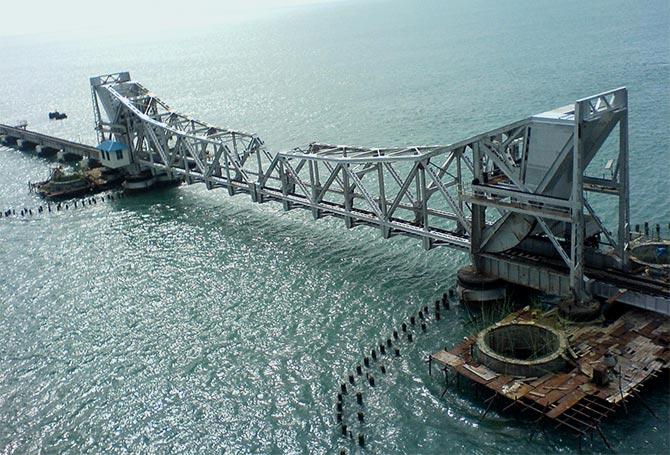 IMAGE: The Pamban rail bridge connects Rameshwaram island and the mainland in Tamil Nadu. Completed and opened in 1914, it was India's very first sea bridge and the longest, till Mumbai's sea link came along. Its spans lifts to allow ships to pass. Photograph: Kind Courtesy Rockfang/Wikimedia Commons.
There are other old bridges too. The Heritage Directorate of the Indian Railways now has an inventory of heritage bridges; there are 21 on the list. You will find Jubilee Bridge listed at number eight, as the bridge between Hooghly Ghat and Garifa stations.
I am not sure why the old Yamuna Bridge in Delhi, popularly known as Lohe ka Pul, is not included in this list of heritage bridges. This is old, too, constructed between 1863 and 1866. Its companion bridge, the Yamuna Bridge in Naini, that opened in 1865, figures in the Indian Railways list of heritage bridges.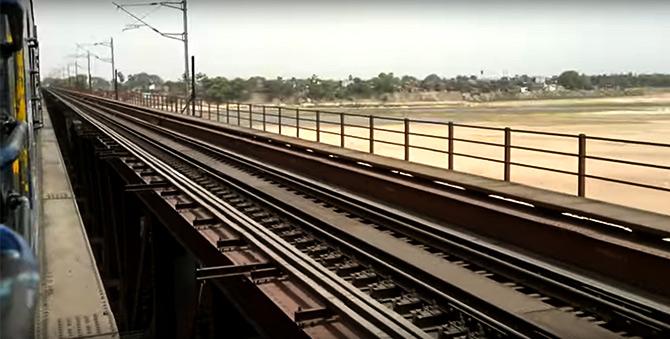 IMAGE: If you have seen the film Gandhi, you would have spied this historic bridge in it. The construction of the Koilwar railway bridge (now called Abdul Bari Bridge), over the upper Sone river, Bihar, began in 1856. It was completed in 1862, after the First War of Indian Independence of 1857 halted its construction. When Viceroy Lord Elgin inaugurated it he said: "... this magnificent bridge is exceeded in magnitude by only one bridge in the world (likely he was referring to Montreal's Victoria Bridge inaugurated by the Prince of Wales in 1860.)" Elgin later came up by special train from Kolkata to inspect this Asian marvel and celebrate its opening in a ceremony a year later. Photograph: Kind Courtesy Indian Railways.
I suspect non-inclusion is because of the way heritage is defined within our railways. It isn't necessarily a function of age. A heritage site is determined by the railway zone concerned. In Delhi, a new Yamuna Bridge is being built for trains. But unlike Jubilee Bridge, the old Yamuna Bridge won't be demolished and auctioned. It will be used for road traffic.

Rather oddly, directly through Indian Railways, it is not easy to get the number of old bridges, though the figure must exist in the system. The best source is CAG, the latest being Audit Report No 24 of 2015 (for the Railways).
This tells us there are 136,728 bridges. Of these, 36,470 are more than 100 years old and 6,680 more than 140 years old.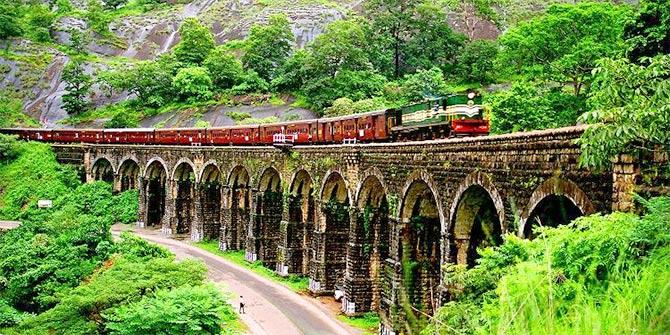 IMAGE: The 13-arch Aryankavu bridge, nearly 110 years old, at Kazhathuruthi, near Punalur, Kerala, on the Kollam–Sengottai branch line that meanders through thick jungles and hills, is one of the prettiest in India. Photograph: Kind Courtesy Sktm14/Wikimedia Commons.
"Bridges constructed prior to 1905 were of early steel and stated to contain higher proportion of sulphur, making it prone to brittleness. These bridges were referred to as 'technically obsolete bridges'. The Corporate Safety Plan envisaged that all early steel/cast iron pile bridges would be phased out of the system by the end of the CSP, viz (in other words) by 2013, duly prioritising these bridges during rehabilitation/ reconstruction. Audit, however, observed that no specific time frame was fixed by the Railway Board to phase out the obsolete bridges."
Perhaps I have been a bit hasty in saying figures must exist in the system. An earlier (Number 9 of 2003) CAG report also mentioned bridges. That one had a better "census" of bridges.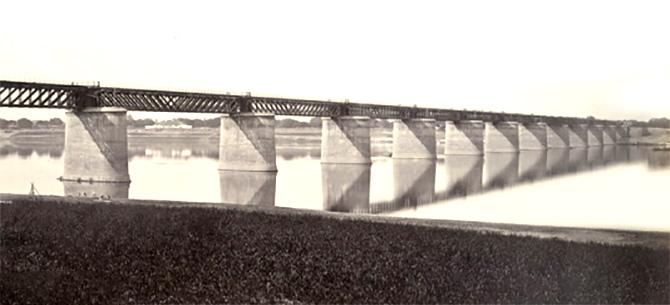 IMAGE: At Allahabad, Uttar Pradesh, both trains and motor vehicles cross the Yamuna, near its confluence with the Ganga, on the double-deck, steel-truss, 1,006-metre Old Naini bridge built in 1865. Photograph: Kind Courtesy Samuel Bourne/Wikimedia Commons.
It also said: "Railway administrations are not having complete and proper records pertaining to the railway bridges. For monitoring of bridge works, it is imperative that proper records of construction of bridges are maintained. It was observed that in respect of 5,883 bridges, (1,850 in Central and 4,033 in North Eastern Railways), year of construction was not available with the railway administrations. Further, there were discrepancies in the records."

Both CAG reports highlight delays in rehabilitation of old bridges. The Corporate Safety Plan of August 2003 promised by 2013 rehabilitation/rebuilding of 2,700 bridges over the next four years; annual rehabilitation of 600 distressed bridges; and rehabilitation of 19,000 bridges that are technically obsolete over the next 10 years. The Indian Railways hasn't been able to adhere to those timelines.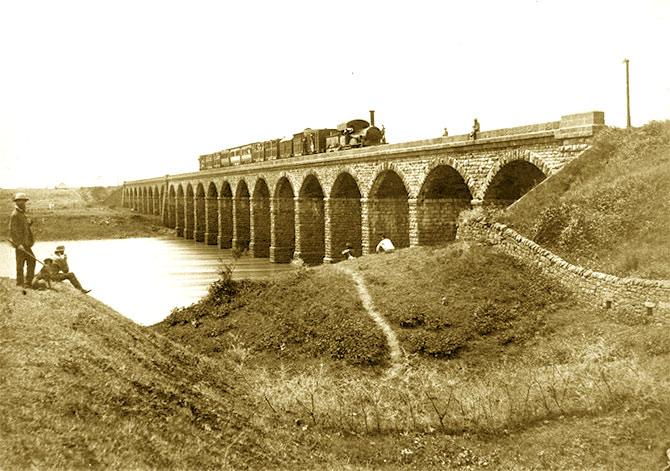 IMAGE: The 1854-built Dapoori viaduct, on the Great Indian Peninsula Railway, crossed the Mula river near what was then Poona. Photograph: Kind Courtesy British Library.
What is the oldest railway bridge? Given lack of information, I am not sure there is a clear answer. The Dapoorie Viaduct (near Pune), built in 1858, by Great Indian Peninsular Railway must be one of the earlier ones.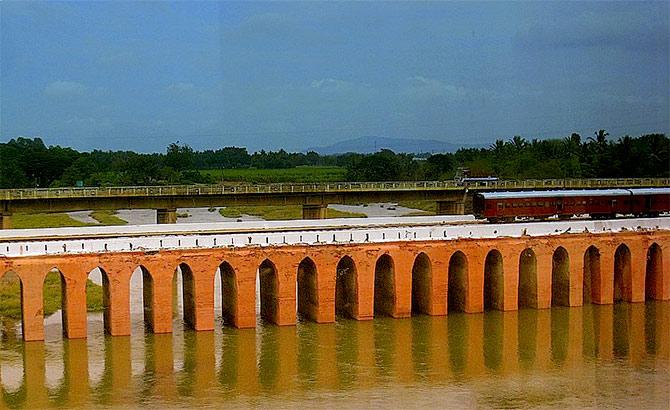 IMAGE: The Nanjangud railway bridge, connecting Tandavapura and Nanjangud stations, over the Kabini river in Mysore district was built -- hold your breath -- in 1735 and is a heritage site. Built, according to various historic sources online, first as a passenger bridge, ie, for horse, camel and bullock carriages, in brick sand and stone, by Dalvoy Devraj, in 1902 it was converted into a railway bridge. Photograph: Kind Courtesy Suraj T S/Wikimedia Commons.
But there is a way to cheat and deflect the question. The bridge across the Kabini at Nanjangud, Mysore district, was constructed in 1735 and is a heritage structure. This was originally used for road traffic. When a metre gauge line was built, railways also started using this bridge, probably from 1889. With broad gauge conversion, trains used a different bridge now.
However, the Kabini bridge still stands and 1735 is close to what is officially recognised as the oldest surviving railway bridge in the world. This is Causey Arch in England, built in 1725-1726 to transport coal from collieries.

The writer is a member of the National Institution for Transforming India Aayog. These are his personal views.