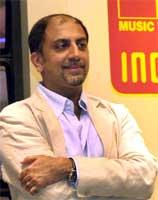 In a surprising development Alex Kuruvilla, MTV Networks Asia executive vice-president and MTV India managing director, has quit, media reports said.
Frank Brown, president of MTV Networks Asia Pacific, made the announcement during the company's weekly Friday 'town hall' meeting, said an Indiatelevision.com report. Kuruvilla's last official working day at MTV will be 30 June.
However, it was not clear what new assignment will he be taking up. MTV too has yet to decide on who will step into Kuruvilla's shoes.
"What a ride! I've had the opportunity to be part of it all during my time here -- from launching exciting new channels, to bringing reality television to India and changing the idea of what a music channel is expected to be.  I'm especially proud of MTV's undisputed leadership position in the Indian entertainment scenario, the impact it's had on Indian youth in the country and our pro-social work, particularly in the area of HIV / AIDS. I will miss Team MTVN," said Kuruvilla in a statement.
Kuruvilla was associated with the MTV brand for seven years and was instrumental in launching some very successful experiments, including MTV 'Youth Icon', 'Bakra', 'Roadies' and the soap 'Kitni Mast Hain Zindagi,' said the Agencyfaqs report.
However, media reports indicated that Kuruvilla's next destination may not be a television channel.
Before joining MTV, Kuruvilla spent about 10 years at J Walter Thomson and about seven years at Rediffusion DY&R.
(Above) Alex Kuruvilla. Photograph: Sebastian D'Souza / AFP / Getty Images