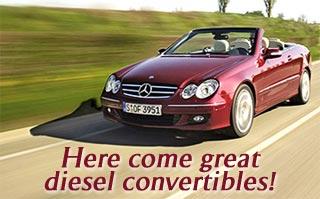 Picture this. You are cruising down Sunset Boulevard in your latest set of wheels that has limitless headroom. You have your Aviators perched on your nose and Where The Streets Have No Name on the stereo.
You see yourself smiling in the rearview mirror and generally basking in the feeling that life just couldn't get any better. Then you slow down at the next intersection, exchange glances with the bird in the red coupe, all the while accompanied by irritating diesel clatter for a background score. How's that for a perfect picture?
Let's get one thing very clear right at the beginning. There are three things that any convertible should do. A) It should look good, B) It should make you look good, and, if the above two aren't good enough to turn heads, then it should sound so mesmerisingly awesome that it should force onlookers to rubberneck like they never have.
A few years ago, Ralf Schumacher was caught doing 220 kilometres an hour on one of the European motorways. While a Formula 1 driver breaking a speed regulation may have been pretty usual, what the tabloid had a field day on was that he did it in a diesel. What's a petrolhead doing in a diesel anyway?
While this may have been one of the worst cases of a promotion stunt being way too obvious, the guys working in the four-cylinder building in Munich didn't stop there. Now, amongst all mass market manufacturers, BMW might be the only ones who put driving pleasure way above everything else.
Although Bangle boy and his flame surfacing may have caused people to talk about the way their cars look more than the way they drive these days, BMW is one car maker you can trust not to put fuel efficiency over handling prowess.
Or at least that's what you would like to think. For even these guys have started doing the diesel jig these days. What is the world coming to?
Anyway, the BMW 320Cd comes with a four-cylinder 1995cc oil burner that puts out 150 horses @ 4000 rpm. That's good enough to get you to 210 kph and blaze past the 100 kph milestone in under 10 seconds. The word for that, we believe, is adequate.
Okay, so maybe the guys building 'ultimate driving machines' may have committed hara-kiri only to match the competition. But since Beemers are always bought by the kind of guys who drive like they have sat on a wasp, you'd think there would be no takers for a car like this.
But no. More than half the number of guys who buy this cabrio prefer their set of wheels to come with loads of vibration and clatter as standard equipment. Bloody poseurs.
At least Volkswagen has an excuse to put their turbodiesel motor in the Beetle. Desperate times may call for desperate measures, and given that the Beetle went out of fashion faster than it came off the production line, they decided to take its top off and put an oil burner under the hood.
Talk about being really desperate. But to be honest, the Beetle cabriolet is only a sad excuse because Volkswagen had a diesel convertible version of their best-seller Golf way back in 1995 -- reportedly, the first in the world!
For the record, the 1896cc direct injection diesel puts out a measly 100 horses but a pretty decent 24.3 kgm of turning force, and with help from a six-speed auto, can take the Beetle cabrio up to 170 kph.
And when the heavens open up, it's T minus 13 to put the top back on. But given that the cabrio had actually got people asking about the Beetle again, we will let Volkswagen off the hook this one time.
Nor can we blame Audi. These guys are on a bit of a roll these days. Their A6 even won the World Car of the Year, while Walter D'Silva and his Bulgarian beard seem to have hit it really well with the most important fraternity of the motoring industry, the ahem. . . Motoring Journalists.
So while the going is good, why not then shoehorn a diesel in the last-gen body style A4 and take the roof off. The A4 cabriolet, as with all Audi convertibles, is still a generation behind the current sedan but it's got a 2500cc V6 distilling 162 horses up front. With most of the 22.3 kgm of torque coming in at just 1400 revs, the A4 is good for a 9.9 second 0 to 100 kph run and will top at 220 kph.
And as with all the Audis, there is a lot of technology like ESP and the like to make sure you stay out of trouble most of the time, while the half-a-dozen-odd airbags will make sure you walk out of the stupidest of blunders that you can possibly think of.
There is one small thing though. If you do raise the wind blocker, you can't carry two more people in the rear. Not quite Vorsprung Durch Technik, is it? But Audi hasn't just stopped here. They have gone ahead to give the A4 cabriolet the S-line trim option that includes a sportier set of hangers, an exterior body kit and an interior trim line to match.
Now if somebody must built diesel convertibles, well then it better be Mercedes -- yes, the same guys who introduced the first diesel-powered production car in the world. Obviously, these guys know a thing or two about sticky fuel and given that their diesel motors are amongst the best in the business, it only seems fair that they do something of the sort.
While the totally insane tri-turbo diesel SLK might be one motor show away from becoming a production car, the CLK 320 CDI has walked away with the honour (if you could call it that) of becoming the first diesel convertible Mercedes.
The 3199cc V6 is good for 32 kgm of torque, 218 bhp and an 8.5 second 0-to-100 kph dash. Now that's what we call roadster performance. What's more, this one's an authentic four-seater while the diesel even gets a more aggressive front end.
While it retains the sloping nose, the twin headlamps and the rising waistline from the coupe, there are lots of other bits that make it look faster than it actually is.
Hmm. . . you probably have to do that, given that the oily lump ahead is not really going to scare you into submission. Mercedes claims that the convertible is as safe as a coupe, and to prove it, they have given it the usual safety lingo of ABS, EBD, airbags, and even a crash-active neck-pro headrest. How cool does that sound? The roof too is quite a spectacle in itself, and 17 seconds of synchronised confusion is all that will take to spoil your hair-do.
So if everyone's sinning their way to glory then maybe, just may be, diesel convertibles aren't so bad after all. But the day you have to queue a Lamborghini roadster behind a truck at a petrol station, that will be the day when our motoring magazine would be named Horses And Hounds.
Powered by